You have enjoyed my logo with many like on Facebook and Instagram, but now I would like to explain what the image of The Foularist Club represents: why a girl flying an airplane?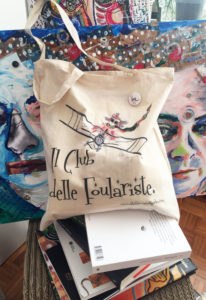 When I was little, I used to come on holiday to my grandmother in Friuli. In August.
That was a regenerating month for me: it rained often, the stove was lit, the karkade was drunk steaming, red, bright, so exotic.
There was no television, there were no mobile phones and my grandmother had not even wanted a landline phone.
Now we all yearn for this kind of life, at least on holiday to disconnect, but at the time, the seventies, all this seemed crazy to me.
My grandmother upset my life and for this I will thank her forever: she prepared me stacks of books (bought or as a gift with Epoca, which she always read), yarns for knitting and I had to follow in silence her gardening lessons.
Her garden and roses were a spectacle for the village.
To many this may seem like torture, but for me, who was very shy and loved to listen, it was the perfect escape route.
I learned how to prune roses, how to plant vegetables, how to cross plant varieties taking pollen from them.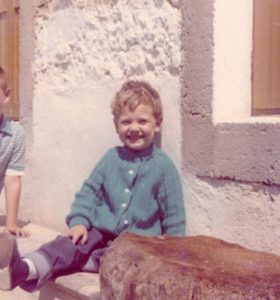 The holidays were cool, there were fireflies at sunset and I was dying of fear when, walking, we walked along the gate of the small cemetery where most of Dad's family is buried.
In these evenings, when you could not leave because of powerful storms that terrified me and liked immensely at the same time, my grandmother told about her life as a fresh bride, who moved from Friuli to Africa.
My father was born there and before him a brother who, according to the legend, died at six months because "on one night he put all his teeth together and the fever killed him" (my grandmother hardly ever talked about it and I preserved his pain, although now I would like to know where he is buried, what they said, what they did. But perhaps oblivion was in the destiny of his stories).
For me, Africa, in her narration, became like a story of Blixen.
Abet the boy who followed my father, his grandfather's cars that were mechanical, the dry heat and the tea with peanuts … but what remains indelible in me – and perhaps fictionalized by his grandmother – is his leaving Africa, after a bombing, on an airplane unhinged, so unhinged that it was without doors and very small (she and her travel companions had only seatbelts), an airplane that flew very low otherwise he would have lost the passengers.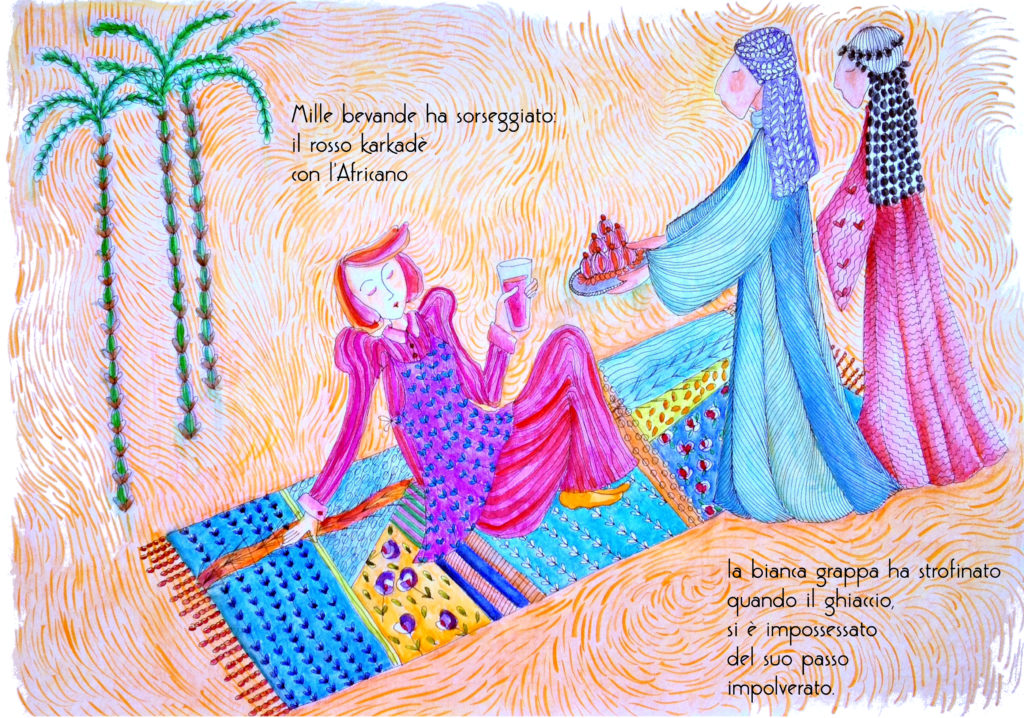 In my imagination, this brave woman, who had lost everything and fled with one child after burying another, turned into the pilot who took the reins of her destiny. I designed her to pay homage to the direction she gave me in childhood, and the patience in respecting my clumsiness, my shyness and the bewilderment of those who want to be an artist when they grow up and receive as a response a choral laughter demolition.
Erminia flies, and I want to fly like her too.
My logo is the Erminia, it's me, who like all of you want to be the protagonists of our destiny and realize, read, carefree, passionate, happy: and we wear a scarf, our cloak that gives us extraordinary powers. Because we are fragile but invincible. And we love each other and start again despite everything.
Good karkade'!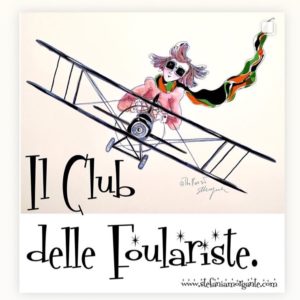 Do you want to follow my projects? Do you want to customize a scarf? know what bubbles in the pot? You can always subscribe to the Newsletter! HERE.