Another story embellishes the column short stories about my scarfs, written by writers and artists who love what I do.
Marilli Amari is of Sicilian origin but Milanese by adoption. With a lively curiosity and always in movement, she has organized and continues to organize events. Proudly Perennial has one of her accounts, @antalicious, created to demonstrate that one's official age doesn't count: what does count is how one approaches life, the lightness of one's mindset, the desire to transmit to others the joy of living without too many complications caused by age.
(If you want to read the story in Italian, click HERE)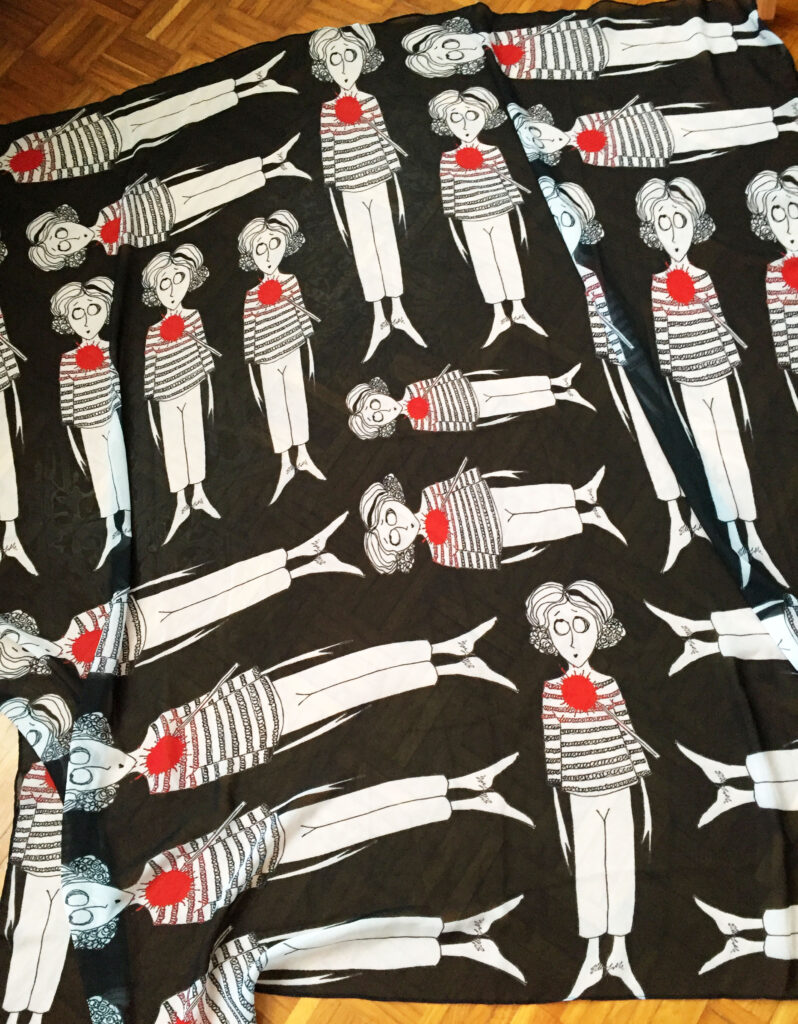 Every year, after school closed, we left on our holidays, the four of us began our summer holidays with Mom at the beginning of July, destination the sea.
Our father took us there and then left to go back to work and we saw him again in September except for a few weekends when he came down. I remember the excitement, the heat, the never-ending arguments about who had to sit in the middle of the back seat of the car. The real nightmare was deciding who would sit by the window, interminable fights until we arrived at always the same solution: 'some time for each', but this satisfied no one.
The trip always started early in the morning, and it always seemed interminable, with few stops, lots of silly songs and plenty of heat. The road was full of bends and I enjoyed guessing when the gears would shift down from the fourth to the third, when the brakes were applied and then down to second to overtake another car. We also played the game of little sisters and little cousins.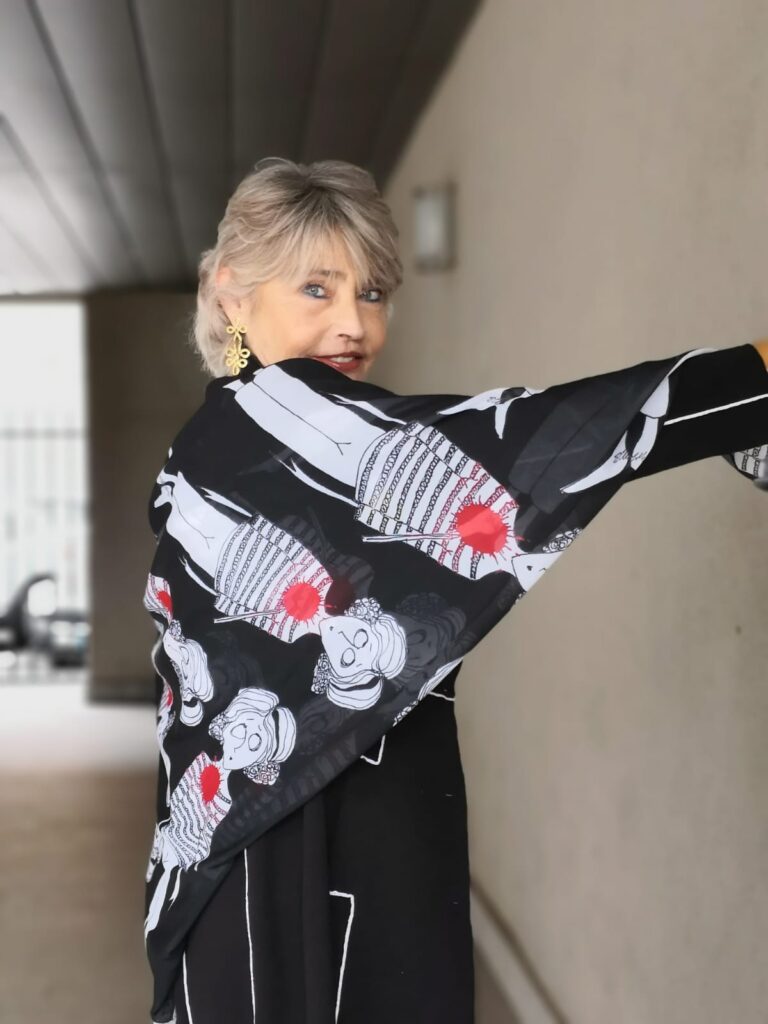 It was to find cars like ours going in the opposite direction, the same colour and licence plates of the same place as ours. That way, the 'family' of our car grew. I remember the whispering, the pinching and all the teasing by brothers and also the recurring question we would ask mom,  "How much longer?" I often leaned forward to caress mom's scarf she tied around her head so that her Titian-red hair would not get blown about, and this reassured me. It's impressing how the sense of touch can be so incredibly soothing for me. We would finally arrive, overheated, ruffled, tired but happy: we were on holiday.
The days went by well-ordered: the mornings in the midst of the umbrellas, molds, sand in our hair and the salt water. The dives and jokes, fights in the water, little cries and running to mother. Mother, with the red stripes in her hair made with a scarf folded impeccably to make it into a turban, or tied under the chin or at the back of her head  – kept a close watch on us and tried a thousand ways to keep us out of trouble. On the beach one morning I got away from her control and, while running along low stone wall, I slipped and fell hard, head down on the sand. 
I can still remember the figures of the people who came running to help me and mother's frightened expression as she brushed the sand off my face and cuddled me, rocking me in her arms. Three days of fever and shivering with an awful headache and scared to death.
Mom, beautiful and always elegant, with just a few affectionate gestures obliged us to lead a very orderly life following a precise timetable. We had to be home for lunch and then made us wait the classic four hours before going back to the beach for another swim in the sea. Late in the afternoon we went back home for a shower and then reading till supper and then all in bed.
A very peaceful and happy life, full of sensations, colors, sounds and smells. The colors of the sea, the sun, the light so strong and pure, the singing of the cicadas that began in the morning and continued till sunset. The sound of mom's record player with Edith Piaf who sang, "Non, rien de rien Non, je ne regrette rien Ni le bien qu'on m'a fait Ni le mal; tout ça m'est bien égal!" or Nat King Cole with "Unforgettable".
Bathing suits hung out to dry in the wind and the heat of the tiles of Vietri sul Mare under my bare feet.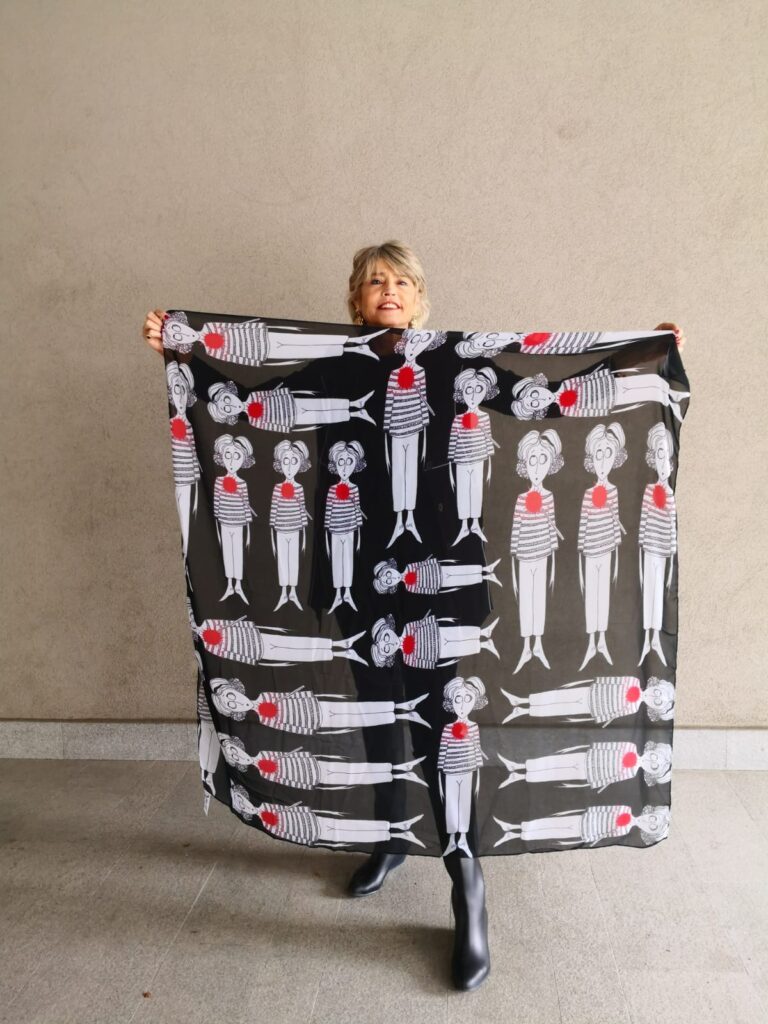 My favorite afternoons were the ones on the terrace when I curled up on a rocking chair and played with my mother's scarfs. I would fondle them, smell them, trying to catch her unmistakable perfume and imagining so many different stories looking at the designs on them. I handled them as if they were shields. I would wrap myself in them and felt safe while observing one of my sisters who was writing something. She read lots of books and dreamed of becoming a writer.
My sister full of curiosity, always hyper-critical, forever with a pen clenched between her teeth and her hair in disorder. Ironical, quite tenacious, well-prepared and always fighting against injustices. She didn't drive me to playing with dolls, but in the direction of an independent woman, well-educated and ready to travel; a woman who asks questions, demands answers and never gives in. She was my heroine, with her dark hair, long legs, always barefoot, a pen in her hand and writing pad on her lap. "A Young Lady" curious, ironic with a big heart and lots of ink blots on her hands and even on her clothes.
At the end of September we returned home, sad and downhearted. The holidays were over, school began again and, like in all years, for nine months we anxiously awaited the end of the school year so we could go on another summer vacation.
******