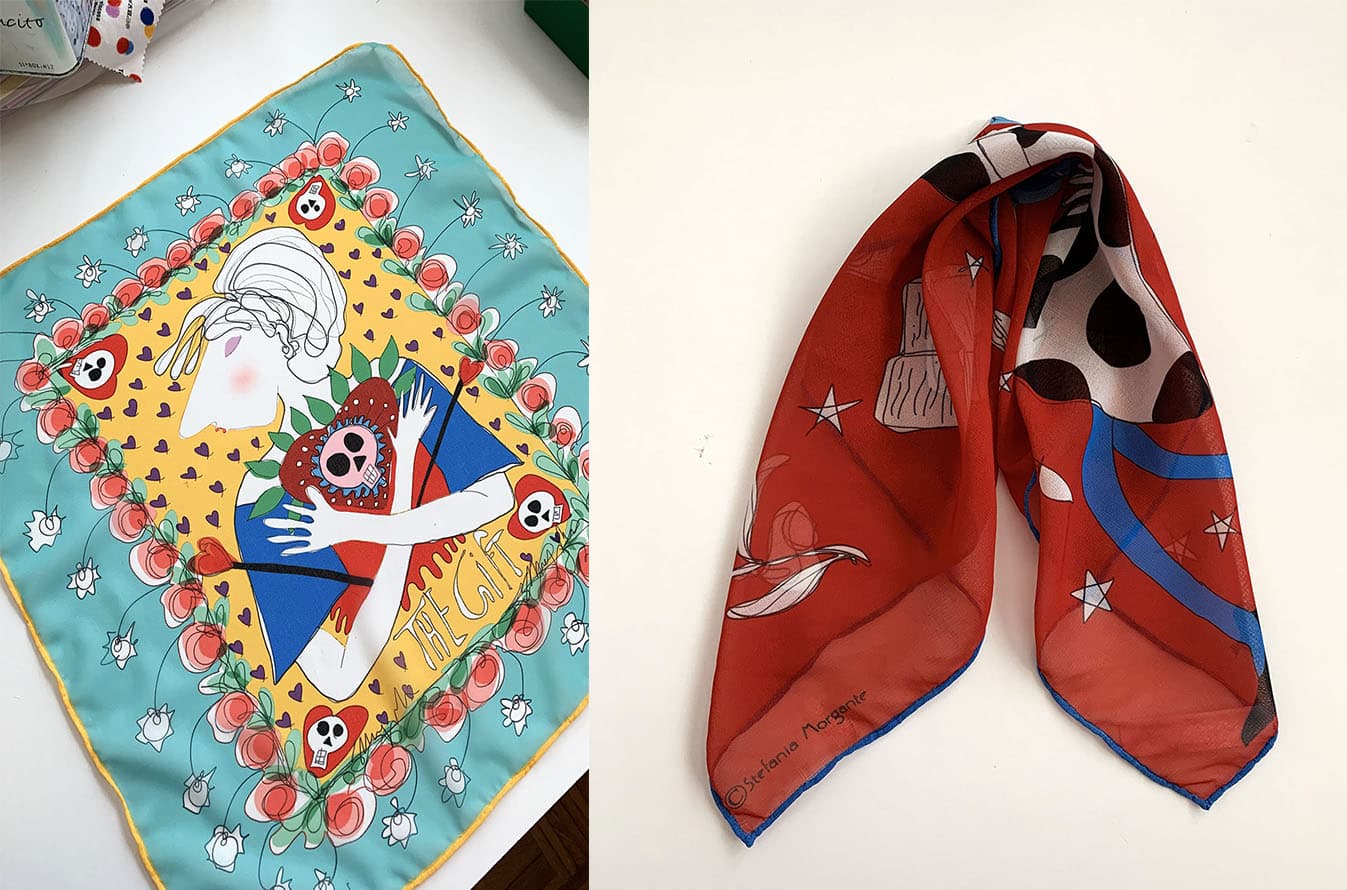 "I Manifestini" aka small scarves that speak for you.

Slogans, words of protest or demand, messages of love, intentions-when you want to clearly convey your thoughts through a fashion accessory.

Small elegant, made of eco-chiffon.
Soft and transparent that silk and made by recycling 51% plastic.
Printed in Italy with transfer technology, totally water free. Certified standard 100 by OEKO-TEX.
Be fashionable yet respect the planet.
Hand hemmed with patience by me while listening to a book or music and ready for your neck, your wrist, in place of a bracelet or necklace, on your bag, in your hair.

Make your word and thought count through a "manifestino".
What makes them unique?
They are all single pieces.
They are certified as being such.
Each scarf is printed on Italian fabrics and in Italy.
The fabric is 51% recycled from plastic
The hems are hand-made, and each scarf takes at least five hours of work to hem.
I do the stitching myself so that I have complete control over the scarf.
I conceive the designs of the scarfs as if they were canvases to paint on.
This is wearable art.
The scarfs are made to be worn by women as well as men. They are genderless.
The motto of @TheMorst, my artist's signature, is:
A scarf is for who is, not for who has.
Scarfs of my creation are to enhance the person wearing it, not status symbols for those with money.
I search for soul, passion, the taste of those wearing it.
If you don't usually wear scarfs but like what I'm doing?
There's no limit on imagination. I've decorated walls in Los Angeles and Paris with my scarfs.
If you don't want to wear one, maybe your house would!
Do you have any doubts? send me an email: info@stefaniamorgante.com
If you aren't interested in scarfs but you do like art and illustrations, register to receive my newsletter and I'll send you nine postcards in PDF format dedicated to international and personal festivities that you can print and give to your friends.
We like to celebrate, smile and bring the world together with Art.
"I've a collection… and I've given one…one day the woman in my family will inherit a precious scarf in my memory. A personal item that's been individually crafted and worn.. And I love love the feeling of each individual scarf in my collection. They always make me look well and I feel great wearing them."
"Every time I wear my Bowie scarf I get many compliments. With great pride I then fold open and proudly share your art! people are blown Away!"
"This remarkable artist @stefmorgante puts immense love and creativity into her work. I must say that however beautiful and unusual her piece's look online, They are ten times more lovely irl. I have had people literally gasp with wonder when I have shown them my scarf."
"I was thinking that after all I'm choosing scarves with subjects that you can only see if I open them completely… But I use them: they wrap me, I turn them … I only have the true essence.The others glimpse…"