"We've learned that quiet isn't always peace".
It's a historic day. Inauguration Day.
You already know what it will be like to be sworn in on the Bible, the arrival of the old president and the ok of the new president.
In America the rituals have been the same for decades. The alternation of the Democratic and Republican parties, the democracy that through the vote chooses the candidate.
Yet in this 2021 everything is different even if there are the usual rituals.
There is no outgoing president at the ceremony, there was an assault on Capitol Hill a few days earlier, there is a pandemic.
Everything changes even if it all looks the same.
But that's not what stands out to our eyes right away.
Women and politics today.
Women there are finally women everywhere.
Women in politics, in business, in culture, in professions previously reclusive to them.
And then there's a really striking new development.
A female vice president, Kamala Harris. A multi racial woman, but most importantly for the first time a woman. Representing all the women like me who are watching the ceremony in front of the television.
I'm excited. I'm starting to see some progress.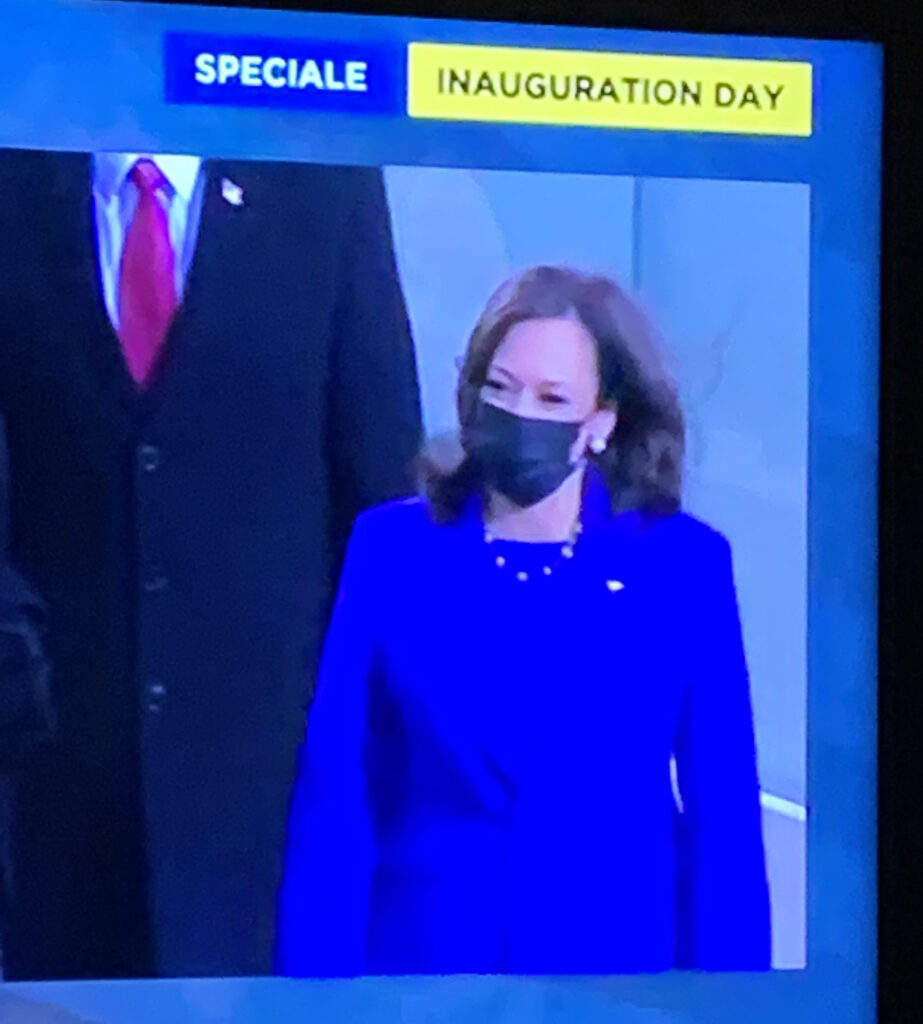 Poetry and woman.
But what especially leaves me astonished on this special Inauguration day is an out-of-the-box female presence.
President Biden invited a woman to read a poem she had written. First sketched out and then concluded after the events on Capitol Hill….
A young woman, Amanda Gorman, who appears dressed in radiant yellow, smiling and confident.
It doesn't matter that she is young, that she is beautiful. This will pass, it is not determinative to be young and beautiful.
She is a poetess. That's decisive. A poetess. She is a poetess a civil rights activist and a feminist.
What a wonderful choice, a poetess.
Poetry brought to the eyes and ears of millions of people around the world through a poetess who while declaiming verses has conductor's gestures.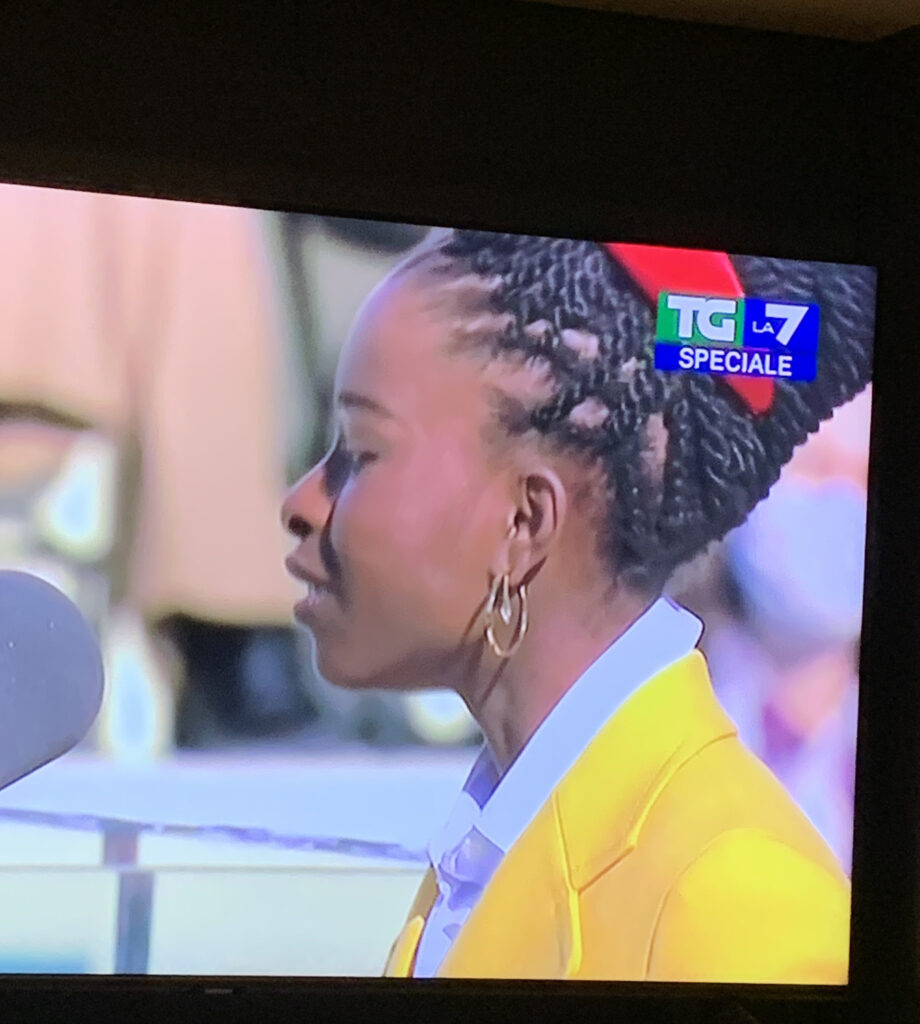 Poetry as transformation.
Amanda Gorman in that moment has the power to transform the atmosphere, bringing us through her verses in the deep spirit of poetry: touch the soul, make us think, give an image of contemporaneity making it universal.
Poetry must touch our souls, must shake us, must enter our deepest selves to reconcile us with existence.
Poetry as a contemporary language.
So if Amanda Gorman was invited on such an important day, the message is both ancient and revolutionary at the same time.
Poetry is part of our lives even in 2021.
Poetry is necessary, it helps us communicate history, events.
And if Amanda Gorman is so young, all this tells us that poetry is something that touches everyone, that shakes from zero to a hundred years old.
And that it is a means of expression at any age.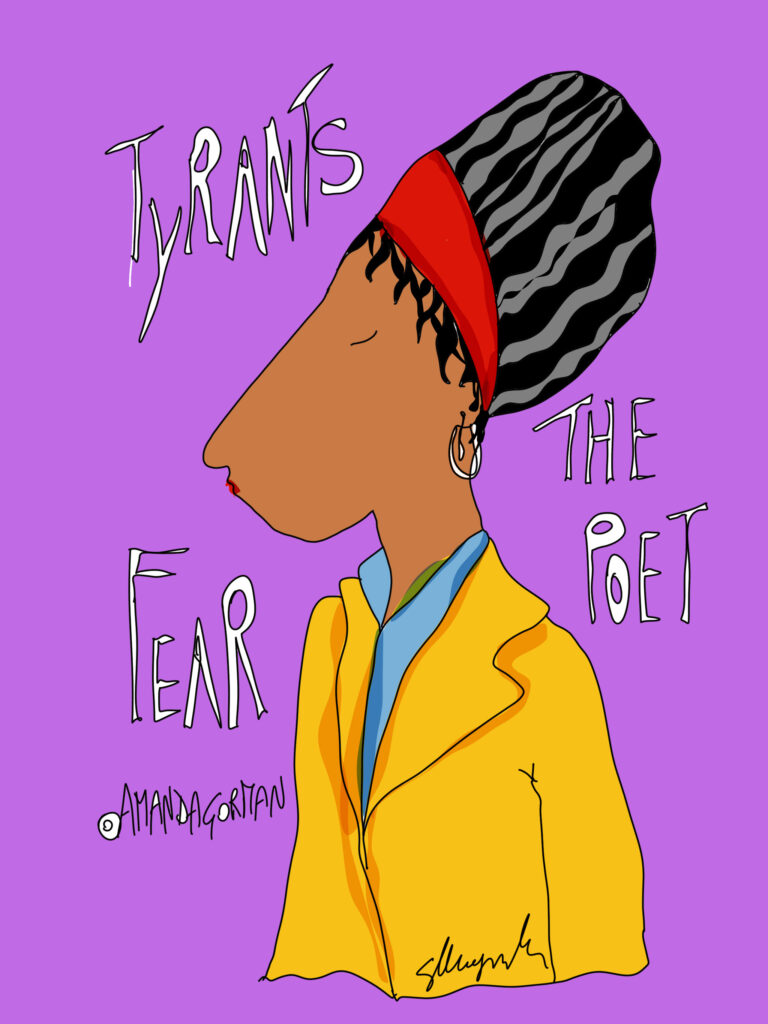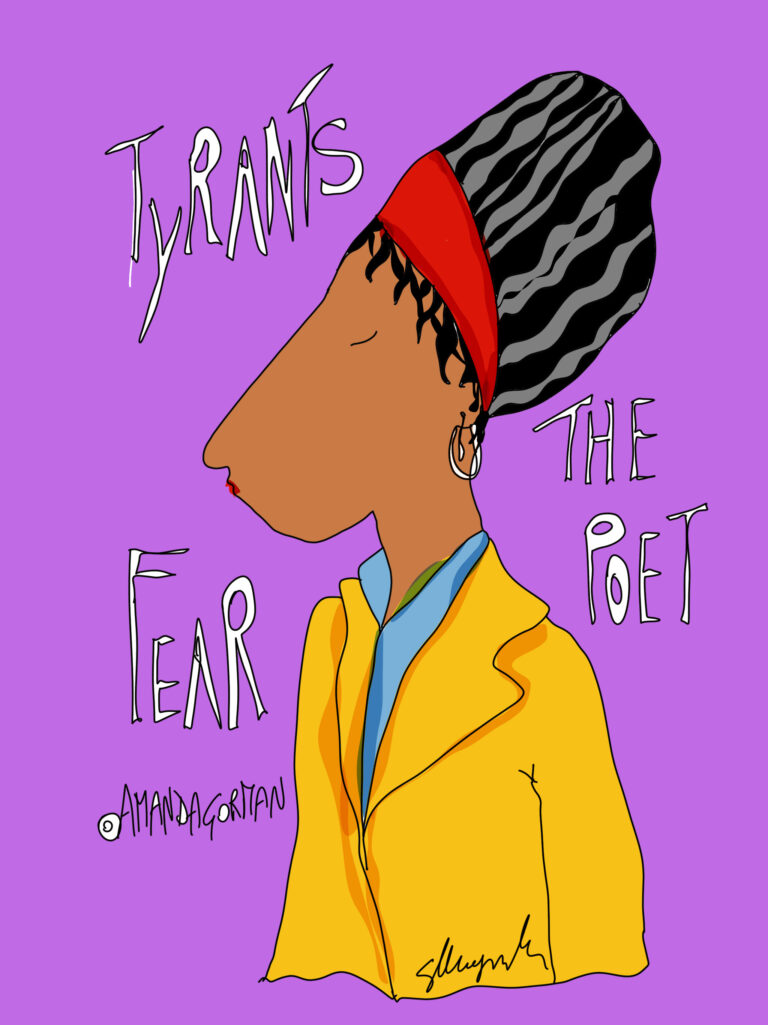 Tyrants fear of the poet, writes Gorman.
Poetry, like all culture, is necessary to democracy and always makes it young and fresh.
Poetry changes us for the better, makes us wonderfully human.
It is even an act of meditation.
Poetry is transformation.
Amanda Gorman makes no secret of the fact that one day she would like to go into politics.
And can poetry dialogue with politics? Ancient Greece teaches us that. There is no democracy without thought.
Politics should always walk together with culture, otherwise society does not metabolize democracy and does not fully support it.
What could a poet do in politics but understand the human being, his rights, his needs? Empathy is necessary for democracy.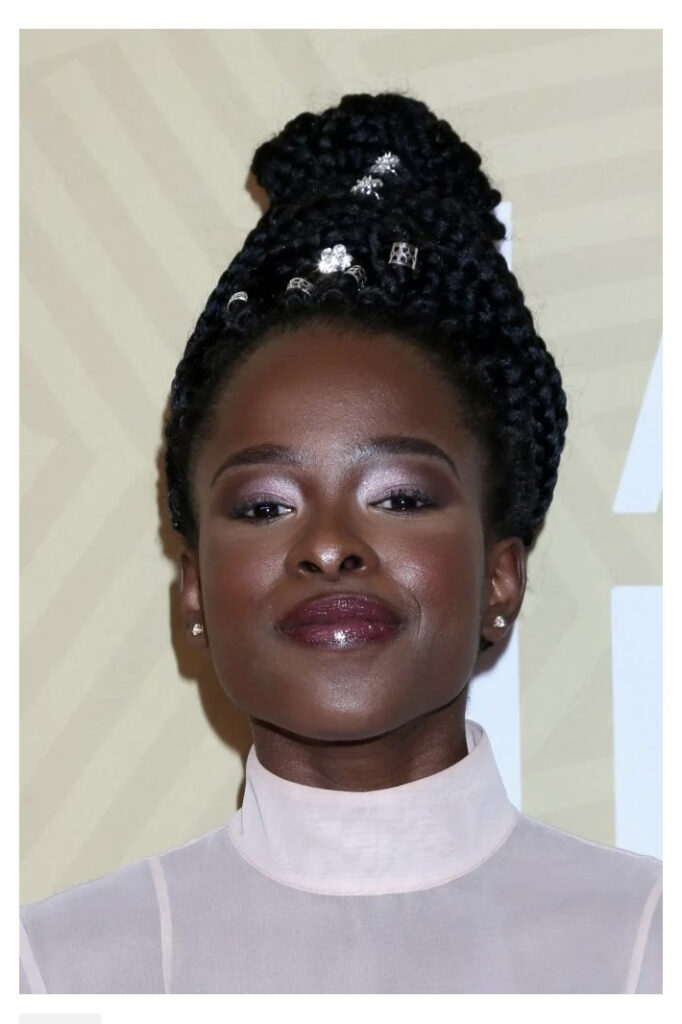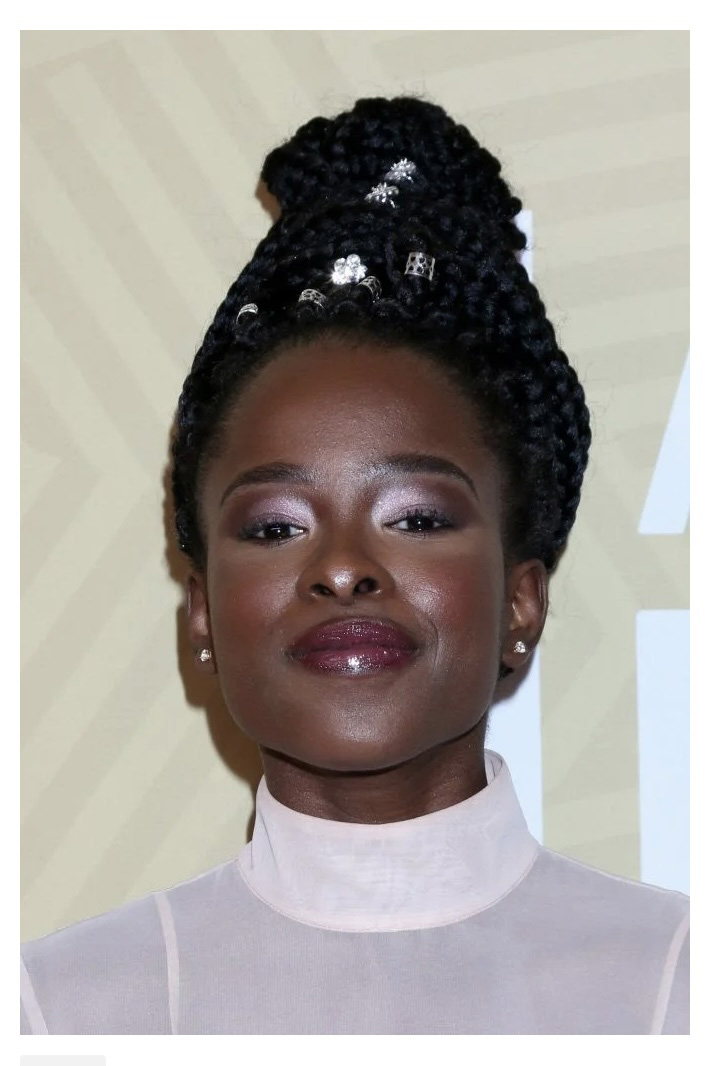 Poetry for once reconciled us to the world.
It's important now in a very long time of violence, inequality, pandemic.
We are all lost. We need poetry now.
Here is an excerpt from the poem Gorman read in front of Biden and millions of people around the world:
…"Would destroy our country if it meant delaying democracy.
This effort very nearly succeeded.
But while democracy can be periodically delayed,
it can never be permanently defeated.
In this truth, in this faith, we trust,
for while we have our eyes on the future, history has its eyes on us.
This is the era of just redemption.
We feared it at its inception.
We did not feel prepared to be the heirs of such a terrifying hour,
but within it, we found the power to author a new chapter, to offer hope and laughter to ourselves.
So while once we asked, 'How could we possibly prevail over catastrophe?' now we assert, 'How could catastrophe possibly prevail over us?'
We will not march back to what was, but move to what shall be:
A country that is bruised but whole, benevolent but bold, fierce and free.
We will not be turned around or interrupted by intimidation because we know our inaction and inertia will be the inheritance of the next generation.
Our blunders become their burdens.
But one thing is certain:
If we merge mercy with might, and might with right, then love becomes our legacy and change, our children's birthright.
So let us leave behind a country better than the one we were left.
With every breath from my bronze-pounded chest, we will raise this wounded world into a wondrous one.
We will rise from the golden hills of the west.
We will rise from the wind-swept north-east where our forefathers first realized revolution.
We will rise from the lake-rimmed cities of the midwestern states.
We will rise from the sun-baked south.
We will rebuild, reconcile, and recover.
In every known nook of our nation, in every corner called our country,
our people, diverse and beautiful, will emerge, battered and beautiful.
When day comes, we step out of the shade, aflame and unafraid.
The new dawn blooms as we free it.
For there is always light,
if only we're brave enough to see it.
If only we're brave enough to be it.
(@AmandaGorman, The Hill we climb, All Rights Reserved)