Eco-friendly materials that can be wearable
Science and technology offer us the possibility of transforming a plastic bottle into a ecological fibre suitable for clothing, such as polyester scarves, which in turn can return plastic bottles.
This is a virtuous cycle that wants to reformulate the concept of the ecology of materials.
This means that excess plastic production can enter a virtuous circle of recycling in the fashion industry.

What is eco-friendly fabric?
From plastic bottles you get a very soft and light polyester yarn that makes the skin breathe. The environmental impact of recycling is lower than traditional spinning mills and in addition these fabrics can become plastic again when we are tired of wearing clothes.
Waste becomes an asset.
It's really fascinating to see the process which what we discard becomes fabric really ecologic and then fashion.
I searched for several months for someone to produce eco friendly fabrics and to my great satisfaction I found an Italian company that in addition to having three types of eco-recycled fabric, also prints in Italy.
Their polyester is certified and they offer three types of products:
Eco chiffon 55% recycled polyester fiber
Eco crepe 56% recycled polyester fiber
Eco twill 67% recycled polyester fiber
For my scarves I chose eco chiffon and eco crepe.
Eco chiffon is absolutely wonderful to work with: soft, transparent, with good heaviness.
It falls from the shoulders perfectly but flies light in the wind.
It is transparent, the colors can be seen from both sides.
Of all the polyester I've tried, this eco friendly is really good quality.
The Eco crepe is even heavier, the back is more opaque, but the colours are bright and slightly shiny.
It has a more compact texture, but the scarves are very theatrical because they are a little heavier and are worn like shawls or turbans on the head.

Why choose certified eco-friendly products?

It is crucial to choose certified polyester, because there must be traceability of the entire supply chain, from the collection of the plastic bottle to its transformation into yarn. The use of energy sources, water and energy consumption. The conformity of the plastic product used, everything must aim at a sustainable environmental and social impact and as "green" as possible.
A recycled polyester fabric interrupts the continuous production of plastic and creates an eco-friendly product that can last indefinitely: a bottle becomes a scarf but can later become a lamp or a bottle again.
In 2020 I will try as much as possible to work with recycled materials to create eco-friendly accessories.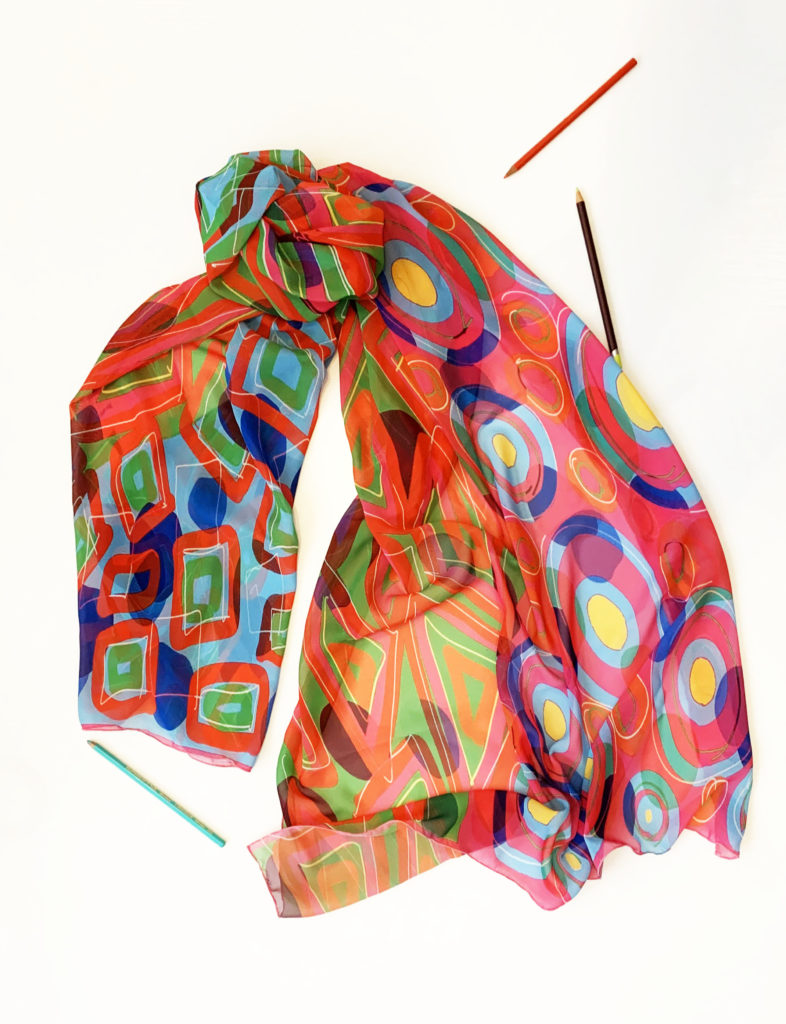 Crystals: a certified scarf in ecological recycled polyester
The first one I have ever introduced in my shop is the "Crystals" scarf.
I used eco-chiffon which is a 100% polyester fabric, composed of 55% recycled polyester fiber.
It is very light but resistant, soft, transparent and slightly crepe. And it is very suitable for scarves.
It is a fabric certified by ICEA: Global Recycled Standard (GRS).
The scarf is even larger than the last scarves, a soft and light rectangle of 27.5×78.7 (70×200 cm).
Hand hemmed by me, five hours of hand work.
But the fabric lends itself very well to being sewn by hand, the weft of the fabric is compact and light.
This is a one of a kind scarf (I always think exclusive scarves or super limited editions).
With its almost phosphorescent colours, I wanted to remember the years when I was a little girl: the end of Sixties and the women who used scarves in their hair, shoulders, neck, wrists: and those bright, cheerful, almost noisy colours.
The American women who lived in my building dared the colors that we girls didn't dare.
It was a blaze of yellow, pink, green and I admired these independent women who laughed and organized parties in the garden.
This scarf is a childhood memory. They are transparent and vivid memories like crystals.
And like their crystal clear laughter, when there were international parties in the condominium garden and all languages were spoken.
Today is the time to remember those beautiful years, but with more ecological fabrics and ideas.

My research wants to work on two levels: the past with fashions to review, colors to review, childhood memories, painting experiences, illustrations.
The chronicle, scientific discoveries and the internet also helps me a lot, allowing me to always look for new solutions for ecologic materials.
But also the future, which begins now, right now.
We can no longer afford to waste time and resources. And yet there is still a lot to do in packaging, which I search relentlessly in recycled materials to ship my scarves.
The future can and must exist only if we reconsider our way of life and try to have less impact on the planet.
Fashion is trying to use recyclable materials and now people are looking not only for the famous brand but also for eco-friendly products.
Recycled polyester is a very ductile material and in my shop you will see more and more environmentally friendly accessories.
An eco-friendly gift that makes us more beautiful, is really a passe-partout for those who love fashion.