How to decorate an empty wall
Perhaps more than a living room, the bedroom is a place that lends itself very well to being personalized with a particular fashion wall art, that of the scarves that decorate the house.
The bedroom is a very intimate place to sleep, love, watch TV, read, think, rest after an illness.
It is therefore an extremely personal place.
A place that narrates the deepest sides of a person and it is necessary that it reflects as much as possible the passions of those who live it.
Furnishing a wall of a room is often an obvious operation: paintings, prints, hanging objects.
But the headboard of a bed looms over the head of those who sleep, and people often avoid putting shelves with books or heavy materials, fearing to see the decorations they have arranged fall on themselves.
Also in the exchange of emails that I had with some customers, I found that it is also a place where they often want to change decoration of walls.
It changes age, family background, tastes, moods. And inevitably they want to change some of the furniture in the room.
That's why collecting decorative scarves, has a dual purpose: decorate yourself and decorate the house.
How to decorate an empty wall in bedroom
A French customer months ago gave me the first idea on how to decorate a wall with a scarf, because I really had never thought of a scarf as a decorative element for the house.
The customer had Provence in her heart and I had created an expanse of stylised agaves on fabric, but they were reminiscent of the rows of lavender plants grown in France.
She bought the scarf and when it arrived in Paris she wrote to me saying it was perfect for her bedroom.
She didn't change anything on the wall, she didn't add frames or wooden rods to support the fabric: she applied it to the wall with metal pins of the same colour.

Wall-hang a scarf in a bedroom 
Probably, as she told me herself, in time she'll frame it or maybe put it in another room.
Because that scarf was perfect also for another room.
Its square and wide shape literally filled the wall and as she says "gives the idea of a holiday home, a little temporary but also very intimate and warm".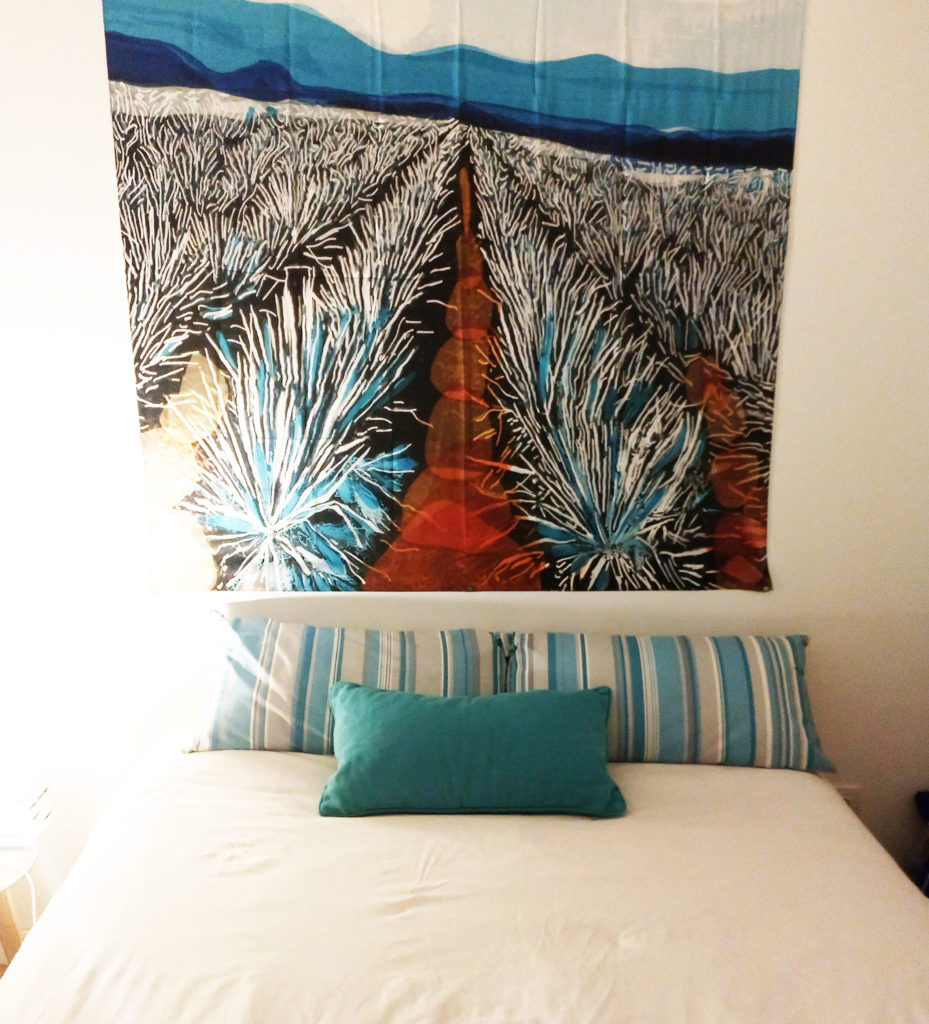 Wall-hanging fabric art
Months later, a client in L.A. made a specific request.
And she didn't know anything about the French client, but they seemed to be on the same wavelength.
This time the customer didn't ask me for a scarf to be placed in a bedroom, but a scarf to be framed like a tapestry, to be placed in a room of a very large house.
The customer considered my scarves not only beautiful to wear but also useful to decorate her rooms.
The particularity of this collector was her love for Winston Churchill.
A love born in the family and cultivated for years.
In her emails she explained why she loved Churchill so much, even some of her gadgets were saved after a storm and protected part of some rooms, as if they were protecting the house.
She collected all kinds of gadgets from all over the world about the great statesman.
I'm waiting for the pictures, but this one in the picture is the Winston Churchill in pop key that I made for her. It's the final design, approved by the customer.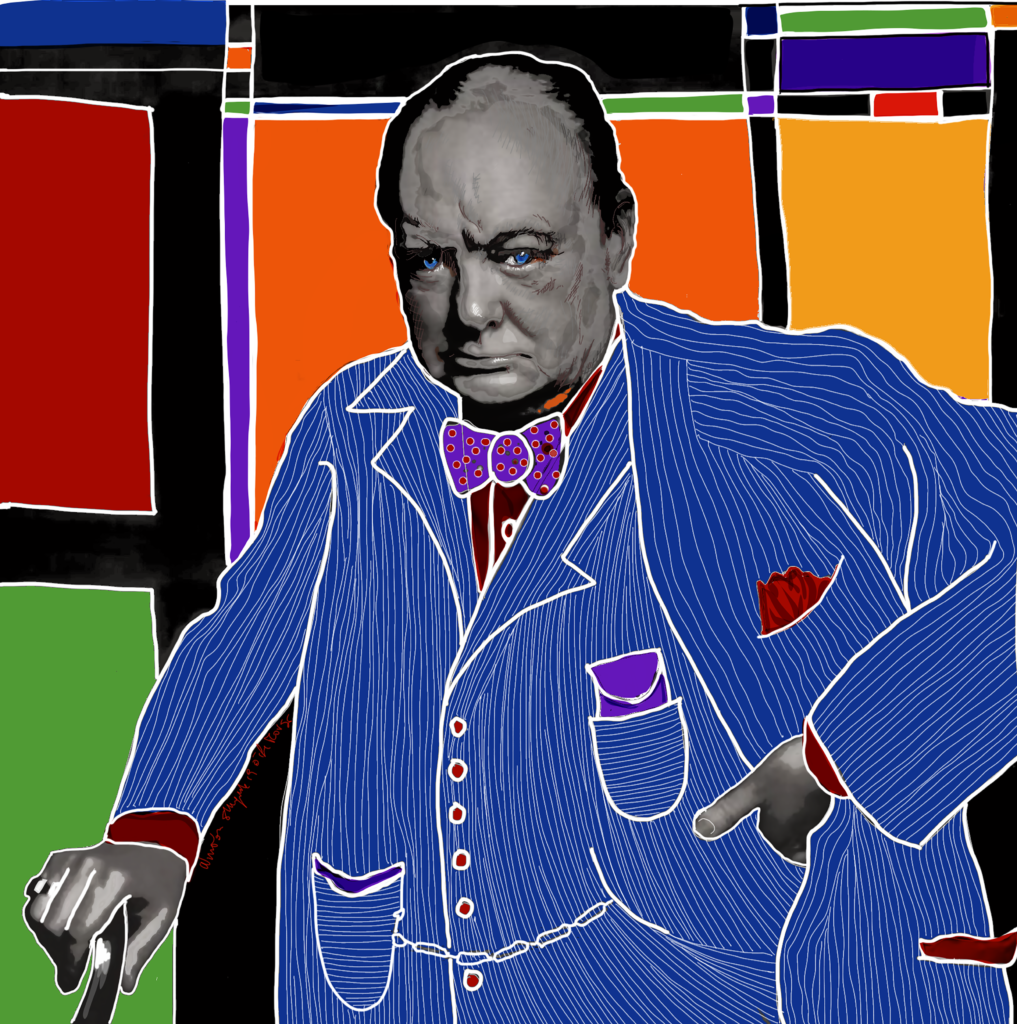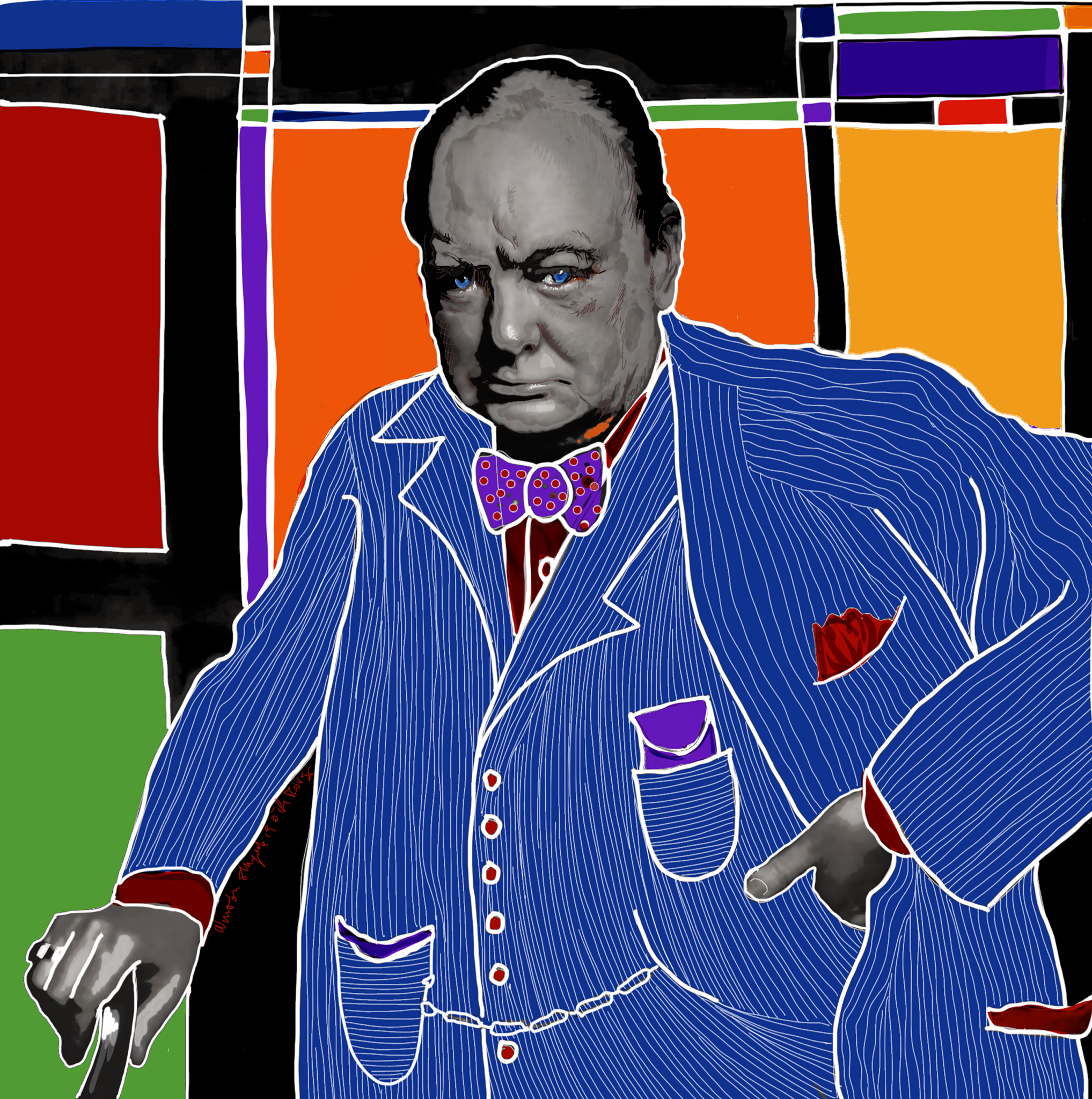 Scarf as wall art
The peculiarity of my scarves is that they are unique pieces, just like a painting.
They are accompanied by a certificate of guarantee that attests the uniqueness and therefore as furniture for any wall in the house, they have the same sense of a painting, which is a unique piece.
But fashion art decor is just for walls?
Probably not. There is a Janis Joplin on a chair in Brazil, a blue sea on an armchair in Sardinia, There is a David Bowie in a writer's studio.
Scarves are really versatile, unisex, genderless, they can solve furnishing problems but also complete an outfit.
Some suggestions for using a scarf as home decor:
A scarf or more scarves, such as curtains for your windows.
A scarf or more scarves to divide sections of rooms.(For example, a sleeping area on one side of the studio for artists. This is a way to let a room breathe without affecting the volume of the room.)
A scarf brightens up a rather old sofa, an old chair that we love.
As a precious tablecloth for an unforgettable dinner.
On an anonymous bed to revive it and give it a new personality.
Around a flowerpot to color a very dark table or a room not very bright.
Ideas can be endless in a house, I'd love to see how you've made yours.
Your home awaits only a wall art decoration created by my scarves, an unusual way to change the face not only of your personality, but also of your home.