Handmade pieces with an illustrated story.
I always had a journal when I was a child. Locked with a key and a padlock.
Secrets of a little girl.
The diary was perhaps the best friend, at least the one who listened to all the doubts and fears.
A Journal was also a writing exercise that I loved very much. The journals were given to me by my mother but also by my uncles on my birthday.
I do not know what they saw in me, the fact is that I always had a diary until I was thirteen.

A year ago I closed my parents' house to sell it.
And I found the journal of eight years old, without dust, in a drawer together with the letters of my childhood. Inside I found thoughts written in childlike handwriting that made me tender.

Irrelevant personal stories, school dramas, friendships started and lost and important stories: the death of an actor, a singer, the passion for that film just seen and now in the history of cinema.
The journal is the testimony that we lived through, that things happened. Just open it and time erases itself.
That's why writing is important to me. It is a trace of yourself, that you have passed into this world and who knows, someone will read it.
The personal diary is really a determining object in everyone's life.
Maybe now with social media there is less need to keep something secret.
Yet journals still exist, they help us to fix volatile thoughts, they give us a personal time really unobtainable.
Personal diary or travel diary, unforgettable moments.
Years ago I started drawing notebooks and diaries for a personal passion. I was looking for handmade, colored, hand-bound notebooks, without inks or other chemicals.
Where there was paper in stores or craft markets, there I was.
I collected them and then drew them.
I started to put them on sale and the response from people was enthusiastic.
The first customer was a mother who wanted an important notebook for her son who was starting school. She had chosen me and my drawings to make her son's first day of school a special day.
A child in first grade and lots of fun drawings to make him start the year with joy.
Then notebooks for girls who were starting high school, diaries for very studious students and art lovers and special gifts: diaries drawn with illustrations and good luck phrases for boys just graduated.

One in particular flew to Paris to an architect's office with famous names.
But alongside the diaries and notebooks dedicated to the school and profession, there were travel journals, illustrated with evocative drawings of mysterious lands and unknown places.
A travel diary must accompany you to particular places and resist the heat, the cold, the bad conditions of travel. It is a diary that will itself be an art object, a book from which to live or even to publish.
An example of a Journal that becomes a work of art is that of Frida Kahlo.
Diary or agenda related to your life.
To illustrate a diary, an agenda a journal is a considerable commitment. It means giving a face to blank pages that you will not fill but the client.
It is a really nice thing to imagine that the cover you will draw will be the key to enter a world that will not be yours.
Man, woman, adult, teenager, who knows!

Create custom journals.

"I have to give a gift to a very particular person. I chose you because you know how to make paper unique".
"Could you make a notebook for a child? I would like something crazy".
"I love dogs and I would like a diary with a portrait of my dog, is it possible?".
"I want to buy that notebook that I saw on your site, could you hand write me a dedication for a particular person?"
"I am about to get married, I would like a notebook with the colors of my wedding so inside everyone can write a thought in my most beautiful day. Can you make it for me?"
These are some emails that I have received over time, and I have really made custom works that have amused me.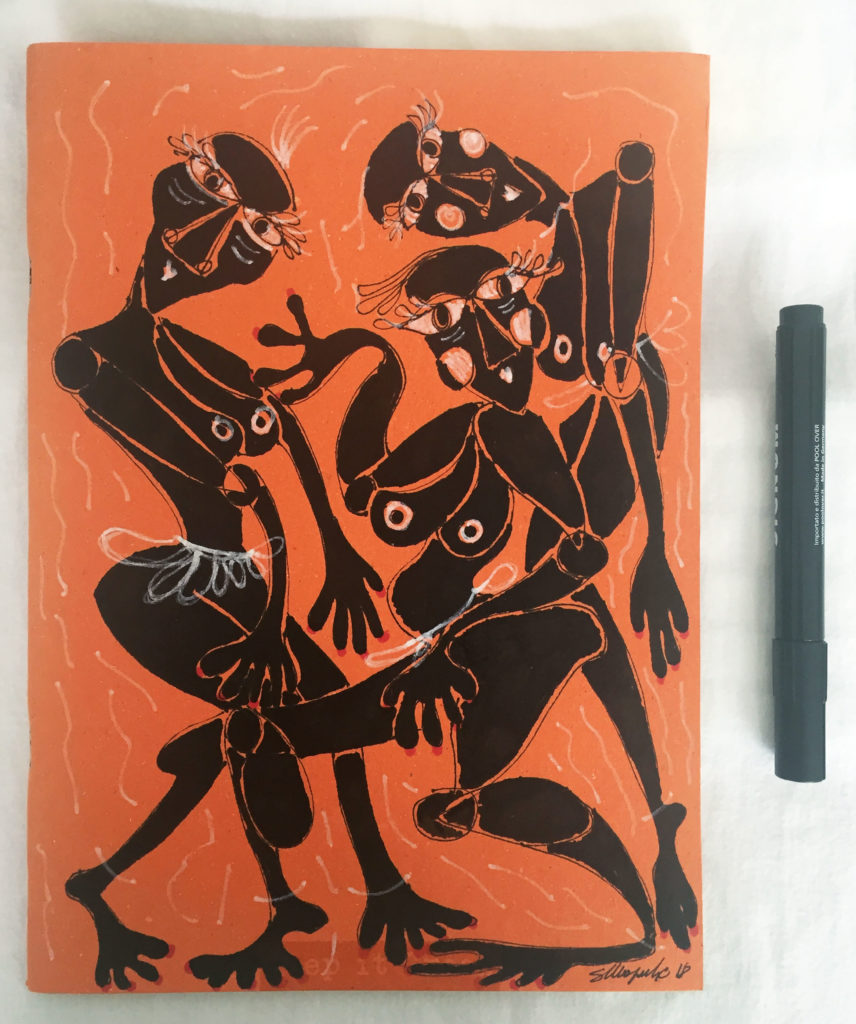 Wedding notebooks.

The first journal was that of my wedding.
I used the fabrics of the wedding to decorate the cover and I bound the sheets with satin ribbon used for my bouquet.
On the day of the wedding I left it on the table next to the glasses with sparkling wine and sweets and everyone wrote a sentence, made drawings, read what others had written.
It was wonderful to see everyone working so hard to write something.
And I was moved to see the handwriting of my father who is no longer with us or of an uncle who died shortly afterwards.
How many things remain indelible in a diary!
That's why I love to illustrate and create notebooks. Over time they acquire an enormous value, sentimental, emotional, personal.
And when a Journal flies to another country, another city, I always think that a life will be stopped on paper, with joys and sorrows, all this will be inherited by my son, nephews, friends.
When everyone's story is not lost in nothingness, but is reread at least by one person, I imagine bells ringing in the sky, because a person will not be forgotten.
The diary is our way of loving each other and hoping not to be forgotten.