Another story embellishes the column short stories about my scarfs, written by writers and artists who love what I do.
Maria Spissu Nilson was born and lives in Sardinia.
She is an artist who writes. She has exhibited in many countries and has an island and world-wide education.
The web is stingy with her biographical news, but follow her on facebook, you won't regret it.
(If you want to read the story in Italian, click HERE)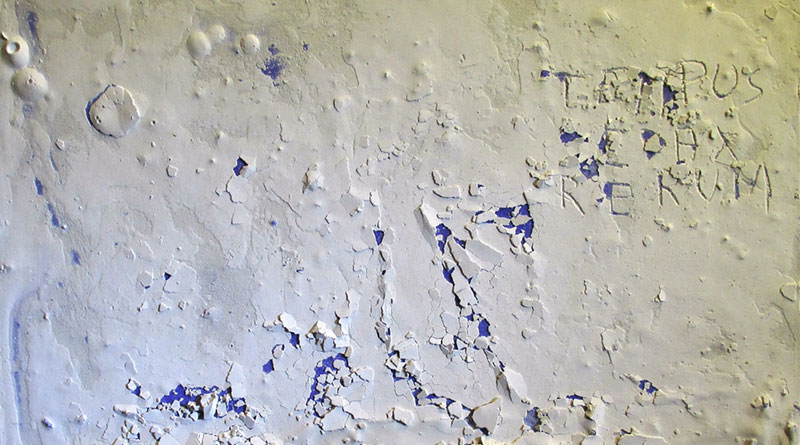 *****
This is how it happened.
I was enjoying the sky and the warmth. It was blossoming time and the temperature was already pleasant. I was lying there, content under the sun. Bees were buzzing about, children were laughing and the woman sitting in front of me was trying to paint another portrait of me. 
She likes painting me and she delights in reproducing my features in all the seasons.
In winter, when the temperature goes down, she sits beside me covered with a shawl of coloured wools and sketches me. But she does her best work when it's warm, in spring and summer. They're the ones I like the most. She has a gift for painting things around me and I relish observing her while she's representing me from different positions with coloured water when I show my fruit, when I adorn myself with blossoms, and sometimes when I'm wet with dew. After painting my portrait, she goes to work recreating me on fabrics for clothing.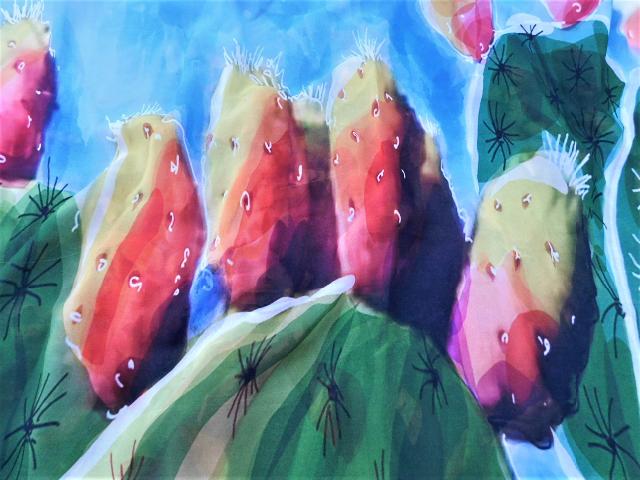 They are light materials that decorate her shoulders, head or chest. I feel honoured by this, especially when a friend of hers comes to see her and together they put me on and they both seem happy. 
Mine is a good life, although I would sometimes like to move, travel and see other skies. Yes, I'm curious, and seeing other lands attracts me.
I was thinking about this when suddenly the world changed shape – people were running, screaming and shouting words I'd never heard before. Before, there was fullness, normality. Then emptiness, disorder, the ground trembling, and I wondered why. I could hear the voices of loved ones, of the woman who takes care of me, who follows my life and talks to me.
Dust covered me worse even than the stormy winds, everything became colourless. I didn't understand, I was shaking as much as everything around me, and the sky was dark. I've never been able to understand it. Many years later, when I spoke to my descendants of my life they listened to me incredulously.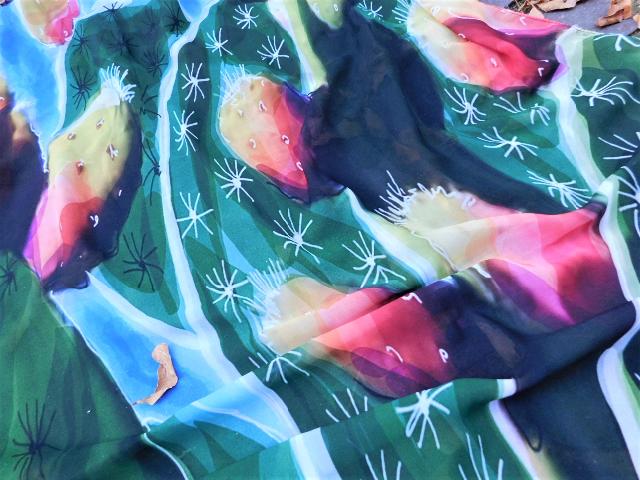 In all that confusion, everybody running without knowing where, the woman came to me and said, "Don't be afraid, I'll take a memory of you with me, hoping it will bring good luck. That way it'll seem like I still have something of this place."
Wrapped in cloth, I travelled for a long time. I saw the sea, I listened to its music. I saw beaches and cities I didn't like – too much noise, not enough sky. I like the naked earth and I know how to stay there with my feet planted firmly.
During the journey, when they unwrapped me, I would try to take my bearings, understand the layout of the streets so I could find my way back. To no avail. I lost all hope of returning. All that consoled me was the woman who from time to time spoke to me encouragingly.
Everything was immense, far from what I had known, the fields, a well and a shed roof, and my friend the woman, the saviour of my descendants. 
I was tired, exhausted, and I wasn't getting enough nourishment. I couldn't wait to arrive somewhere.
Then I finally heard relieved voices and a sound far away that seemed like the breathing of the sea. I felt it immediately: we had arrived.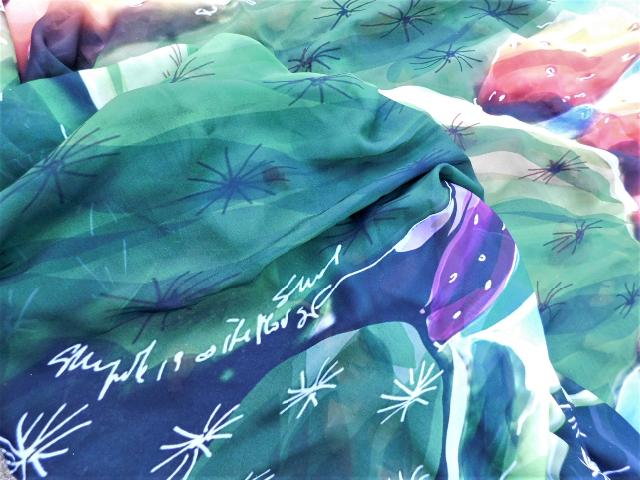 I was freed, all around so much sky, fields under the sun and a roof big enough for all. The place was new, but also familiar and I felt an air that was perfect for my needs. We had arrived in a tranquil place and I hoped I would never again feel the ground shake.
The woman left me alone for a few days. I realized she needed to get her things in order, to organize another life.
Then she returned to see me, she was wrapped in all her shawls and all of them had my portrait on them. I felt reborn, everything fell back into place. What an honour, what an intense pleasure, how beautiful she was dressed like that. She said, almost singing in a happy voice, 
"You see yourself? I saved all your portraits, I couldn't lose them – they're a part of me, and of you. You'll be fine here, there are some of your relatives here and in time you'll get back together. I want to find a good place for you and I'm sure you'll compensate me well. You're my best friend, you listen and never get angry."
What a joy. She pranced around me and the shawls, which she calls by another name, 'fular' I think, created so much happiness all around, everyone singing and dancing – what more could I ask for?
One morning she took me to my new abode.
"Do you like it?", she asked me.
From my expression I think she understood that I liked the place.
After she finished, she pointed to something,
"You see? It's a relative of yours. Now you've got company and you won't feel lonely anymore."
A surprise, what a kind thought.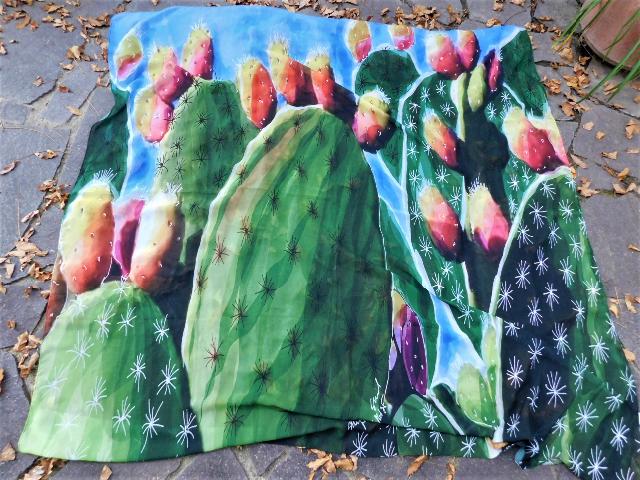 She was leaning against a wall and just then I didn't recognize her, so different from me, another body, but we did have plenty in common.
"What's your name?" I asked a bit timidly.
"Opuntia Monocantha", she replied. 
"And what's your name?", she asked me.
"Opuntia Indica", I answered.
Within the limits imposed by nature, we exulted.
We Opuntias love our families. 
To tell the truth, she was different from me, but what does that matter, I thought; I had survived a long journey, I had found a new welcome and one of my same species.
******