Another story embellishes the column short stories about my scarves, written by writers who love what I do.

Silvia Tebaldi was born in Ferrara. She graduated in Literature in Bologna, the city where she currently lives. She has been working in the field of libraries since 1985. She has been involved in training, photography, biomedical documentation.

(If you want to read the story in Italian, click HERE).
I've died three times.
I'm in no hurry for the fourth, I'm feeling fine. So much for the fourth. I've been carrying it with me for years and now I'm as flat as a board and the slimness, the elegance, this is it.
So here I am.
Later, I'll tell you about it, but for the time being I'm here in peace, approaching Saturday evening.
It's raining outside, October, Bologna has a vegetable market here, a covered one. In the middle, fruit and vegetables and on the sidesstalls for refreshments and aperitifs, and I'm here, in the hum of the language. I see you, I see you even without looking at you. People drinking and chatting, laughter now and then, a toast. I'm sitting here resting, wearing jeans and beautiful old black men's shoes, a dark grey jacket of boiled wool, a bag made of cloth and leather, almost Bordeaux black.
Who can see me, the real me?
My name is Irene, which means peace, and I've died three times.
Irene. Two, three deaths, even incomplete, and they come to you, just as the powers do, you become a sort of witch, a fairy, a guru, and I'm here. Present. No hurry for the fourth. I'm a minor witch, a second-class witch from Emilia. I observe them in silence, without looking at them, women and men. I have three talismans, Tina, Orlando and That of yellow and black. And a ring which is a nail with a square cross section, soft iron in galvanized gold, rounded and hanging like a necklace from a string. Beautiful. But the three talismans are Tina, Orlando, the yellow one, or rather Yellow and Black, laughing faces or laughing skulls, a dance, a party, called Funeral Party, pure energy, joy, anarchy. But now here I am, amidst strangers, I'm here resting in front of a goblet of Refosco and a few olives, black ones, in the midst of people speaking. Since the vaccine came out it seems that everything is over, the epidemic, the memory of it.
My God, the times when we couldn't go out, couldn't touch one another, no embraces, but after all it wasn't much of a change for me, but now it's full to overflowing, like in the 1980s in the taverns, at parties and not. For centuries I've been watching you.
My hair is tied up.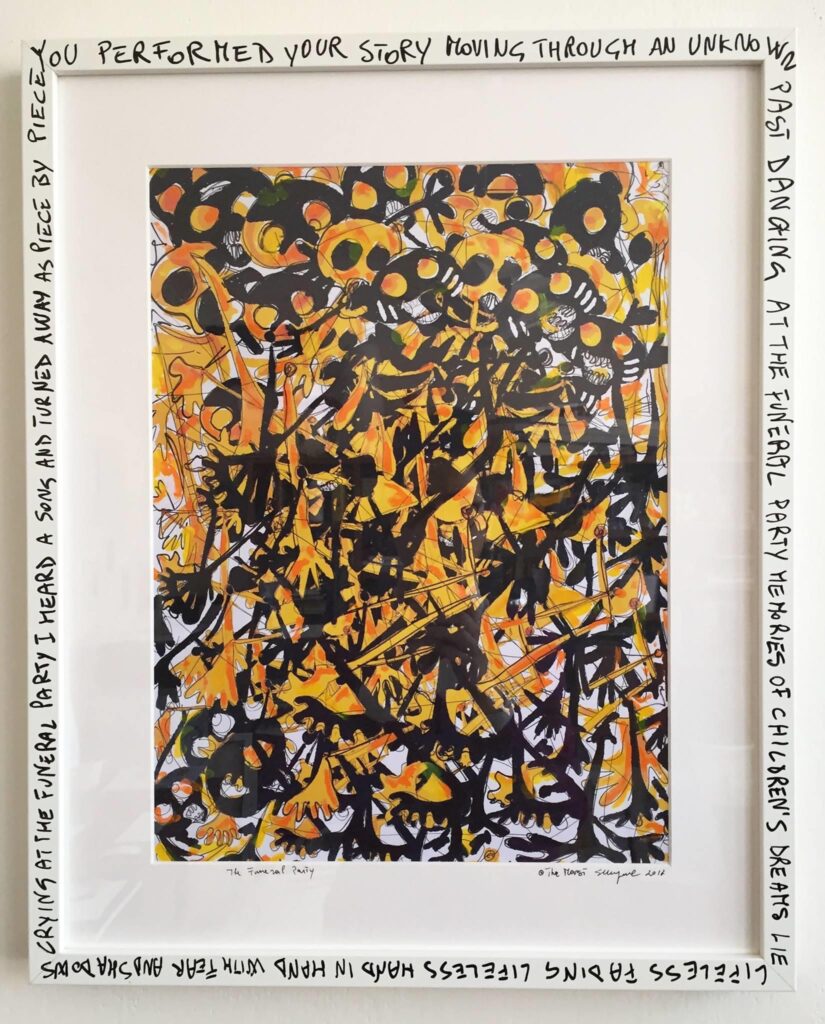 Tina is cloth, Orlando is cloth. So is the yellow and black one. Cloth. A silken shell, thin, you carry it with you and it warms you, it covers you and is a refuge, it veils you and unveils you. You can wash it in the basin together with your hands, with soap. You hang it up and it dries quickly, fragrant.

Today it is Tina. Tina is light blue and grey, ochre, Tina is brasses from afar and ultramarine, Tina is crimson glory and borders. I'm here in peace, here, with things to do. The man who is standing up, the one with the light–coloured jacket, that's Gian Piero Ruysch. Not a tightrope walker, nor a ventriloquist, but an adulterer he is, no doubt about it. The woman with him knows something about that, she seems short of breath, an uncertain attitude, she's his wife. I know Ruysch, from my other lives. I never fell for him. An adulterer becomes a tightrope walker too, and even a ventriloquist ofnecessity. Her hair is nicely brushed, black and straight, she's well dressed, tense, I'd say sad – they'll pass by near me going away. How brusque he is, as much as she is downcast, I think this would be right for Funeral Party.
I take Tina from the bag. I open the scarf full length and hold it in front of me, hands on my shoulders, I turn the corners towards my back, Tina's face and hair, her story, all here in just over a square metre, which I don as if I were cold, as if for joy, and she looks at me, no, not Tina, Ruysch's wife looks at me and I look at her. With elegance, with dignity, with but a micron of a complicit smile I look at her. Now she goes away, her back straight. It certainly won't be easy, the tension between them is evident.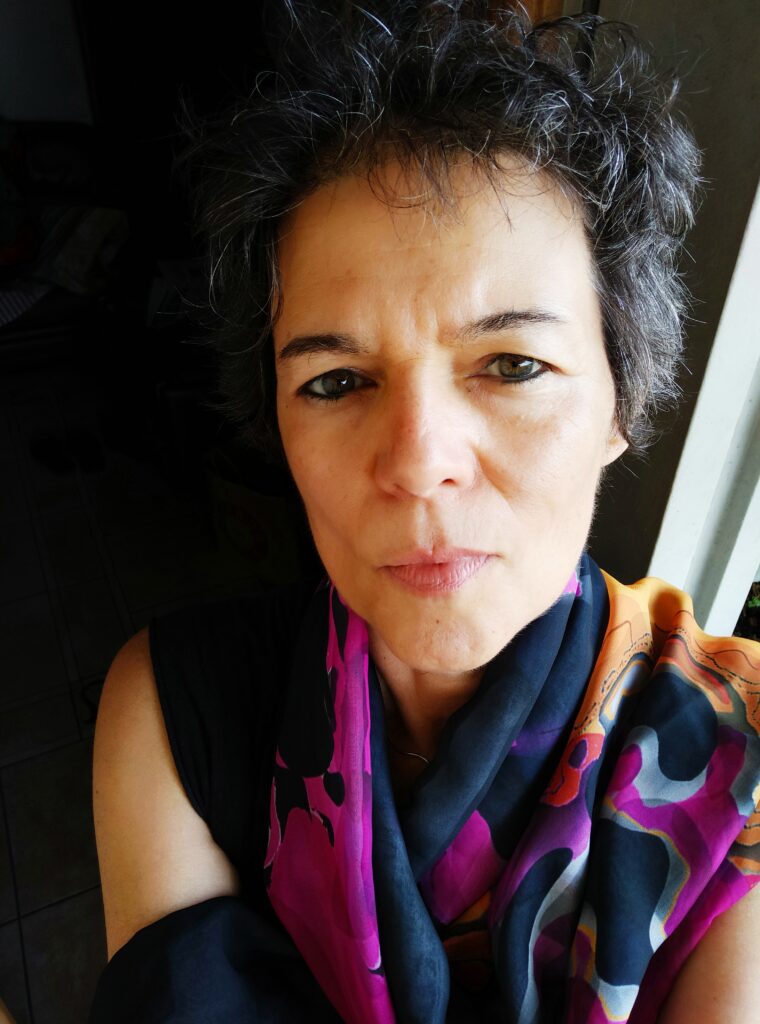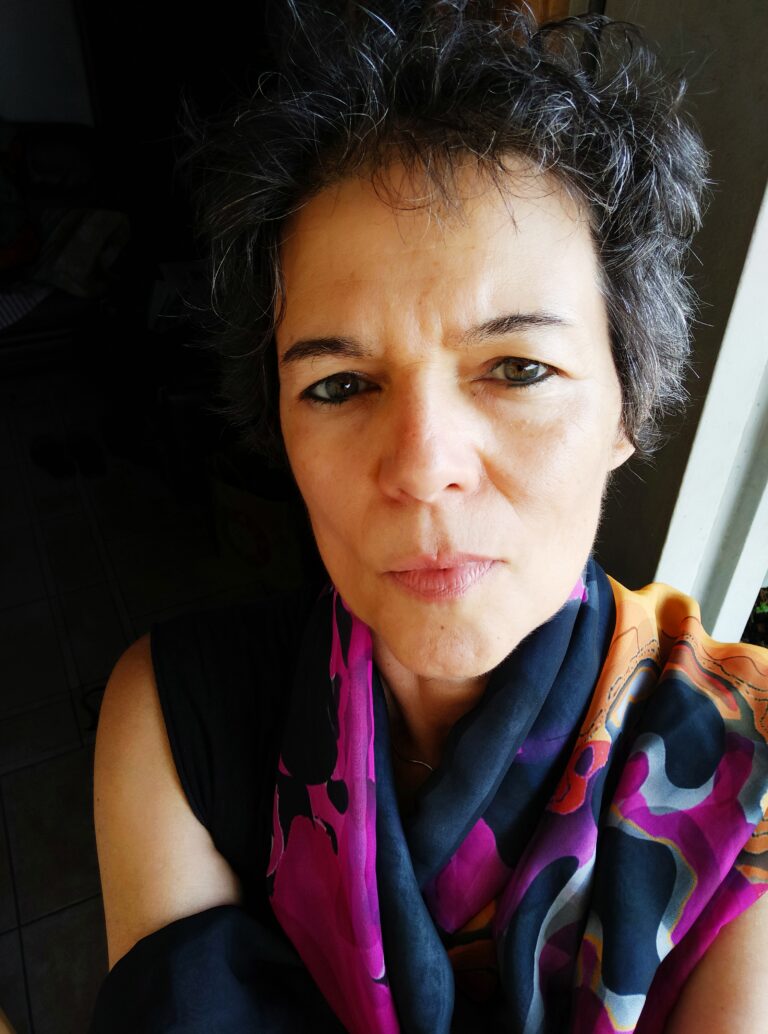 But as she goes away, she looks at me once again, or maybe at Tina, Tina Modotti on a beautiful scarf, ochre and ultramarine, the dark of her hair and eyes. By tonight she'll understand something, she, not Tina, she, Ruysch's woman – something of herself, of Ruysch and their relationship. That's no small thing. What an archaic therapy cloth is. What small celebrations.
Scarfs and stoles, saris and kerchiefs, aprons, covered head, written body. I also look at the dark-complexioned and vulgar girl in front of me, and she lowers her eyes. She doesn't know why, I do, Tina does, and so does Orlando, who I left at home today together with the yellow and black one. Orlando who sleeps for seven days and then leaves for Asia, Orlando who sleeps for seven days and wakes up a woman. Orlando multicolours, Orlando all-colours. For centuries I've been looking at you in silence, and now I'm here and resting. I have three beautiful scarfs and a ring. This evening, vulgar girl, it will reach you too, the rustling of a wing of thought. Because I'm here, a minor sorceress amidst the customers of the bars, refreshment stands and wine bars of the market, I've been reborn three times and I'm resting, here, with a few olives and a goblet of red wine, and for centuries I've been watching you in silence, and I've died three times and I have a beautiful scarf, quiet, light, for the time that is coming.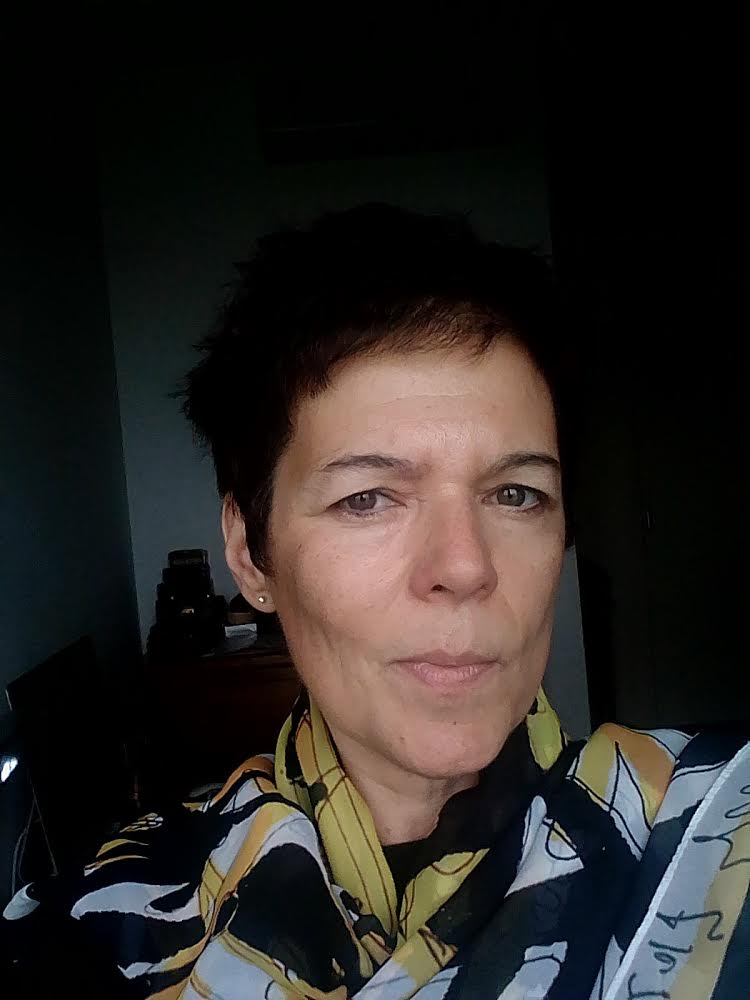 (If you want to read the story in Italian, click HERE).