Stella Olive and her daily artistic routine.
It is always interesting to discover the habits and rituals of artists.
I asked Stella Olive, an English illustrator I met on Instagram and whose quick and clean, dynamic and humorous almost fabulously humorous sign I really appreciate, to tell me about her daily rituals.
She says:
Here is my Artist daily routine, I don't have specific on… but hopefully you will be able to piece all together and enjoy reading.
I don't have a fixed routine but there is some kind of method behind how I work. Depending on how keen I am to start, I will eat breakfast, but it can turn out to be brunch, but I try to eat regularly.  My work is generally very spontaneous, so can take place at any time of the day or night with sketchbooks being my favourite media to use. They have mostly become a repository for my memories, my ordinary daily experiences, recalling motherhood, my fictitious little stories, and often accompanied by a written narrative. 

I hadn't realised how much I loved writing until I started putting my work on Instagram, thinking about it, that is probably the only REAL routine that I can attribute to on an almost daily basis. Previously I had become frustrated, teaching art and crafts, and barely did any myself. My son took me in hand and set up my account and I promised him that I would upload an image every day. And mostly I have, and my love of illustration has been reignited.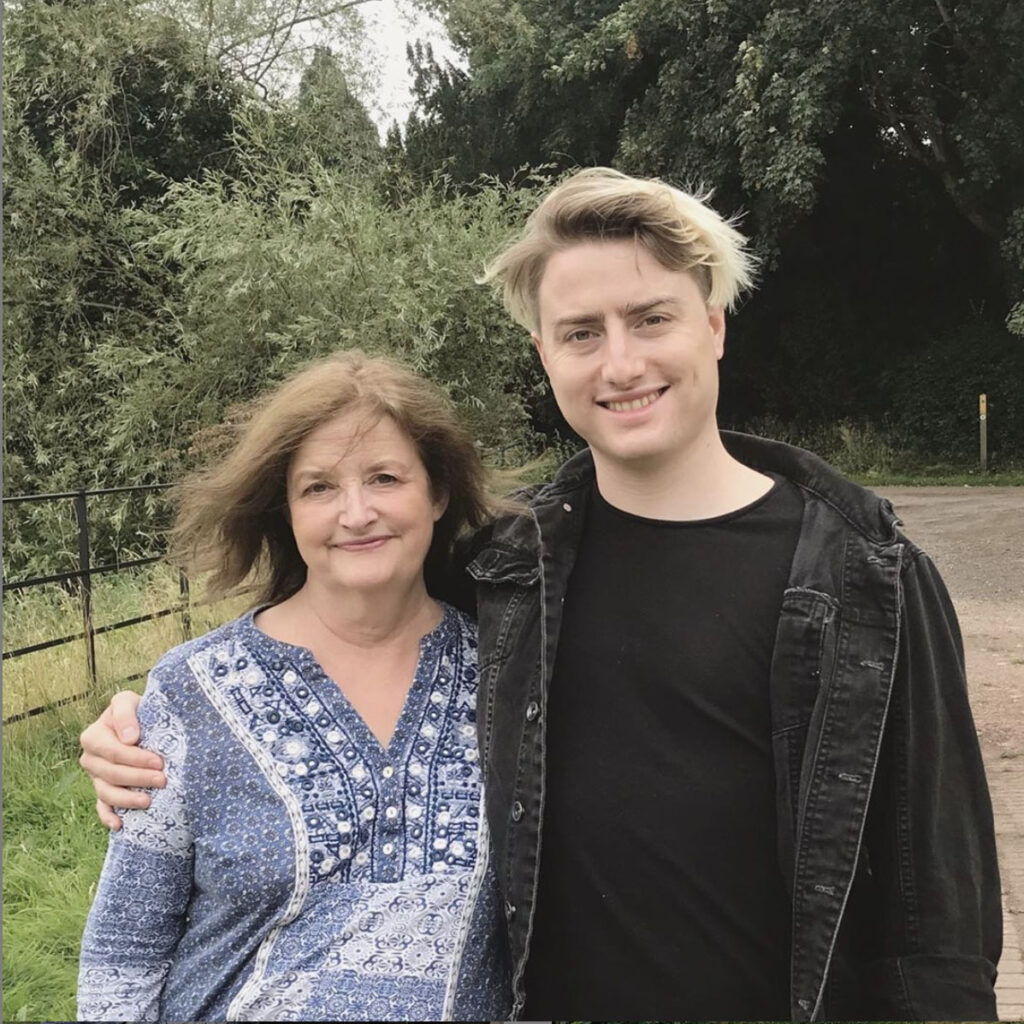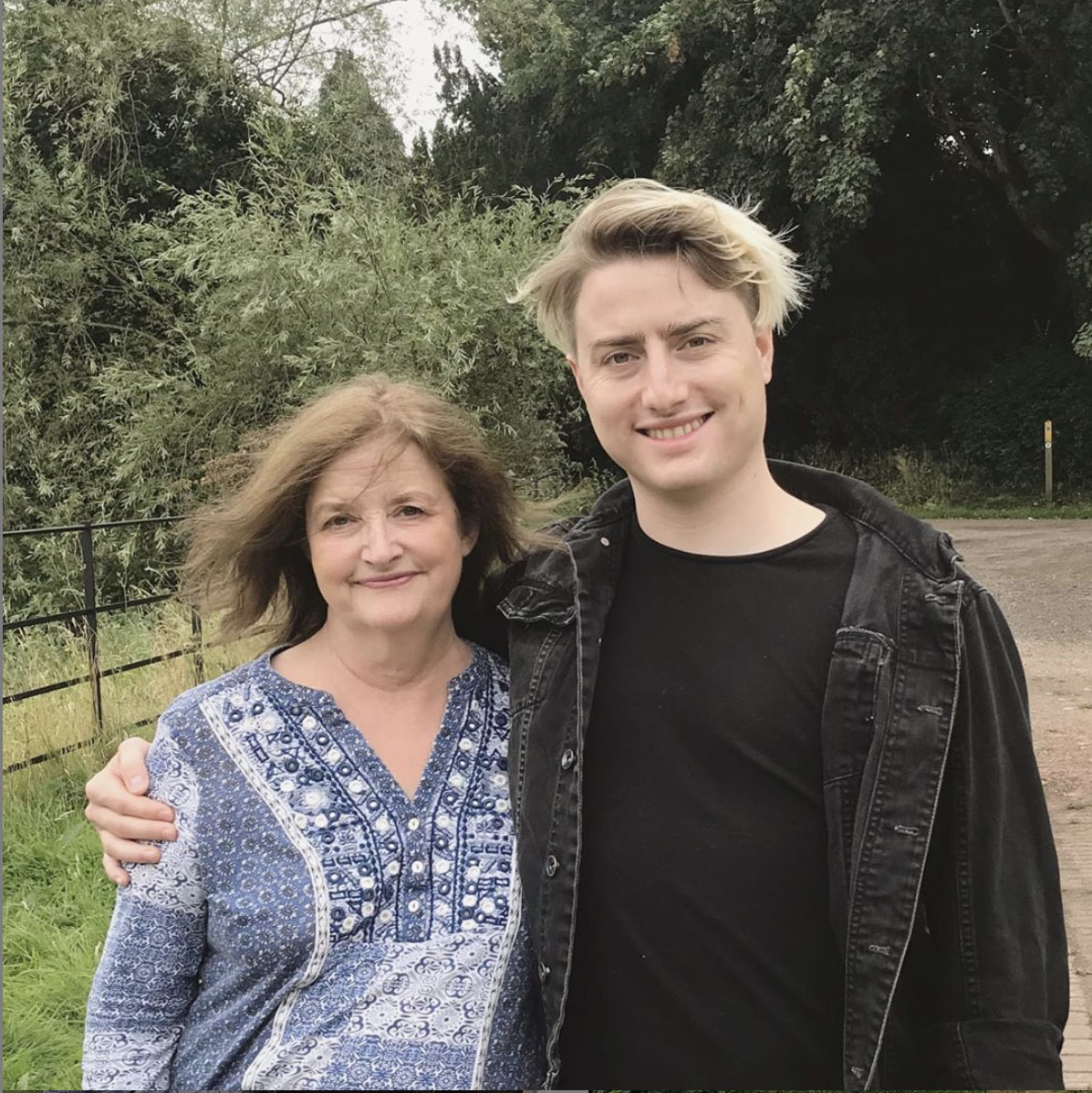 How many of us use socials to create a work routine?
I'm similar to Stella, since I've been on Instagram, I draw daily to talk to my audience.
I practice, I look for new ideas and I give myself rules.
Drawing every day is a big bet, a really big commitment!
Stella's story becomes more exciting and makes us reflect on the use of notebooks for our sketches. Do you start them from the front page? Are you afraid to start a completely blank new page?

Listen to what she tells me:
On a daily basis I strive to be organised, but this is not always the case. If I have a new sketchbook I rarely start at the beginning, sometimes it will be the last page, or the first random page that it falls open at, upside down or whatever. Its almost a ritual. I have no explanation for this other than I feel it makes the sketchbook less precious, and the images I scribble down more important. I am also very disorganised by nature.
I need to try and curate them, to find images much more easily especially for reproducing them as prints. I honestly feel that I will have to have a glass of wine or two to help me undergo this task. In reality my sketchbooks are extremely precious to me. I have already warned my son that he will be inheriting all of them...
… I am very much a thinker, a problem solver, I do a lot of 'Thinking' through ideas, and how to resolve compositional dilemmas whilst going about normal daily tasks, my brain never really stops.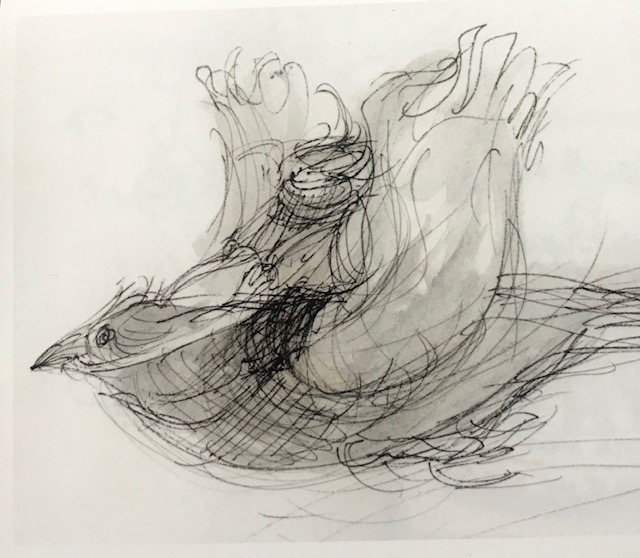 I don't particulary like working in silence, the sounds of daily life are comforting, the exception is if I'm trying to write, where a walk will help to create a rhythm, and I can soak up the environment and mood.
Before Covid I would like to go to the city library in Lincoln  listening to the movememt of people, the pages being turned, mumblings, the pre school children singing in the room next door and general city life through the window. I often find it too quiet here to think.
I enjoy teaching creative thinking skills to design undergraduates. I can't imagine not trying out alternative ideas to arrive at a solution that works.
I will often dance to get my limbs loosened up enough to draw with the fluid lines I enjoy. Especially for commissions where I can tighten up.
I drink coffee, or depending on my mood, tea, but lots of water too.
Somedays I will work all day, another, it will be a for a few minutes, just to reduce the insatiable craving to draw.
My favourite work space has to be the sofa in our living room, with my sketchbook and drawing materials scattered around me. If I have gone to bed and an idea comes into my head, I have to get up to draw. When I worked as a freelance illustrator I often worked through the night.
I have a small studio to work from at home, I will listen to the radio. I particularly enjoy opera and musicals, listening to anything too chit-chatty is too distracting. In there I can do more of the stuff with the computer, and work on commissions etc, but my creative work space is definitely the sofa.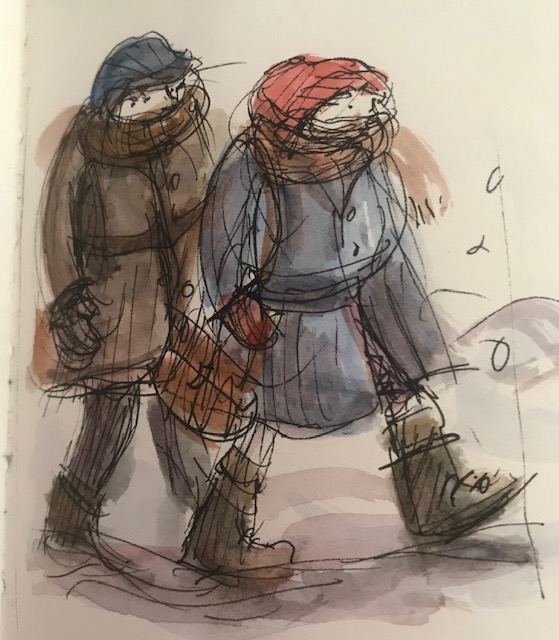 Another point very similar to my daily routine.
I have two desks in the studio, in one I have the computer, the books, the notebooks. On the other desk I sketch, I create my scarves, in short, I do my work purely manually.
And yet it is the sofa where I write more, think more and do my projects imagining and taking notes.
The sofa gives you a more welcoming and less official dimension. It welcomes you, protects you, consoles you.
Moreover, some days I draw a lot and others a few minutes. But in essence, not a day goes by that I don't work.

The social media impose more orderly work rhythms on you. And so all the work on the blog, the newsletter and more.
In addition to drawing, there is all the promotional part that takes up a lot of space during the day.
My curiosity will lead me to ask other artists what kind of daily routine they have, what kind of rituals they have.
And You who read this article, what kind of daily routine do you have?