Without imperfections, we wouldn't love perfection.
Perfection is a difficult concept to perceive when it comes to gardening.
I tend my grandmother's vegetable garden after my father revolutionized it and made it nearly perfect.
My father passed away and the person who tends the garden now is me.
And I apply the concept of perfection just as I apply it in art.
In what does it consist?
Well I will amaze you. My grandmother's vegetable garden/backyard pursues a perfection all its own, mine.
My father had replaced all the forest of flowers my grandmother had accumulated and had arranged rows of fruit trees.
Nothing at the base, just grass. Carefully cut grass.
Even the fruit trees were all at the same height.
There was a Zen-like order to my father's garden. An order so strict, that from one summer to the next you never saw a mess.
Weeds, flowers, aromatic plants. Nothing out of place.
Very little of anything, but tidy.
"Perfection is achieved, not when there is nothing more to add, but when there is nothing more to take away."
(Antoine de Saint-Exupéry)
That's exactly what my father did. He subtracted, he simplified.
His garden didn't wait, it didn't need any additional touch.
Just like a work of art, the plants grew in order, slowly, bearing the expected fruits, amazing every visitor for the simplicity with which it was presented.
What was perfect in that garden? The distance between the trees, the only two flower beds dedicated to the vegetable garden. The poles all the same to support the tomatoes, the concentric beds with no grasses under the trees, the branches contained within the same range.
"But perfection, if it is easy to admire, is hard to love."
(Richard Yates)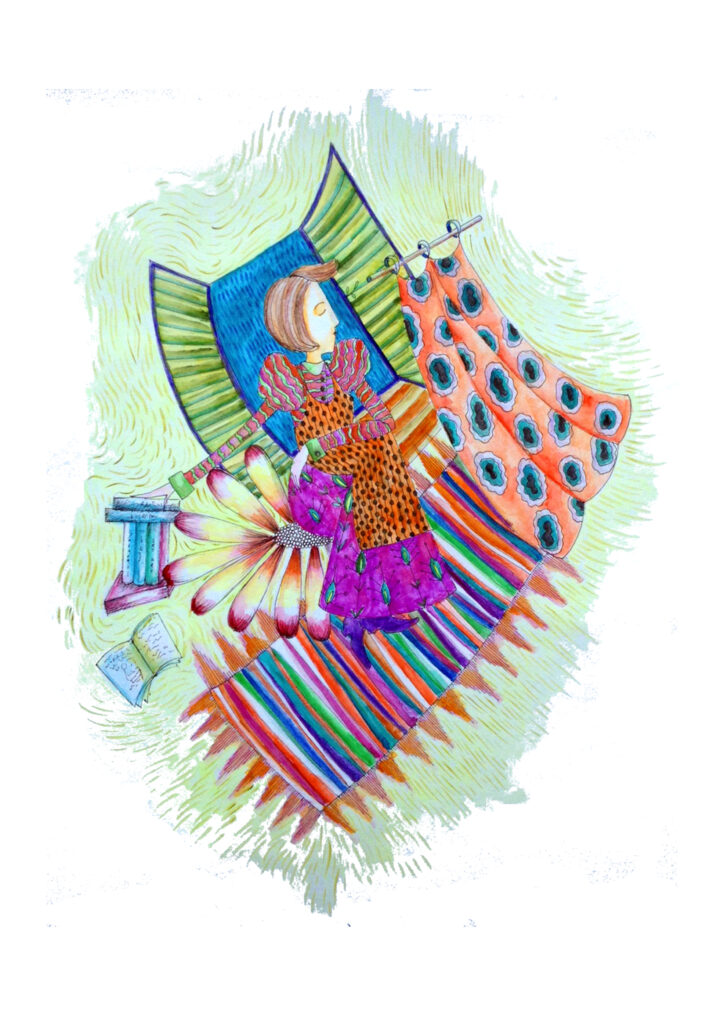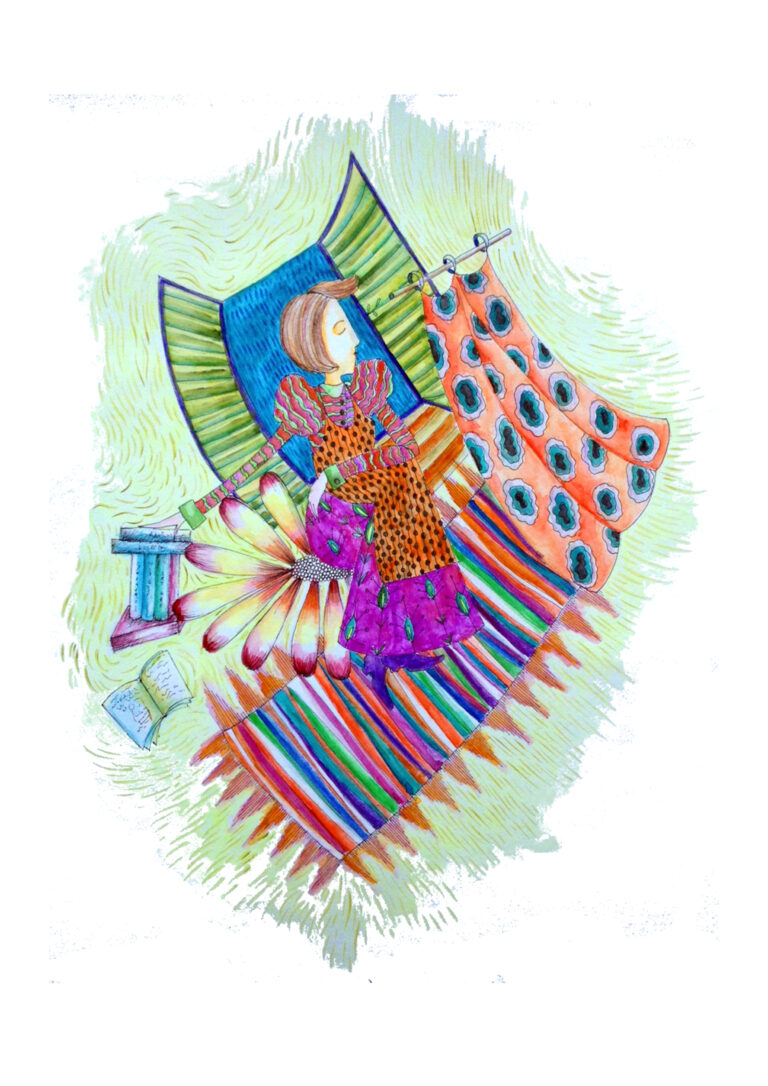 I confess that I loved the eulogy of imperfection that was my grandmother's previous garden much more.
She was a strict, Hapsburg woman with a spasmodic passion for gardening.
Yet completely insane in her choices.
Between a potato plant and a row of carrots, she would plant a rose, some marigolds and a few strawberries.
She would cross roses with each other, graft, prune.
I rarely saw her during the summer, at least inside the house.
Because she spent all her time in the garden.
She too sought perfection: the most fragrant rose, the sweetest potato, the sweetest grape.
Always unsatisfied, always striving for an unattainable perfection.
My grandmother as well as my father, cultivated that garden and that vegetable garden with the same effort, the same dedication, the same expectation of results.
Proud to show passersby the beauty they cultivated. With that nonchalant air that I think I can guess was just an appearance.
They really cared about the comments of passers-by.
My father specialized in fruits, my grandmother in vegetables and flowers.
While my grandmother was still alive, my father never touched a plant. It was an unspoken emphasis on boundaries.
My grandmother's realm was locked. No one could use a shear.
She would cut flowers for the house, as well as the choice of vegetables for lunch and dinner, were discussed with her, no one could cut or pick.
The only one who transgressed was me. I would subtract carrots, pull off cucumbers, pick seeds.
But I did it under her direction or during her distraction.
I never took any initiative that would cause her to chastise me.
"Everything is perfect in the universe, even your desire to make it better."
(Wayne Dyer)
When my grandmother died, my father took over the land. That tiny handkerchief, over a hundred years old.
And everything was transformed in his image.
My father was less tied to the phases of the moon, to the madness of weaving, to the dispute between carrots and lilies.
His mathematical conception of space, he saw everything as chaos, as anarchy, as disorder.
I was sorry to see him dismantle that garden full of secrets, of mimetic butterflies, of edible and poisonous vegetables.
He respected her roses and her hydrangeas, which still resist. But nothing more.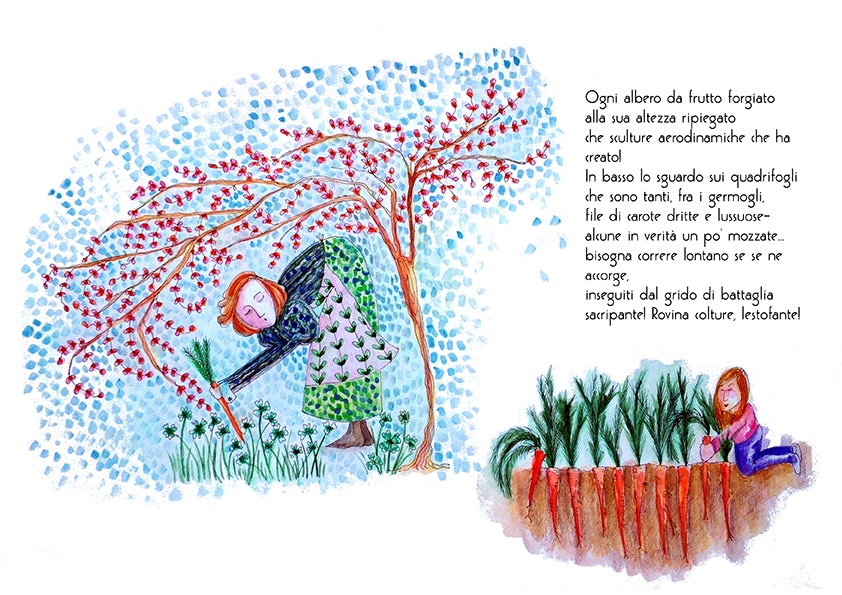 "Perhaps it is precisely our imperfections that make us perfect for each other."
(Jane Austen)
Six years ago he passed the scepter to me.
I had experience with my previous garden, which proceeded like my works of art: with effort, with doubt, with constant downfalls.
I lived in a place where everything bloomed year-round, where the fixed thought was watering and sheltering from the sun.
Everything is different here.
The strawberries planted decades ago almost dead, the grass cut perfectly, the trees mammoth.
As I remembered for my grandmother, neighbors ready to give advice on management. My father was never given advice, but you know, a woman alone who knows what chaos she can produce.
I saw in what my father had accomplished some really good things, as well as in those of my grandmother.
The first act I put into practice was planting a birch tree within a month of my father's death.
From the hospital window I had witnessed the night dances of those white trunks.
Many years earlier on one of our walks, we talked together about the beauty of birch trunks.
That tree was perfection to commemorate him.
Six years later it is a bonsai birch, I prune it so that it remains low and harmonious and is one of the bright spots at Christmas.
"I think imperfection is underrated."
(Helena Bonham Carter)
A revolution that goes hand in hand between art and gardening has begun with me.
I wait. If it rains I wait, if it's hot I wait. If I have no artistic ideas, I wait.
I study the plants, I study for the art.
If weeds are an eye sore, well I don't care. I cut when I have the time. And the desire. Against all common sense.
The garden should be an enjoyable and relaxing time for me, not a competition with the neighbor.
The trees are left. My father's cherry tree died, but I didn't uproot the trunk. I planted another cherry tree next door, and the old trunk is a seat for standing.
Is it perfect? No, but it has a story. And you know that stories, especially personal ones, depending on your point of view, can be perfect or imperfect. For me, this one is perfect, even though it may seem absurd to the outsider.
I weave a tarp over the vegetable garden so that the weeds don't kill the plants.
As my father would have done, as my grandmother would have hated.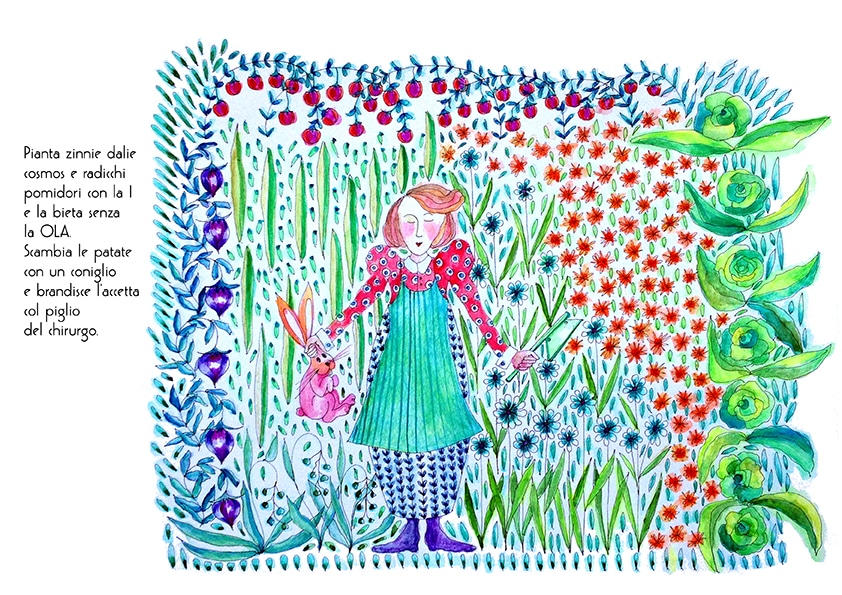 Perfect? Not really. The weeds during the pandemic took up space just the same.
But on the other hand, I revived the strawberries, which are now weeds themselves.
They're not perfect flowerbeds, but perfection lies in walking around and eating the fruit.
I made cuttings from my grandmother's hydrangeas, and I didn't follow a geometric pattern. There's my grandmother's madness in the spaces I'm occupying.
I've planted a Japanese maple, peonies, wisteria, and am cultivating my grandmother's passion: Tuscan and French roses. Everywhere, without logic.
What perfection do I pursue? Senses.
Smell, sight, taste.
What imperfection do I cultivate? I'm not perfect at cutting the grass, I'm always late with the vegetable garden, I don't compete and I don't give a damn about following advice, schemes and suggestions.
That summer I planted the birch tree, watering it with a few tears of emotion, I started drawing again after a long time.
I was and remain imperfect, and that's all the perfection I seek.
"Imperfection is hidden perfection."
(Robert Browning)