A selection for Halloween, Christmas, Valentine's Day and all seasons of paper dolls.
We often realize what we loved in childhood, repeating some unconscious rituals triggered by something unexpected.
All it takes is a perfume, a song, a color, and time stops around us.
It's something instantaneous and unfiltered.
It happens to me with paper and scissors.
Probably the summer has triggered memories related to paper but I'm sure that you, art and culture lovers, will understand what I'm about to tell you.
Over the years my grandmother kept international magazines, books, articles and patiently cut out where possible and put everything in plastic folders.
When I came to her during the summer, I had material that would be enough for a whole school year.
It frightened me, but my grandmother showed all her love for me in her books for me to read kept by her throughout the year.
I'd say thank you and I thought I'd have a really tough vacation.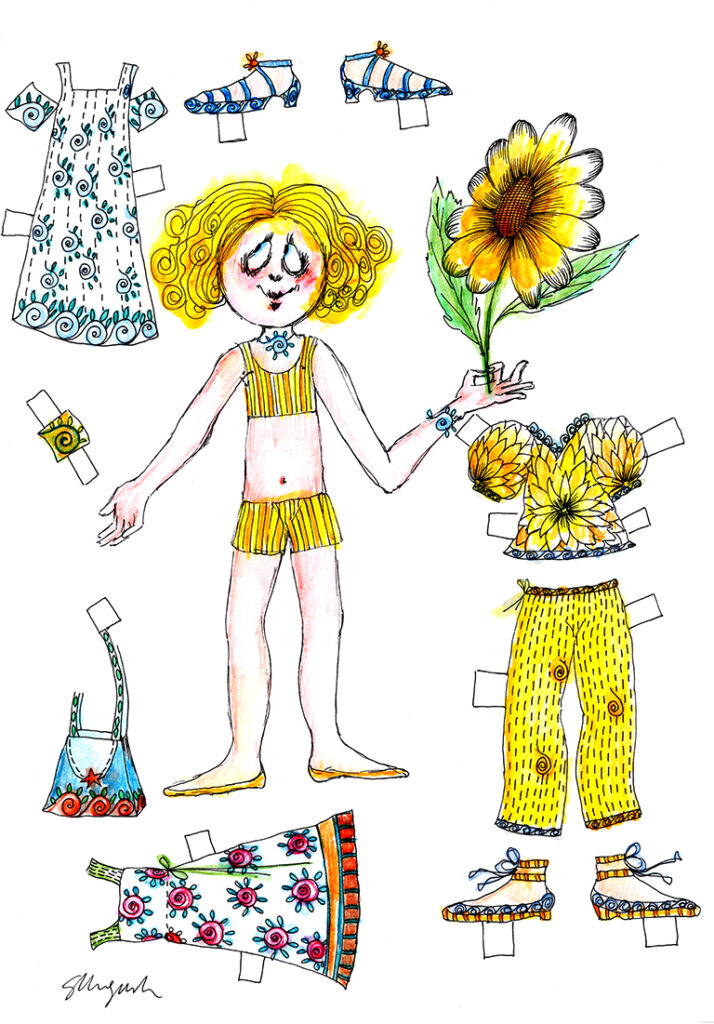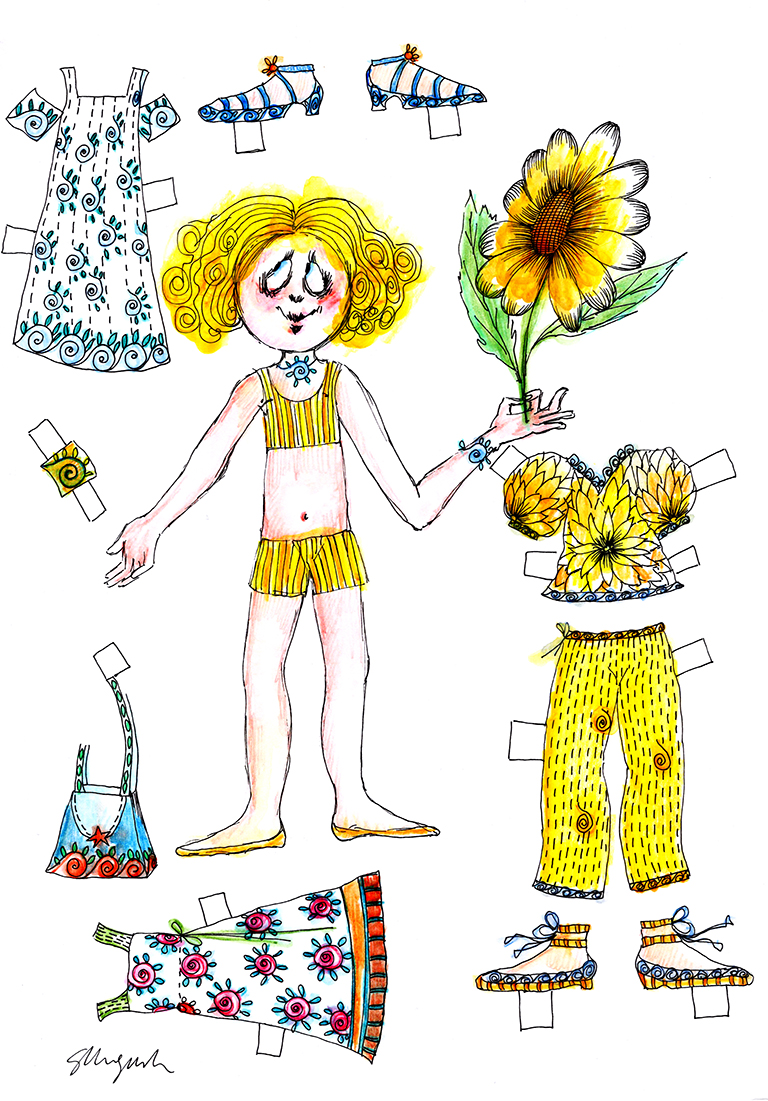 During the summer holidays, on afternoons my father and I would take the bus without air conditioning and with the windows open and go into town.
The old streets were full of bookstores and had outdoor displays under the arcades.
Huge tables where I couldn't get to and then booksellers would put a stool for children like me.
There was no division between bookstores for children and bookstores for adults.
I looked at everything, read everything, touched everything.
You could go into heaven in a moment.
Comics, mystery books, but above all I found the paper dolls, the memory of childhood!

Reading was very easy for me, moving my hands less.
The fingers weren't elastic, the hands were small.
Cutting out was very difficult, I got tired holding the pencil.
But I had one advantage: constancy.
I ruined drawings, I cut roughly, I couldn't stand the edges when I colored.
But day after day, as I practiced, I got results.
The practise of paper dolls.
Have you ever practiced and got bored?
I've practiced a million times.
The goal is there in front of you but you never get there because you get tired, bored.
So what do you do?
This is gonna sound weird, but I pulled out the old paper dolls and started both drawing and cutting them out.
My hands were getting stronger and I was having fun.
Often my mother would decorate paper dolls with collages, and my cousins, who never owned them, were ecstatic.
At the end of the cut-outs we played, but when we were older, we used them for greeting cards or to write incredible letters to our first loves.
When I grew up, I did what I wanted as a child.
But the path was tortuous and sometimes incredibly heavy.
And it's not over!
But one thing taught me to do paper dolls: you can create your own world and make it real if you want to.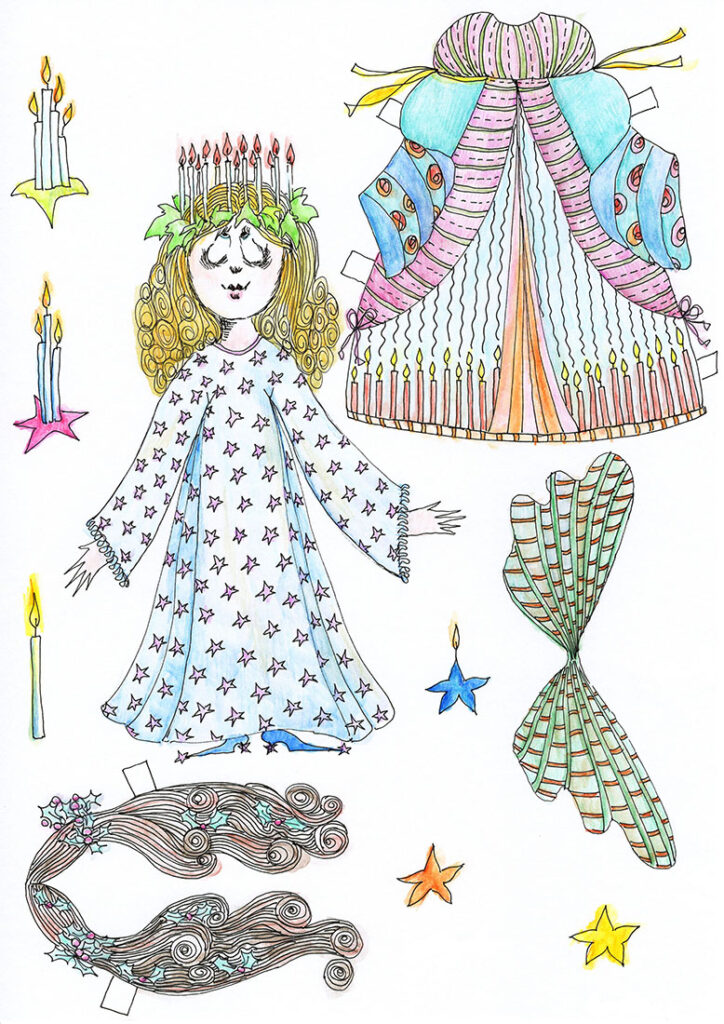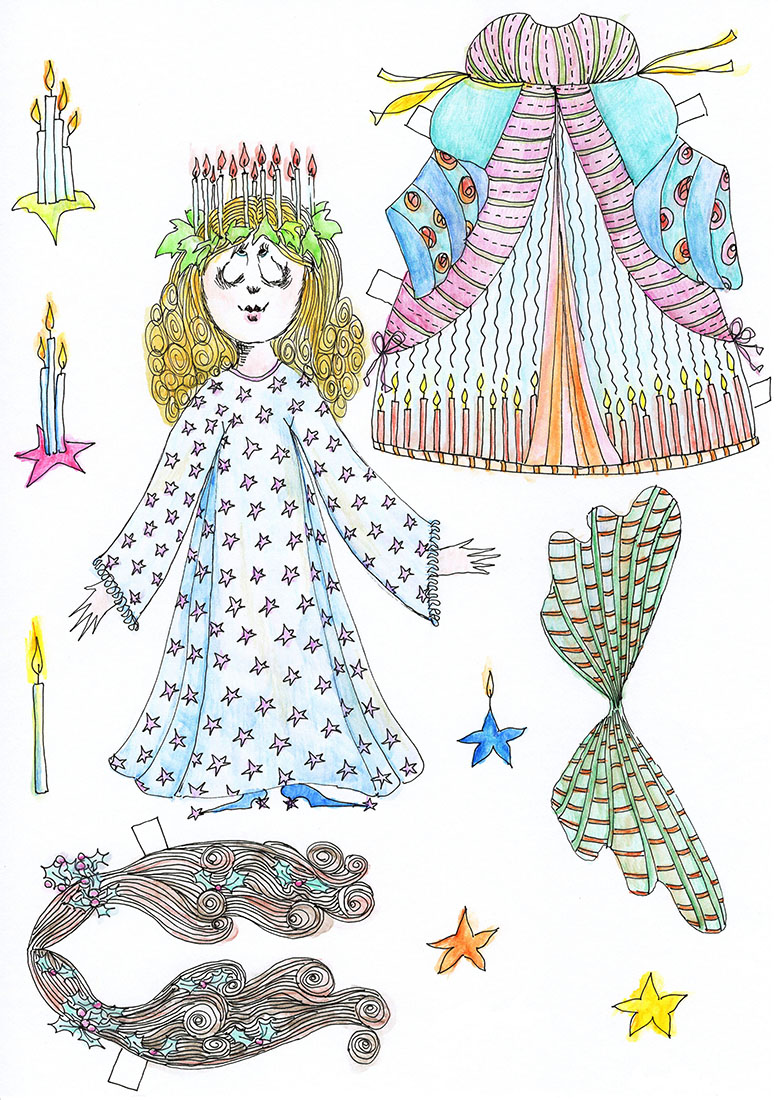 A paper doll can be your miniature world, it can be your meditation space.
Hands like your brain, they become elastic while you're having fun.
You relax and come back as a child.
You don't need big equipment and big spaces.
Age doesn't matter. Neither does your wallet.
And if you like me, you don't have elastic hands, it's a great chance for you to exercise.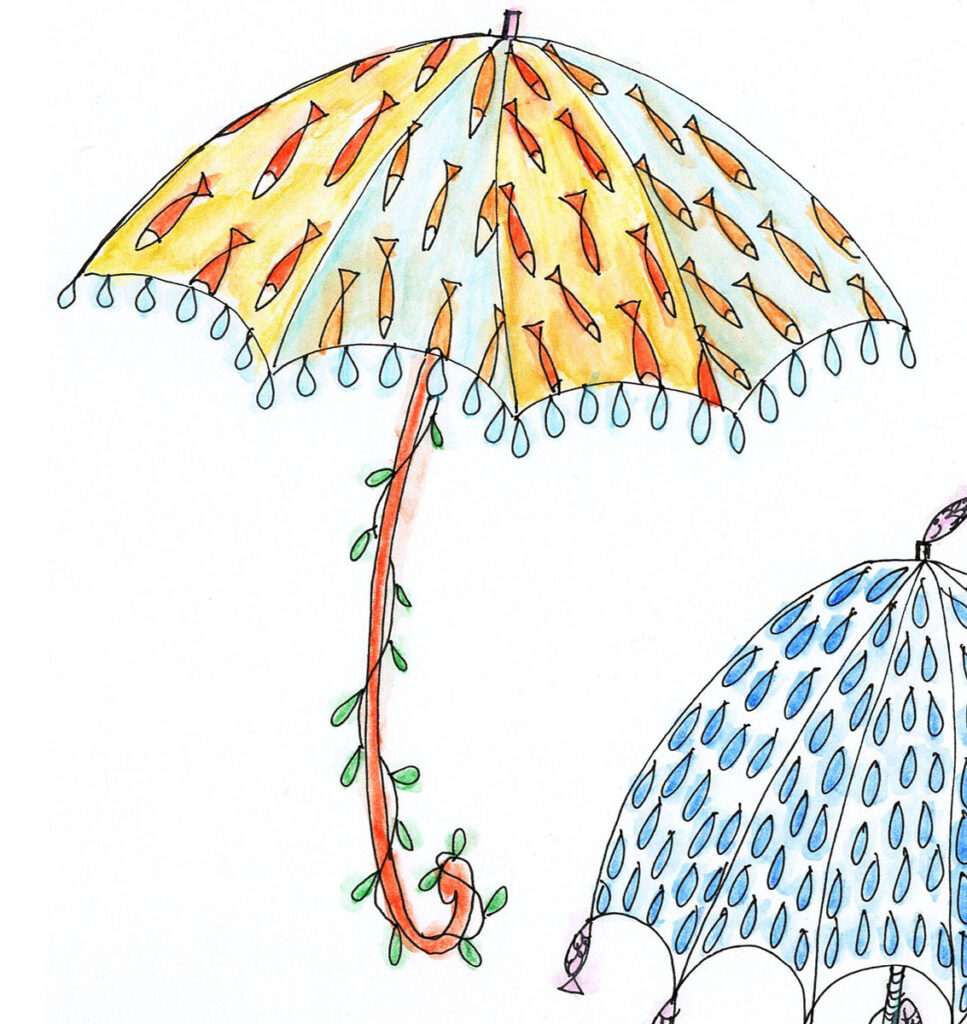 The fantastic world of paper dolls.
Days ago I had to write a greeting card for a gift and I decided to choose my own original drawing to accompany it with my words.
I want to write by hand and if there is a drawing it is even better.
I opened the drawer.
And I found many paper dolls that I had created years ago.
Paper dolls drawn with a black pen, and then colored with watercolors.
A long job, months.
I drew girls on swings sprinkled with cherries, funny Halloween hats, summer flowers, beach games.
Valentine's Day, Christmas, school, spring rain.
To be transformed into greeting cards, into little paintings for the walls of the house, in short, ready for many personal uses.
I wanted to taste the seasons, because I lived on a beautiful island but without the seasons I was used to.
I drew them looking at the sea, in the evening looking at the stars (I lived outside the city and without light pollution, the stars were clusters to touch almost with my hands).
I drew them with the impetuous mistral wind, in the patio of my house, with the fear that they would fly away.
They are memories, of salt, of light, of the smell of myrtle and jasmine.
I've always loved the islands, and in one I stopped for 20 years.
It wasn't the sea that attracted me, on the sea I was born and lived most of my life.
It was that isolation that makes the places, the people, the silence special.
It's all more difficult, but it's also all more poetic.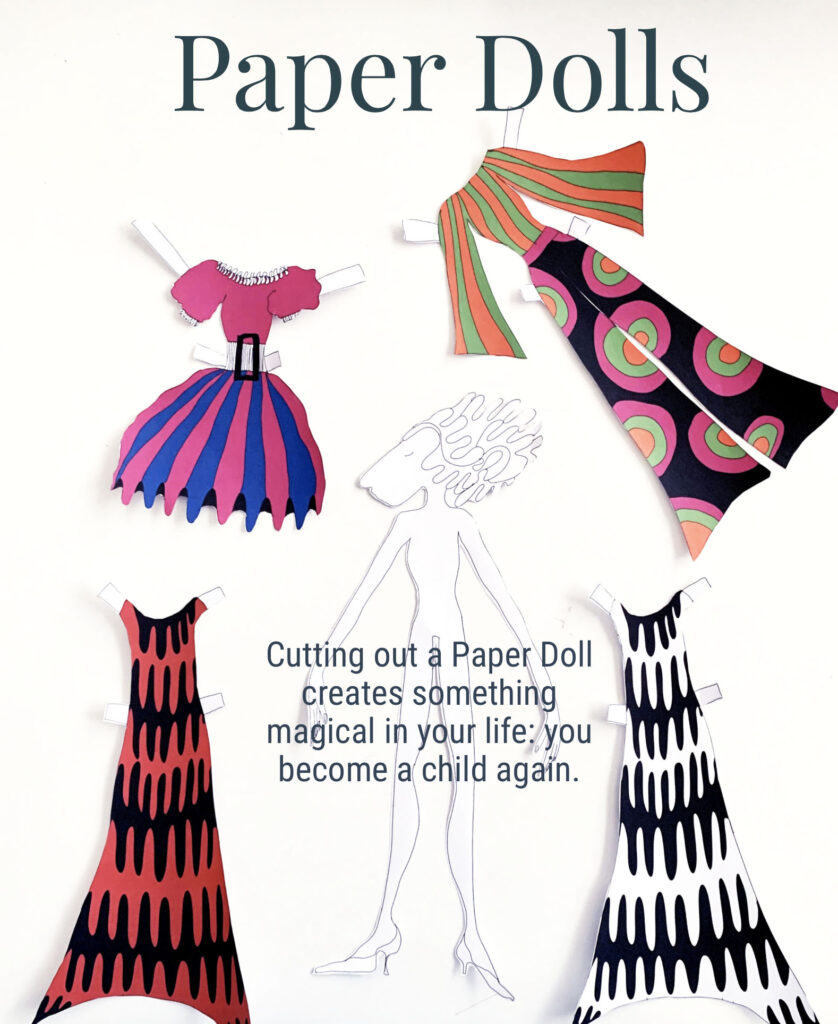 So in these nights I've created an ebook with many paper dolls that remind me of that island and a near past that I loved so much.
Putting my hands back on those shapes has as if enlivened the memories, moved my hands and the silences rocked by the wind.
They are sunny, colourful, cheerful paper dolls.
Maybe it is nostalgia for a past that cannot come back, so it is now necessary to bring them to light and take them on a long and joyful tour around the world.
It is an ebook only of images to cut out.
It is the fantastic world of paper dolls that come from the past to entertain this very special summer.

There are 15 paper dolls with all their thematic accessories (shoes, bags, hair, clothes, hats).
For Spring there are also a pair of umbrellas and a pair of clouds and a bag with fish inside.
As many as 5 tables dedicated to Halloween, with skulls, candles, improbable wigs, spiders, owls.
And then the sea with straw bags and light clothes, and bunches of grapes on the clothes for September.
So all you have to do is go and look in your drawers for the right scissors.
I'll wait for you with everything you need, I'm sure you'll have a good time.