Customize your scarf with my art.
In the five years that I have been creating scarves as unique pieces of art, I have received a few requests to personalize a gift.
These were requests based on my own design: whether it was a particular theme (a sexologist asked me to interpret eros) or a favorite singer, they were clients who wanted a unique piece of art on demand.
A short while ago I met a German artist whom I like very much.
I like her so much that I interviewed her on my blog.
Thanks to Nadja, I also met her life partner Kerstin and it was from her that I got an extremely interesting proposal.
Kerstin asked me for something for Nadja, who is an artist like me, but she did not bypass my art; on the contrary, she asked me to flow my art into Nadja's.
A meeting of art between two artists thanks to Kerstin.
A collaborative proposal and one that amplifies the art of both.
So one day Kerstin writes me this beautiful message:
Good morning, dear Stefania,
have I already told you that I love your beautiful scarves? It's Nadja's birthday soon and one of your scarves would be a very special birthday gift….
Could you imagine taking one of Nadja's photos and reinterpreting it in your artistic style? Like a long scarf. That would be a very personal birthday gift.
What a great idea to print your artwork on scarves as wearable art. I love it!!!
Greetings from Berlin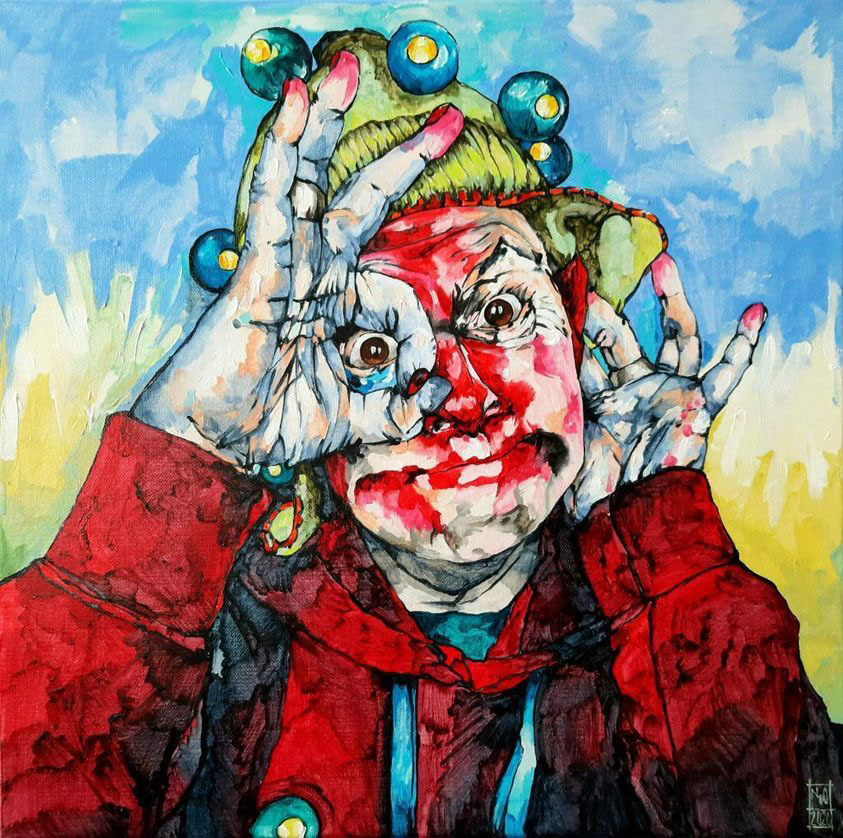 The only problem was the timing, since every scarf I make has this timing:
A couple of days for the design if it is custom and if on the first or second design the customer agrees
Order the printing which means at least one working week to receive the fabric printed with high definition
Once the fabric arrives there is hand hemming. For a 145×145 cm (57×57 inches) square scarf at least two hours per side. A total of eight to 10 hours of work is involved.
When finished it ships as soon as possible by traceable mail
So for a scarf from idea to realization it takes at least two weeks plus the time of arrival at your home.


But for Kerstin it was not a problem.
Many clients give me as much time as I need, and for that I am grateful because making something by hand needs slower time than the industrial object.
I think it is important to make something by hand by making people realize how different, ancient and important handwork is.
So I started the collaboration with Kerstin.
I asked her what artwork of Nadja's I could use, and she sent me some images of her self-portraits.
We started from my idea of using her paintings revisited by me in a pop key and with graffiti and a portrait in a pop key that I had created for Nadja's interview.
Kerstin liked the idea right away.
I worked for several hours on creating the scarf design and waited for Kerstin to tell me whether she liked it or not.
Kerstin was immediately enthusiastic and therefore we expedited the work in 24 hours.
I remember requesting the printing on a Sunday even though I knew the girls doing the printing were closed.
But there was such a desire to work on it as soon as possible that I ordered anyway even though it was Sunday.
As soon as the fabric arrived, I froze all other work.
A custom order always takes priority for me and I care so much that the customer is pampered.
I was only able to work on the scarf and it shipped in record time.
But both Kerstin and Nadja were away on commitments and the scarf sat in the post office past Nadja's birthday.
But it was not a problem, both Nadja and Kerstin loved the scarf and documented as I never had before the whole operation starting from the opening of the package.
What is different about this work?
First of all, it is a collaboration between artists, it is a mixing of our styles.
It is a very unique collaboration.
Nadja has a scarf that talks about herself and her art, but it also talks about my art.
And it is only one scarf, there is not and will not be something like it.
Then it's handmade, printed on an Italian fabric made with 55 percent recycled plastic, and the printing is the latest generation that saves water.
Nadja wears something artistic, it is the manifesto of her art, the scarf has her name on it.
I can already see Nadja at her upcoming vernissages sporting her art on her, tops a mobile and soft sculpture on her shoulders.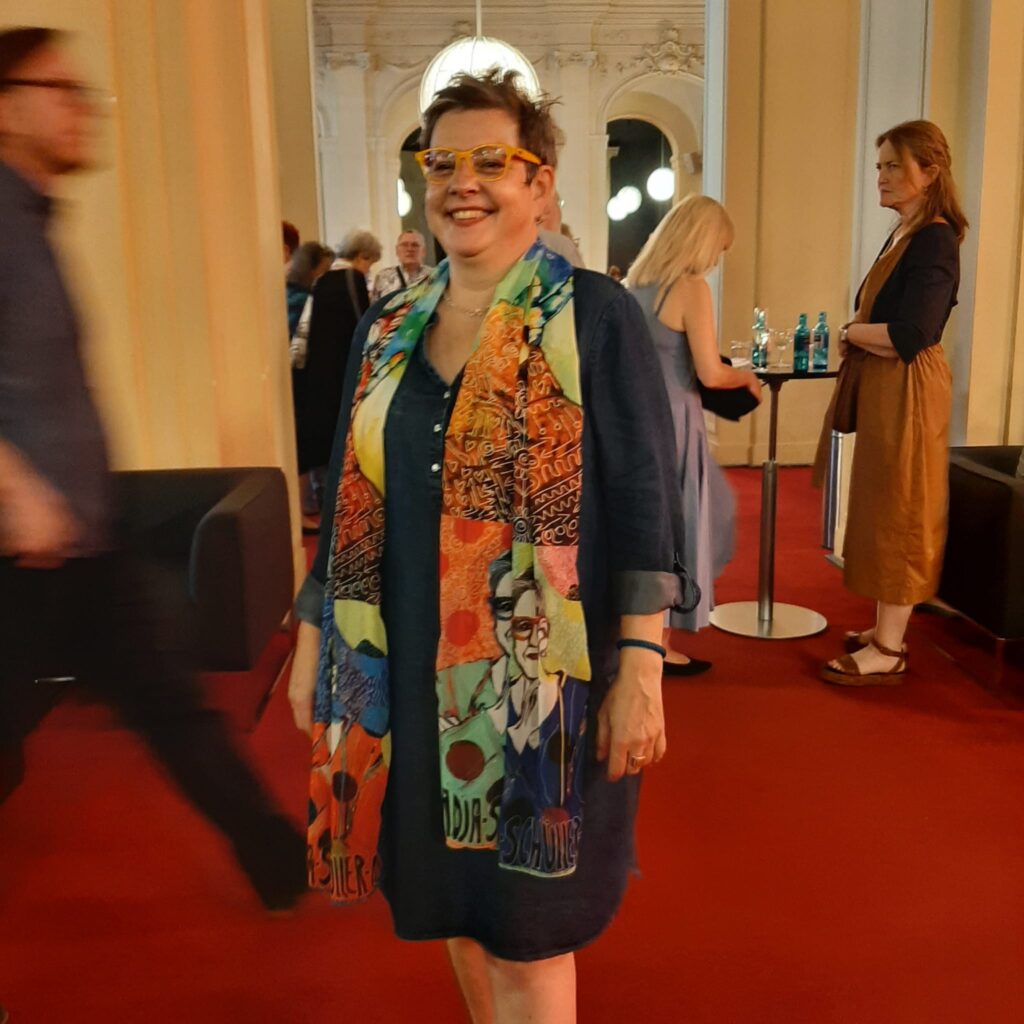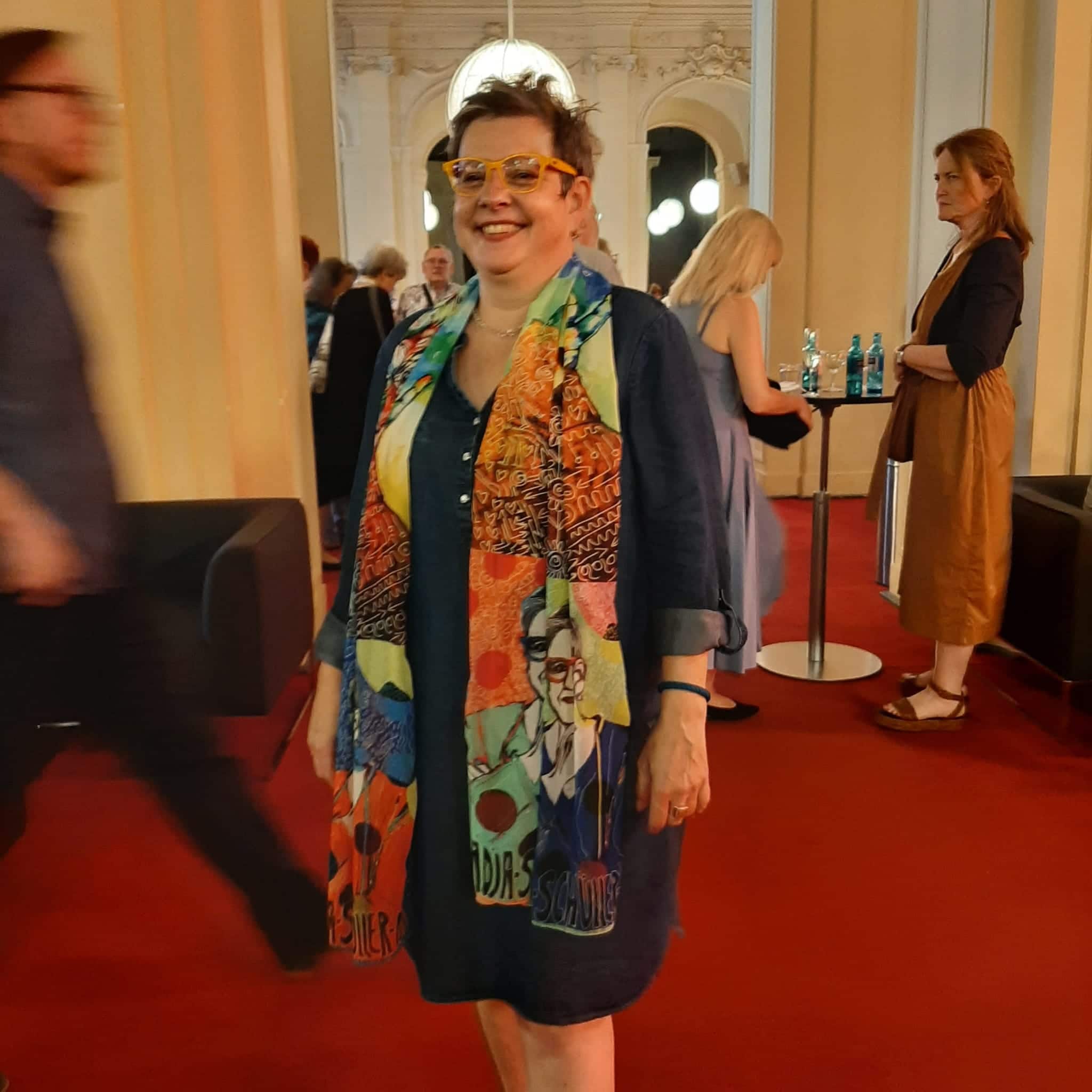 If you like the idea, you can have a personalized scarf too.
You don't need to be an artist, and any personal idea is a great start.
I have had clients of all genders and ages and from the most incredible requests.
Whether it's a gift for someone or for yourself, consider the timelines I've outlined in this post and get started with your custom artwork.
If you want to take a look at what already exists in the shop instead, just click HERE.
All scarves are hand-hemmed and are unique pieces accompanied by a certificate of authenticity.
The designs are all created by me.
If, on the other hand, you would like to make a truly unique gift then I am here, write to me and I will be happy to make something special for you.