What is the task of art?
What is the message of art in contemporary society?
I asked this question to my community and the answers, as usual, are always interesting.
For almost everyone, art must excite at first approach but also make us think.
And both actions, getting excited and thinking, are perceived as playful activities.
In short, emotion does not go beyond thought.
Not understanding a work of art in front of you may arouse curiosity and cause smiles or melancholy, in short, emotion returns as a catalyst.
But it is normal, emotions are the first approach to a cultural product.
For other people a work of art must amaze, fascinate, make you dream, make you think, open your mind.
We live in a historical era where emotionality is at the base of all persuasion, and there is a perception that almost everything has become empty and superficial entertainment.
The media defines talent according to notoriety on social networks, and the more followers an artist has, the more she/he is perceived as a genius.
Audience and appreciation become the parameters according to which to determine talent.
And the more art is usable by people, easy, immediate, the more success increases.
The fastest way to enter into the emotionality of social media is to entertain.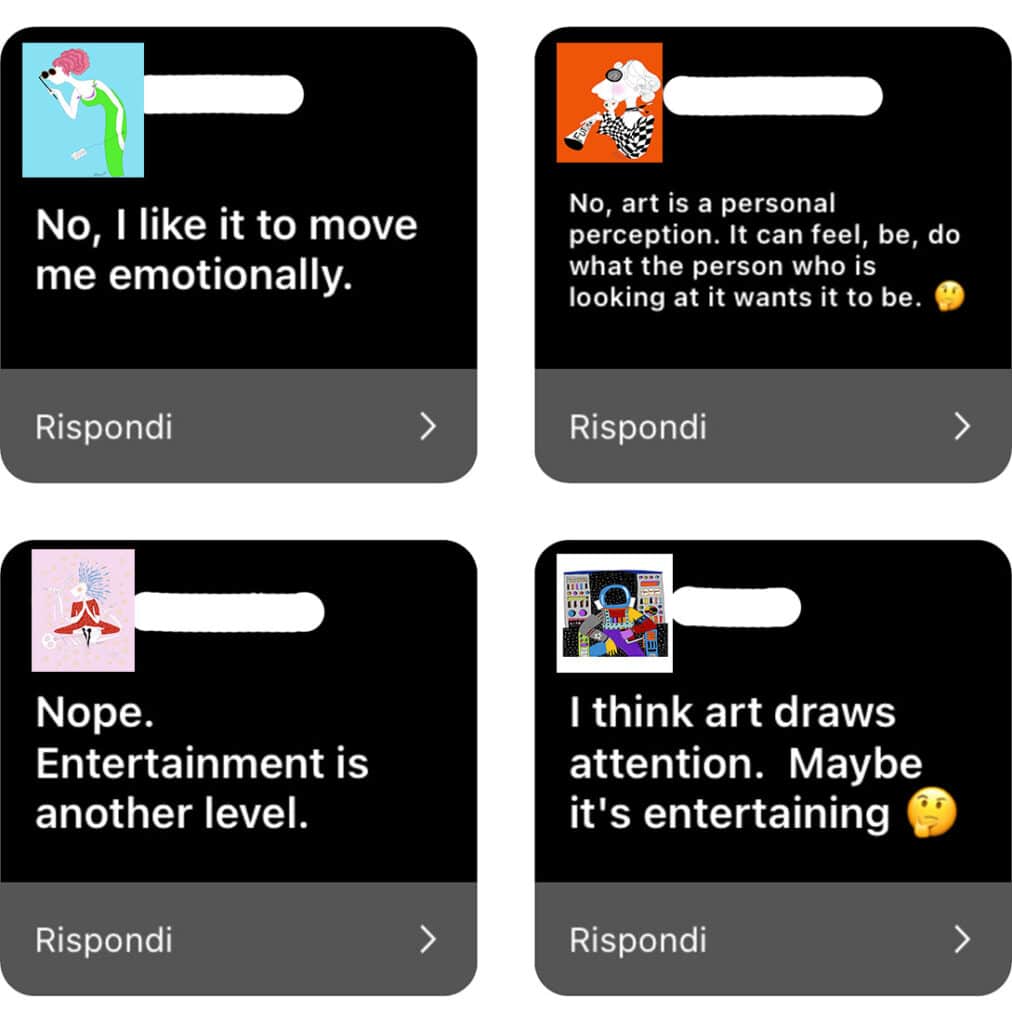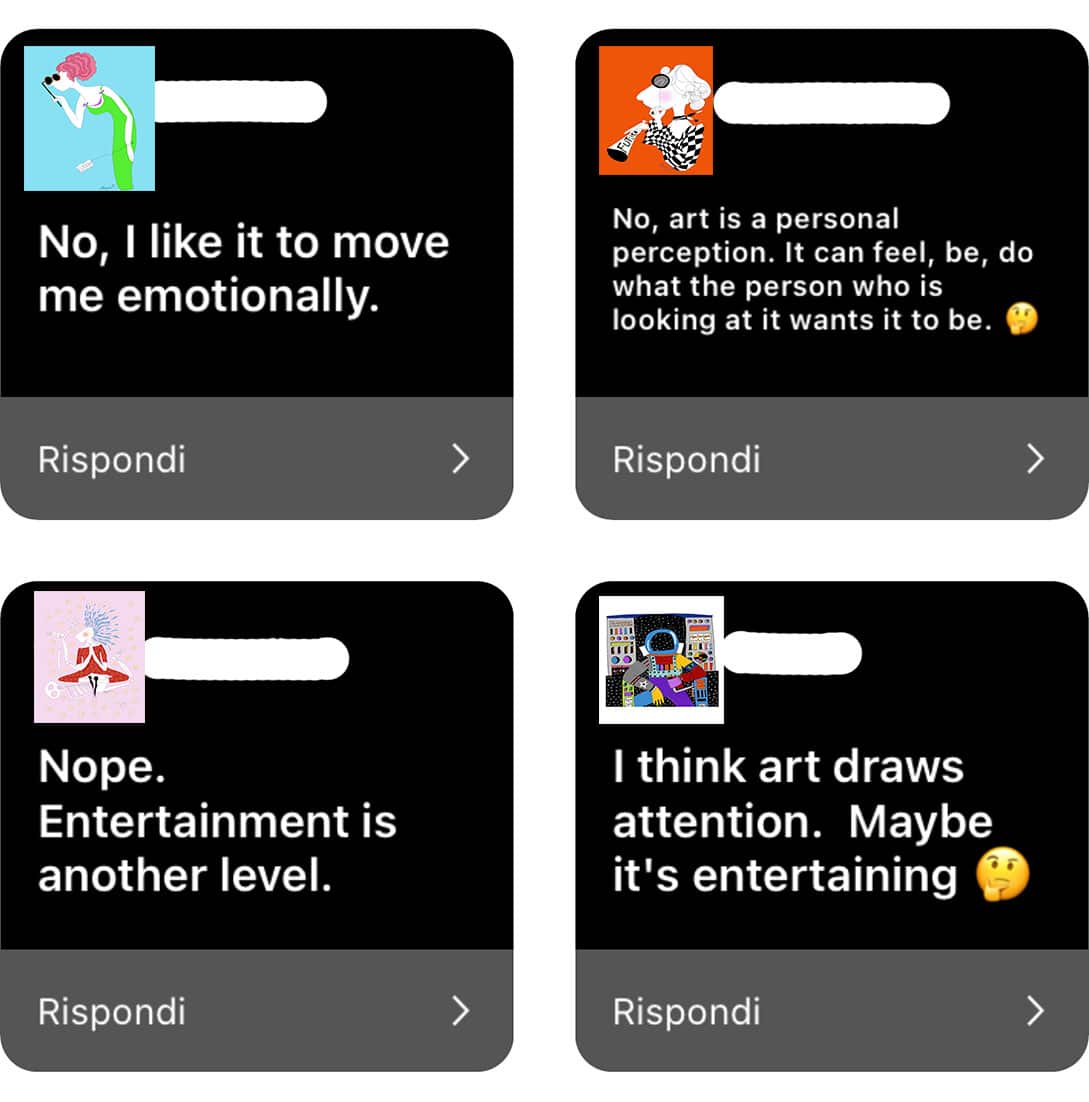 All emotions are not the same and change from culture to culture.
Even if globalization has somewhat leveled these differences.
Let's take the best-known international example: the artist about whom almost nothing is known, Banksy.
His images are impactful, often spectacular. And easily read by everyone.
Banksy works on emotions, he gives voice to our need for justice and revolution with a careful promotional work that impacts both people and media.
In this he is an extremely contemporary artist.
Banksy moves everyone and museums and galleries forget the role of street artist to host him in traditional exhibitions in their spaces.
Banksy in his aesthetic populism: everyone likes him.
There are no layers of meanings, no hidden symbols.
Everything is immediate and on the surface.
The exhibitions dedicated to him are always full of people.
Does Banksy amuse? Yes, it does.
Does Banksy make you think? Yes, but quickly, with the same speed with which we would wear one of his drawings on a t-shirt purchased along the way.
So what doesn't make sense? It doesn't make sense that since everyone likes him, entertaining us with his striking appearances, often lightning fast, and being present everywhere on the web, the likes he receives put him in the Olympus of great artists.
Can his stencils be on the same level as Picasso's Guernica?
In my opinion not, for the elaboration of ideas, emotional impact (if we want to have it as a value of judgment), technique, reworking of the historical event and background of the artist.
Guernica combines aesthetic, moral, historical, sociological and pictorial choices.
If the parameters change then Banksy is on the same level as Picasso.
But this happens if critics and specialists erase all previous parameters to level down.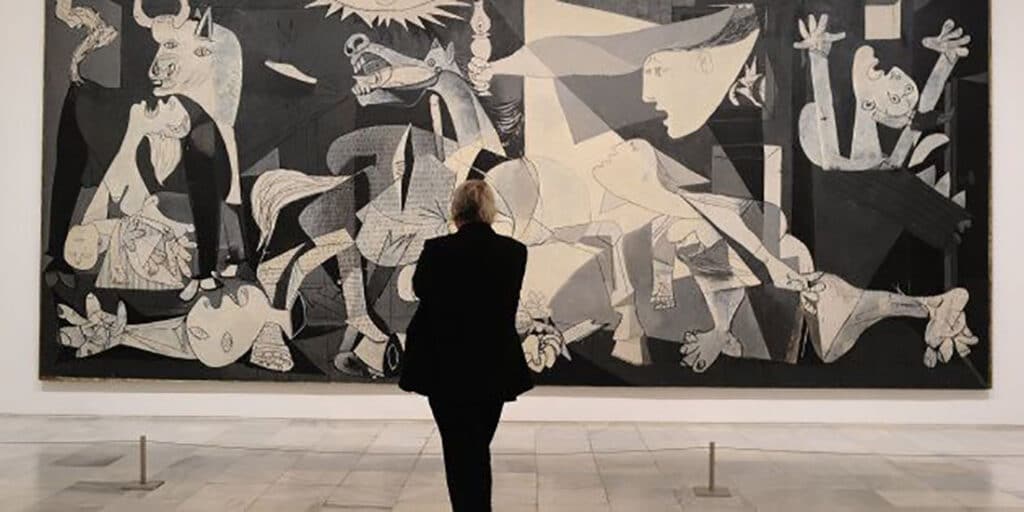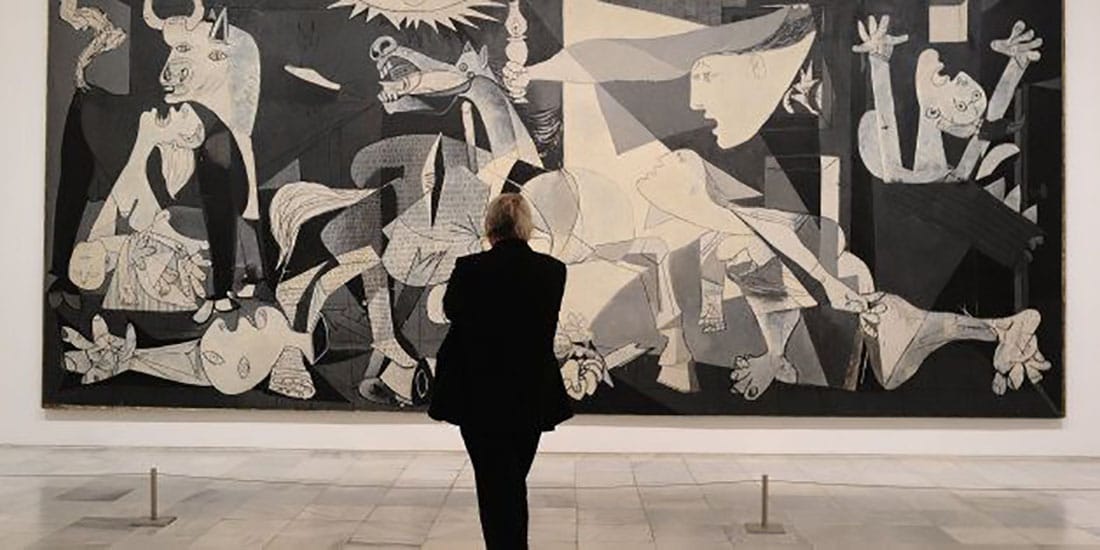 This quick and immediate impact of art is the exact opposite of what Paul Klee said, "Art does not reproduce what is visible, but it makes visible what is not always visible."
Banksy is certainly not the most playful of contemporary artist, quite the contrary.
It is an international phenomenon to create immersive exhibitions with walls and floors on which famous paintings are projected.
We no longer look at Monet's water lilies through brushstrokes, but by entering into the colors and spectacle of the colors and shapes we enter.
What would Van Gogh (who sold only one painting in his life) say today about all these exhibitions full of sensations and emotions?
Where do we pay a ticket to have one of his sunflowers projected on our faces while his marvelous and material clouds swirl insubstantially on the walls?
Emotions and dissolution of the work are the basis of an experience that nothing makes us understand the work but makes us enter the emotional universe of the artist.
The work makes us dream, makes us lose ourselves in an emotional dimension that nothing resembles the traditional perception of a work of art.
Because of my artistic training, I would rather have a Van Gogh painting in front of me than be affected by the sunflowers projected on me.
Art as entertainment does not make us active but passive.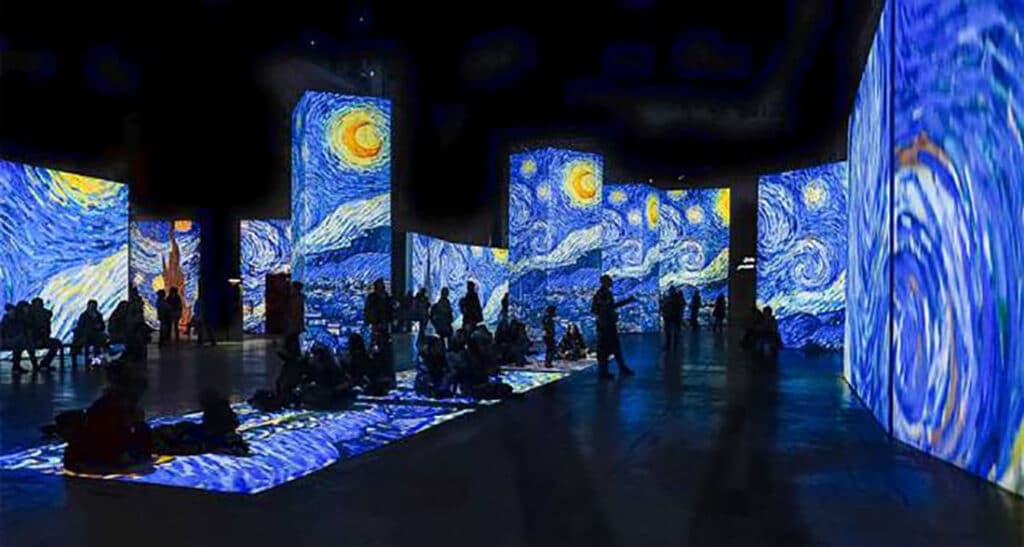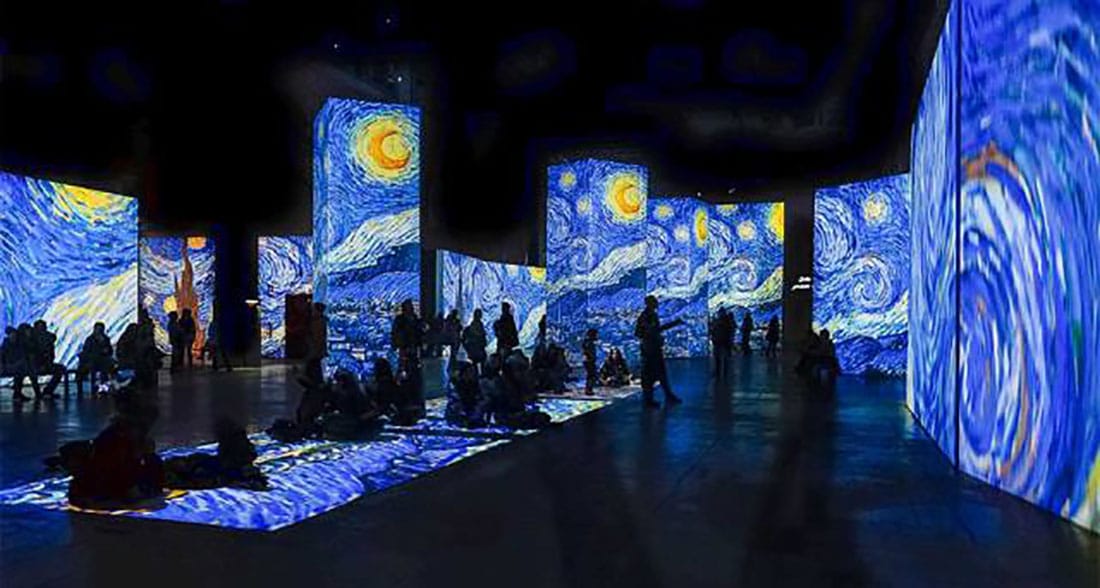 To divulge in order to attract the viewer's attention is crucial, but to lower the discourse by stripping down concepts in order to gain an audience, empties a work of any level other than the surface.
"When art becomes only pleasure for the eyes and superficiality is reduced to mere decoration or souvenir, it is more of a taste drug that tarnishes ideas and thoughts. Unfortunately, pleasing has become a very powerful movement in art. There is an attempt to always and everywhere make something that pleases in order to avoid controversy and discussion and, more than anything else, reflection.
In doing so, everything is flattened and weakened. The public gets lazy and stands in line for the umpteenth identical exhibition of Hopper, Escher, Warhol, Picasso". Francesco Bonami, art critic, says it well.
To astonish, to leave the spectator passive in front of the spectacle of art or to provoke him and tell him that provocation is art, are symptoms of a widespread contemporary disease.
Today it is difficult to be surprised.
The constant connection, the use of technology, the spectacle of every event, have done nothing but make art an instrument of personal expression where everything is art and everyone makes art.
Emptying the basic principle of art, the one on which Bonami himself reflects: "…to become useful again, art must rediscover the ability to invent and narrate stories, recovering that essential cocktail of ingenuity and genius that is the basis of human creativity".
As long as art is entertainment and amusement, it will fill exhibitions and decree the success of the show. This art makes money and makes both places and artists famous. It is successful in terms of notoriety and earnings, but not growing.
But what matters today if not earnings and likes?
We are very far from Bruno Munari's method, which teaches how to have fun creating. Here fun is action, curiosity, study, play. The person is active and proactive. Invention is the base from which to start, without preconceptions. We talk about "mental gymnastics".
I dream of exhibitions built to unite beauty with research, from which I can emerge enriched with simple notions and new readings of reality.
I dream of active and curious people who don't use likes without explaining why, who are full of arguments.
Because art deserves our active contribution and we deserve an art that moves our brains and senses and transforms us.
Munari said: "Creativity, as a purposeful use of imagination and invention, is formed and transformed continuously. It requires a ready and elastic intelligence, a mind free from preconceptions of any kind, ready to learn what it needs in every occasion and to modify its own opinions when a more just one presents itself".
In the dark times in which we live, we cannot forget how we live simply by having fun.
Changing society implies effort but also lightness, being active and present and not just victims of emotions.
Would you like to receive a small portrait of Van Gogh with one of his famous phrases?
Click on the button!