Context modulates artistic experience.
"Time is relative; its only value is given by what we do while it is passing."
Albert Einstein
For us, time is something we lose, seek, desire, but don't have.
In the last few weeks I've started painting again and the most curious comments come from people who somehow have the hobby of painting or art in general.
One of the most frequent is "lucky you that you find the time, I can't with all I have to do".
It's curious for many reasons, the first is to consider that those who paint have a lot of time to waste, and perhaps this is an idea that those who paint as a hobby, not professionally, have.
A bit like dabbling with a musical instrument to be with friends and those who attend the conservatory and then enter an orchestra.
A musician finds the time, because it's hus/her job.
Art is also work.
Art is work and the time we spend creating it is a time that costs the same as any other job.
And it doesn't matter how many hours it takes us to finish a work. Behind it there is study, attempts, rehearsals of hours and hours. Research always and in any case, and therefore time spent in the conception and creation.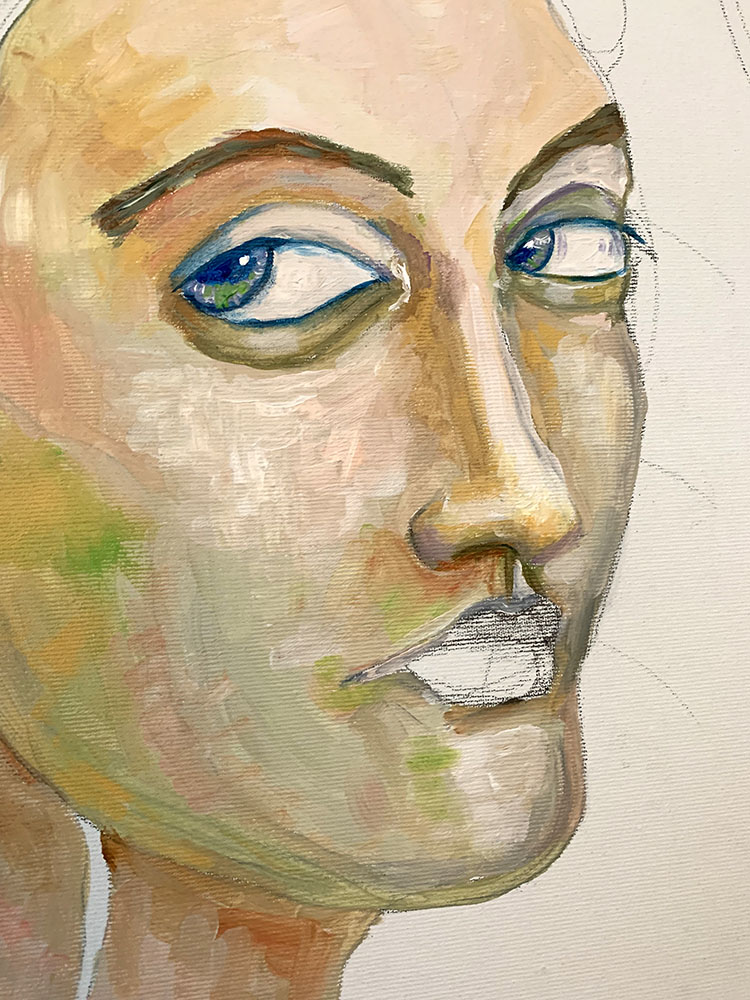 The second reason is quite widespread.
People think that those who make art waste their time, they do it for fun, it's not a job, they don't live off art.
It's curious because people complain that in Italy (but it also happens in many parts of the world) art is not given space, but then they don't understand that they are paid like in any other job.
But time seems to be the main problem.
And I think that's really an excuse.
Personal time is the consequence of choices. And we make those choices for most of our lives.
We don't realize how true that is because we always attribute our lack of time to external causes.
There have been artists who painted at dawn and then went to work, or during the day because they worked at night.
It is not necessary to spend ten hours a day practicing, but to create blocks of time in which nothing and no one can disturb us.
Try to think of a whole day to yourself to finally do what you love and tell me the truth: do you get to do what you budgeted? Or do you find out at the end of the day that you only wasted your time?
Make choices and think that any goal you want to achieve takes time, patience, consistency and sacrifice.
You can follow all the web gurus, you can think you're going to make a splash with a piece of work, but the reality is that you have to work and always start with yourself. No excuses.
Draw every day, write every day, study every day.
Do you want to go to the beach? Do you want to sleep, do you want to leave? Great.
Look for times when you can do it all.
And if you put it off until tomorrow, you obviously don't have enough inner drive.
But if you want to spend all day at the beach and then write, paint, create, then be honest with yourself, don't complain.
It's simply not the fault of others or lack of time. You're just not motivated enough.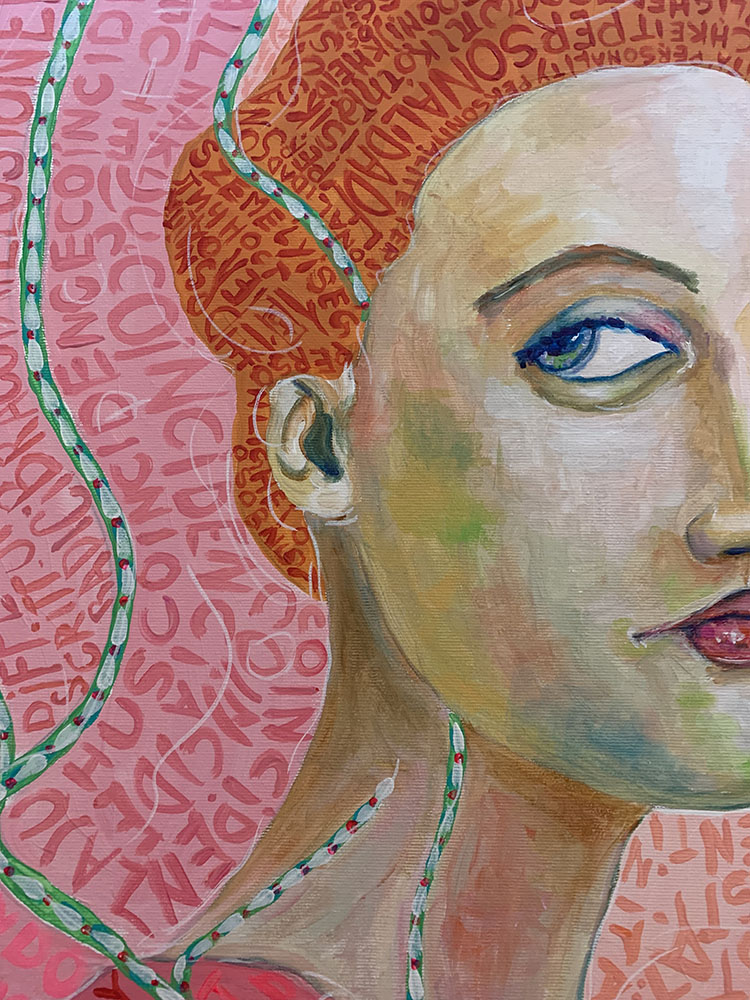 And if you are waiting for someone to discover you on the web, you will be disappointed.
On the web the threshold of attention is very low, you don't look for talents but for people who at that moment are suitable for a guy or a guy.
The search for talent used to be the prerogative of intellectuals, collectors, people of culture who influenced society by bringing unknown artists to the surface.
This is no longer the case today.
No one wastes time searching, no one has time to waste.
Talent is consumed like a cappuccino at the bar.
Cultured, broad-minded people no longer exist.
There are congregations, castes, groups looking for similar people. If you're not similar to the hotshot writer, the actress influencer, the fashion gallery, you won't fit in.
Assuming you are interested in joining such groups because I believe that the great fortune of an artist is to be free and without control and manipulation by anyone.
What a difficult situation!
I tell you to take all your time if you have a dream and make it come true and I add that the people who should see your dreams come true almost never have time or desire to see them.
So what?
So the truth is in the middle.
Maybe someone will discover what you are or what you do or maybe they won't, but you just keep practicing and using your time to grow.
Nothing assures you of the outcome, but if you don't try, you won't have dared to step out of your bubble.
The time is yours, yours to manage.
What did I start painting during this time?
Maps, word maps, directions of change for myself and suggestions for others.
Two maps will be two one-piece scarves.
The others will be a series of paintings.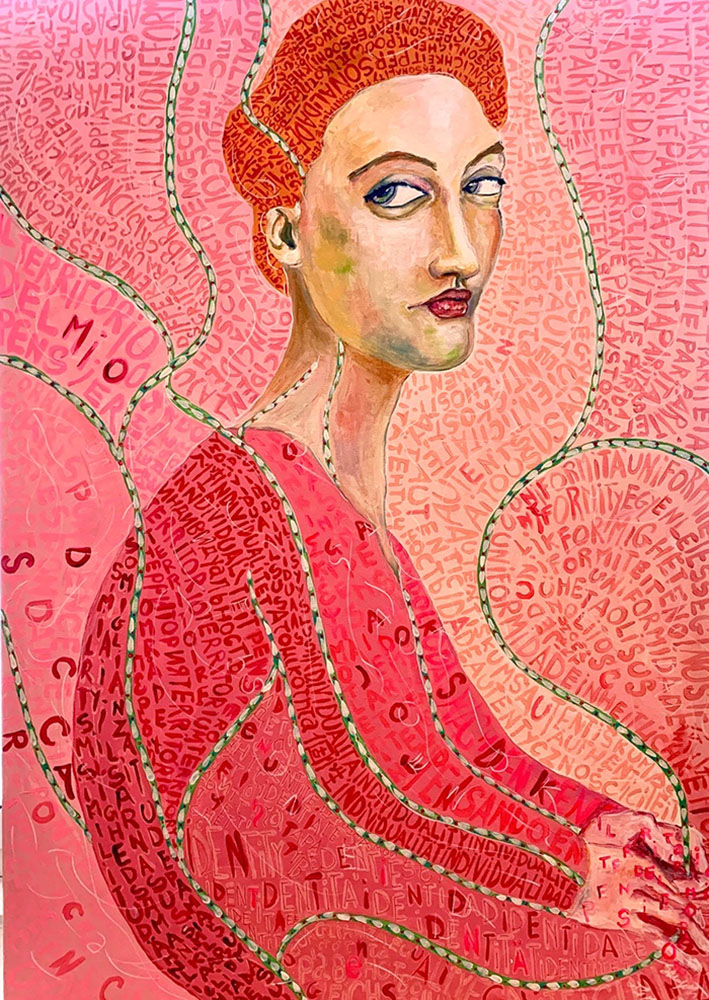 The first one is online, Possible Maps.
The other is "The territory of my thought":
To all the words suggested by those who follow me on social, I added others in Italian, looking for possible synonyms of identity:
Equality, Coincidence, Correspondence, Equivalence, Equality, Similarity, Uniformity, Conformity, Personality, Individuality, Authenticity.
And more, translated into English, French, German, Spanish, Finnish, Japanese, Chinese, Croatian, Slovenian, Swedish, Dutch, Portuguese, etc.
I look at you, says the ancient-looking subject, and reflect with you what I am or should be. We are both in the mirror, from the past to the future with the careful choice of language.
Pink is hope, balance, harmony. It flows into cadmium orange and vermillion.
The exercise of painting the words, gave a discipline to the whole painting. I discovered how similar words can be and how much language unites as well as diversity.
Everyone's identity is formed in the relationship with each other or in the lack of relationship.
Writing all these words took me to a dilated time, where I forgot the hours.
Painting time can indeed be different than other people's time.