Exercise winning creativity by reproducing works of art.
They taught us that creativity is not copying.
They told us that true creativity is inventing, assembling heterogeneous objects, creating the new.
And it is true that inventing is a creative act just as it is true that every work contains within itself something that we have unconsciously deposited within ourselves but which we then propose with our own style.
Copying then would make no sense.
But is creativity the opposite of copying?
Perhaps we should rethink the techniques that liberate our imagination.
But to liberate talent we always start with something, like copying.
Is creating the new forgetting what we have learned?
Not exactly so. Copying is not an absence of creativity.
Be careful here we are not talking about appropriating others' works, because that is plagiarism and does not grow our creativity as well as being against the law.
Here we are talking about something that prepares the ground for our art or artistic passion.
That is, exercises to increase creativity but also to overcome artist's block, especially if you are just starting out.
I don't know about you but as a child what I tried to imitate as I started my career as an artist always had a terrible result.
I couldn't see the shapes exactly and mixing colors was a drama.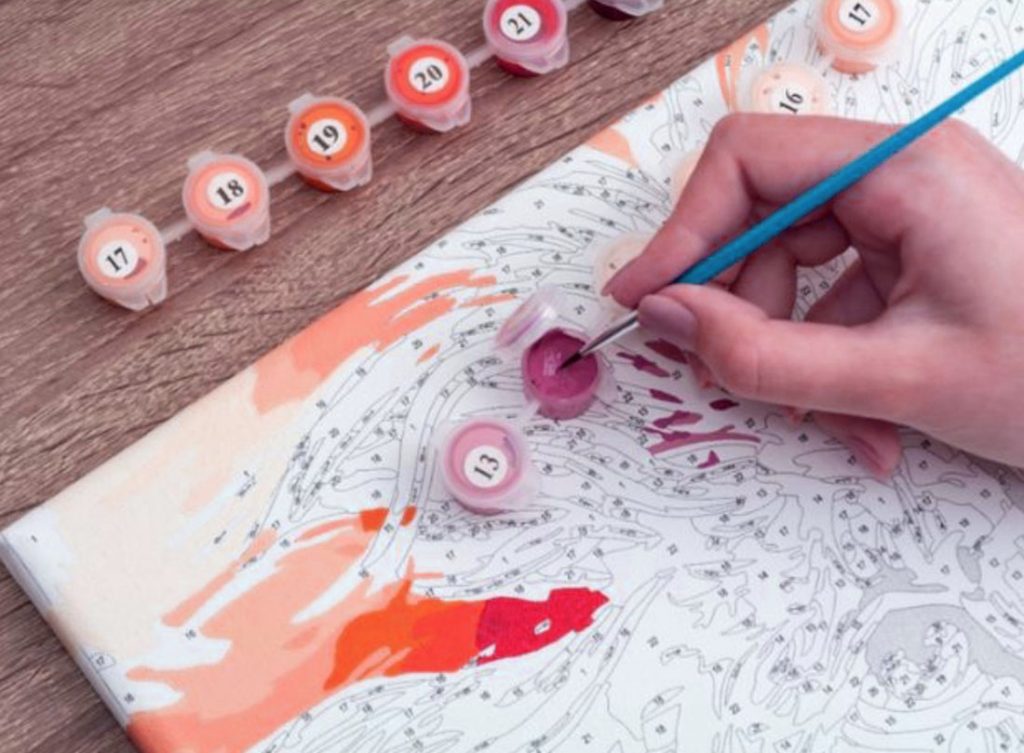 One day my father gave me a gift, he brought me a drawn canvas whose design was already created on the canvas: it was divided into many small pieces as in patchwork.
Each perimeter piece contained within it a number.
On the back was a paper sheet with a list where next to a number was a corresponding color.
At the time I did not like the idea because I felt that since everything was predetermined I would not enjoy it.
I told this to my father and he replied that he had not bought it to amuse me but to get me over the frustration I felt every time I tried to paint.
Isn't copying fun?
Thanks to the list I was able to put the color on the canvas according to the predetermined order. The painting came out well, neat and almost perfect.
The relatives said I had been good at painting, and I felt inside that it was a lie.
Yet several interesting things had happened:
I had enjoyed myself and relaxed because all I had to do was execute a prearranged work.
I had understood the difference between creating a new thing and executing a prearranged work.
I began to understand how to do shadows and highlights, how to paint an eye or a body.
Having to execute a prepared work, I understood the mechanics of execution.
The next step was to try to draw the shape on a new canvas with pencil and then add the colors according to the order of the picture I had already painted.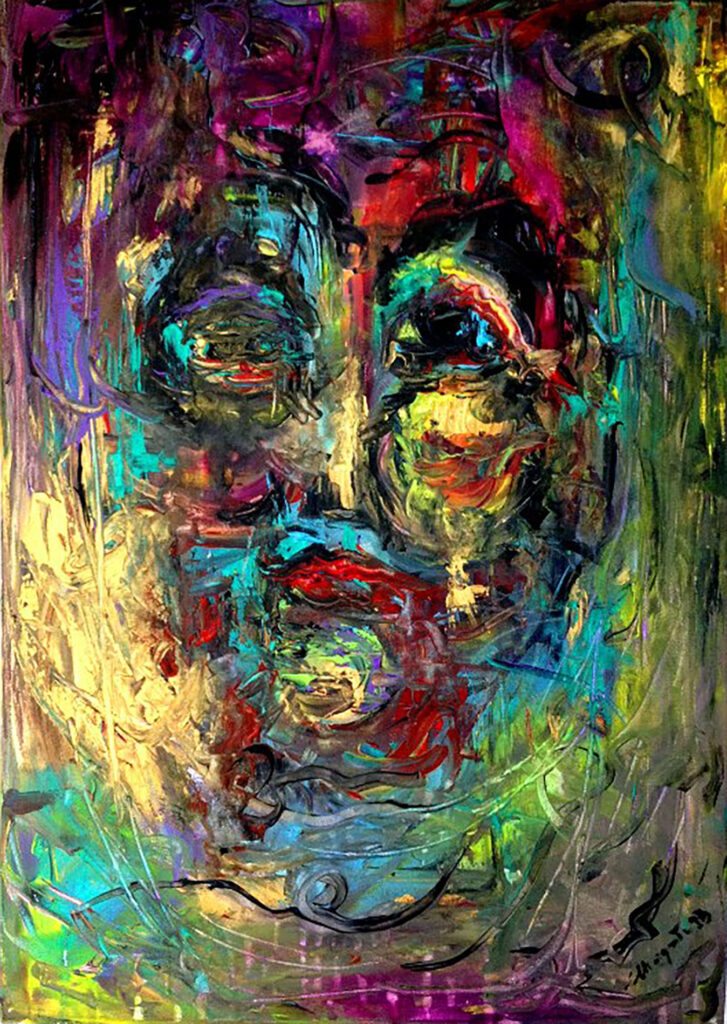 The next steps of copying.
After painting several numbered canvases, I switched to drawing.
For many years I copied paintings by Picasso, Renoir, drawings by Schiele and many other artists. I remained faithful to their forms and colors, without adding anything of my own, without interpreting according to my own style.
My own style did not exist, and it was right.
Nothing can come into being unless you start with study, and copying works of art is one of the best ways to study art at a high level.
I could compare this stage as learning the alphabet before reading a book.
Picasso said, "Good artists copy; great artists, steal" where stealing does not mean misappropriating an idea, but reworking that idea and creating something new.
Here, however, we are interested in staying in the realm of good artists because becoming great artists is a next step that one may or may not get to.
Copying starting from pre-drawn canvases, or from pre-prepared kits has nothing to do with artistic reworking but with 'learning techniques, discipline and patience, in short the basics of every subsequent artistic act.
Painting by numbers.
Once you have mastered painting by following the numbers, you can take a slightly more creative next step of substituting colors and then getting a personal interpretation on an already predetermined shape.
This is also a way to relax. To learn how to hold a brush and to exercise your eyes.
Drawing a human body is difficult at first, but if you follow the numbered shapes and try to redraw them on a sheet of paper, it will be easier. A hand divided into ten pieces will be easier to draw instead of freehand from scratch.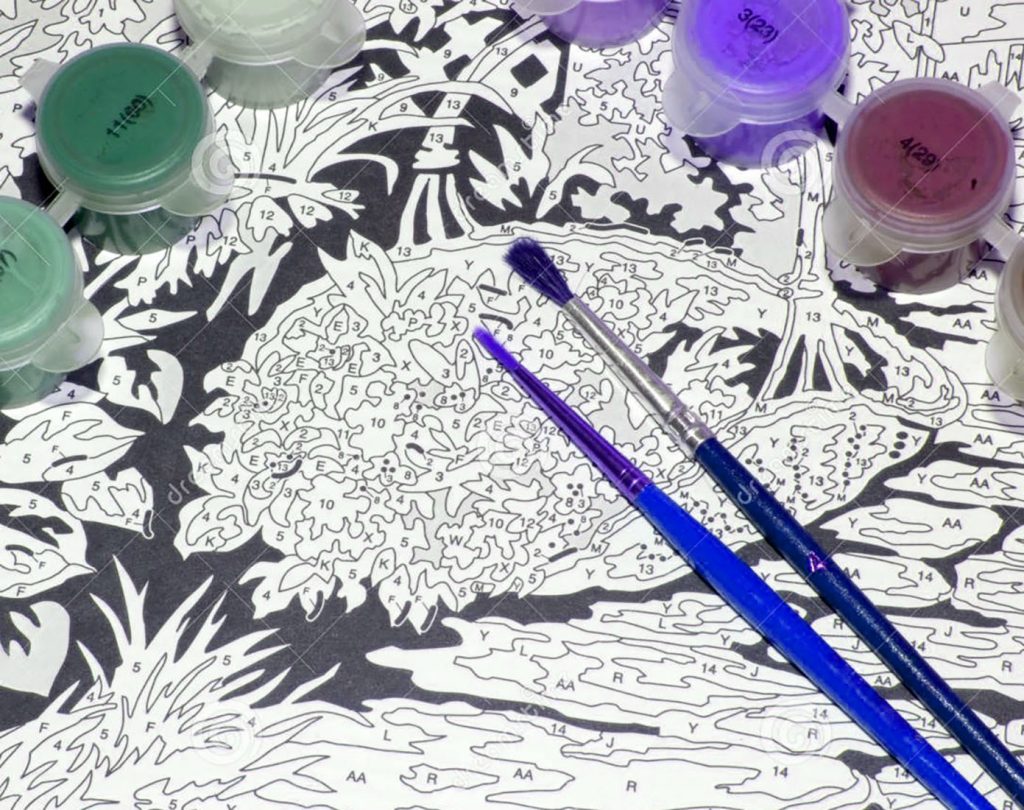 Copying works of art.
Years ago I took a course at MoMA where in addition to the theoretical part, they invited us to study the technique of Pollock, de Kooning, Rothko.
The experience was very much like the experience we had in childhood with numbered canvases.
We were not to interpret those artists in our own way but to understand how they proceeded with colors and shapes.
We learned so much. How to hold the brush, what colors to use, how to lay down layers of color, how to use acrylic and oil colors on the same canvas.
Later we could use our own subject matter but with those techniques we had learned and no doubt we got copies similar to the artists we studied.
Was that our own style and art? No.
But to find our own style we have to experiment and figure out what works for us. So copying without giving ourselves credit for the copied work is always good, it makes us grow and mature. It is a 'crucial experience for our growth as artists.
Have you had an experience like that of numbered canvases? Or have you copied a great artist to learn from him or her?
Write to me in the comments and enjoy your work!