When design is made of paper.
The historical moment requires us to rethink art also on the basis of the tools and materials we use. Recycle, reuse, avoid waste: art must reconsider this ecological urgency.
Paper is perhaps the poorest, most wasted and best-known material in the world.
From newspapers, to magazines, to packaging, paper is a truly versatile tool.
A sheet of paper can become an object, it can be the support on which to draw, it can be reinvented three-dimensionally by creating papier-mâché.
Paper that becomes paper again and artwork ideas.
Here some suggestions:
Break up sheets of paper you used for notes and soak them in water. Combine small dried flowers and use the special sieve for making paper by hand.
The result will be a soft, opaque paper colored by the flowers pressed and trapped in the paper.
If you don't wait for the paper to dry, take a bowl and turn it upside down and shape the still wet paper over the hemisphere. Let it dry and then turn it over. If you want to make it waterproof, spread a couple of layers of water-based glue and this paper bowl will become a holder for erasers, pencils, stationery.
Take several sheets of paper that you need to throw in the trash and cut them into strips that are all the same. Glue them together like bows and create perfect stars for your Christmas tree.
Wrap the paper into irregular geometric shapes and create abstract collages that will decorate the walls of your home.
Roll the papers and decorate them with glittery paints, decorate the windows of your house.
Use bread wrappers and tear strips by hand, which should be irregular. Cover old garlands that you wanted to throw away and give them new life. You can add berries and pine cones you find on your walks. I'm sure that receiving such an eco-friendly Christmas gift will be loved by your friends.
The cartons containing the eggs, can become colorful modules for your desk, or small pots for your seeds that will germinate.
If you are a fan of origami, with the softest paper you can make origami and decorate your home and that of your friends.
Did you know that you can make jewelry out of paper?
Cut a sheet of paper into many regular strips and roll them up as in the picture, leaving the center free to thread the necklace wire. Make these paper beads permeable with glue (look for glue that does not create allergies or make it yourself, on the web there are many craft recipes for glue made with environmentally friendly materials).
You can make the pearls as you have several sheets of colored paper to recycle and then divide them by color, when you want to create the necklaces, it will be easy to decide the color and shades with your little treasure of pearls!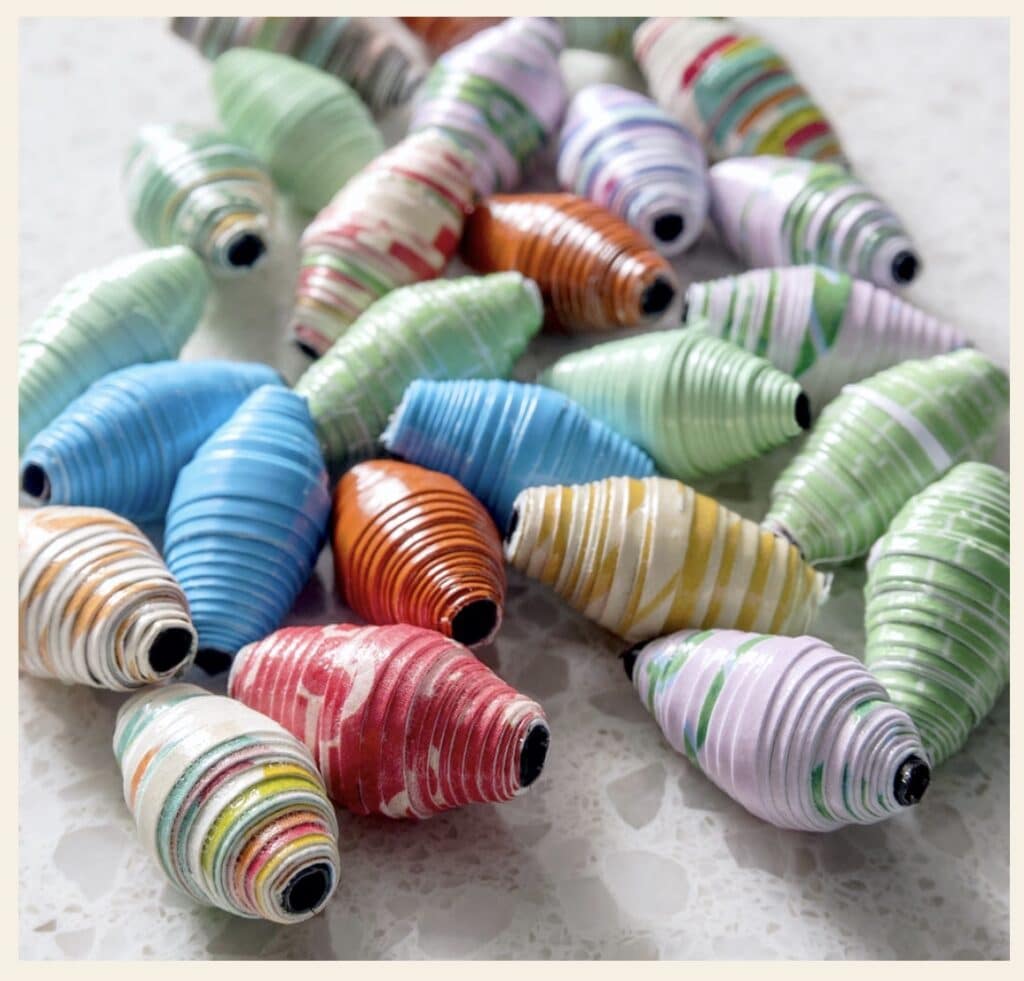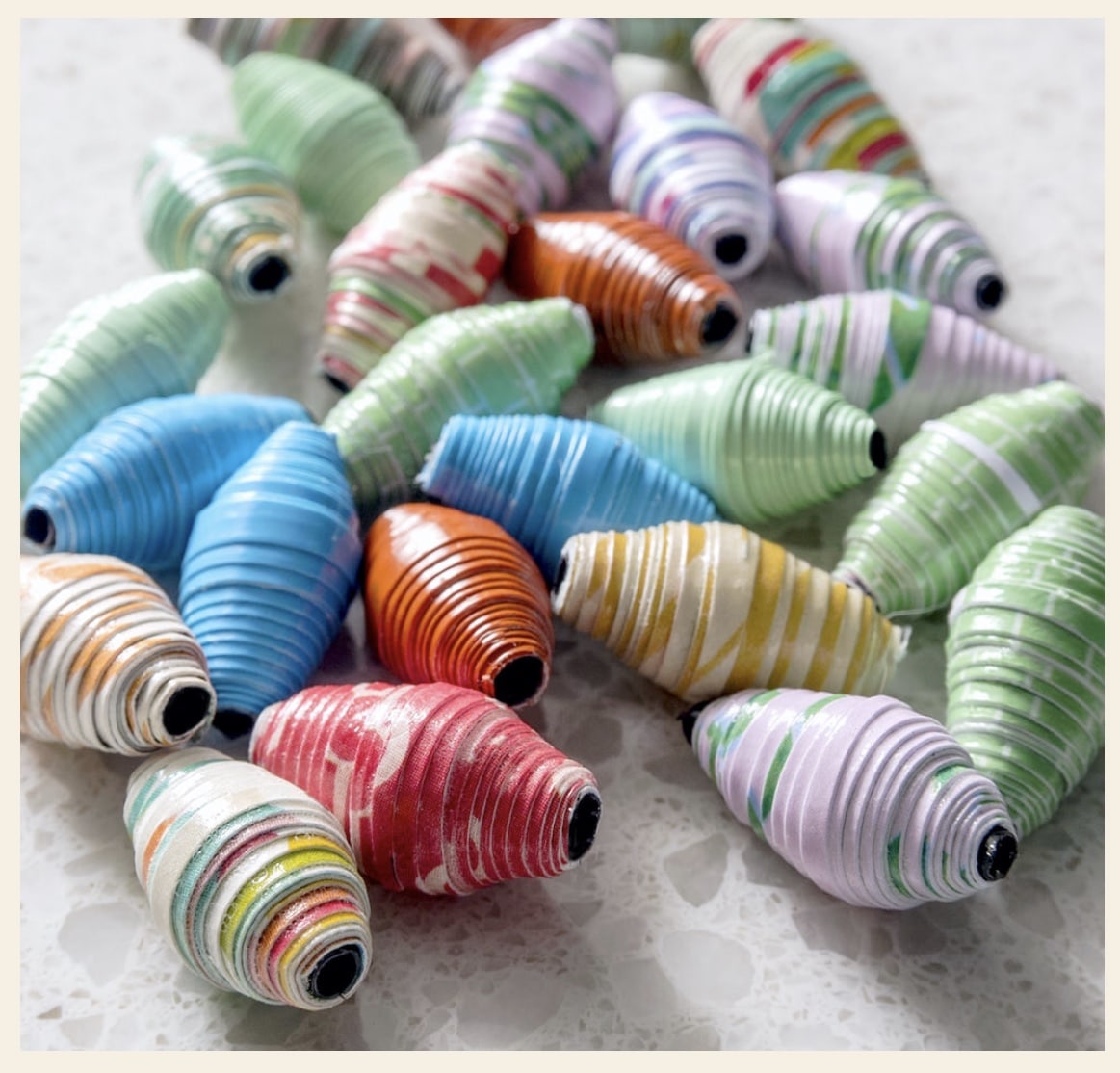 Paper in everyday design.
Paper is a truly incredible material.
In my studio I have a chair created by an Italian company called Carton Factory, made of recycled paper and I can assure you that it holds weight very well and often piles of books that I consult while creating.
There are many furniture items such as lamps, chairs, sofas, made of paper.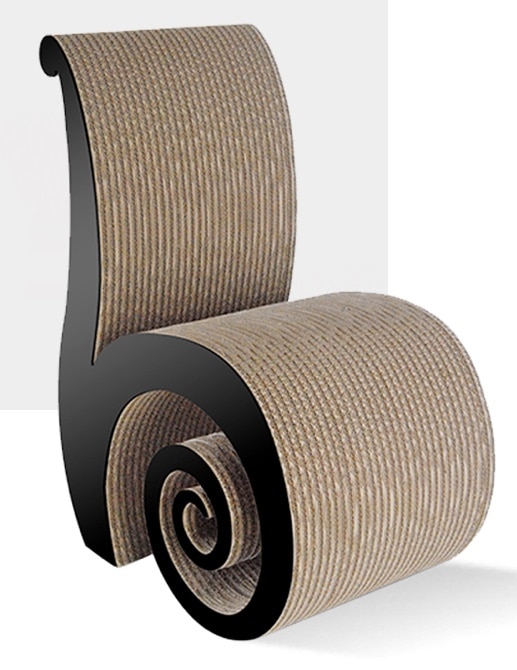 But in the world there are really incredible projects!
Recycled Cardboard Bicycle is the bike created by Israeli entrepreneur Izhar Gafni and inspired by Japanese origami. It can support up to 140 kg of weight. It's stable, sturdy and waterproof and making it costs only $9-12.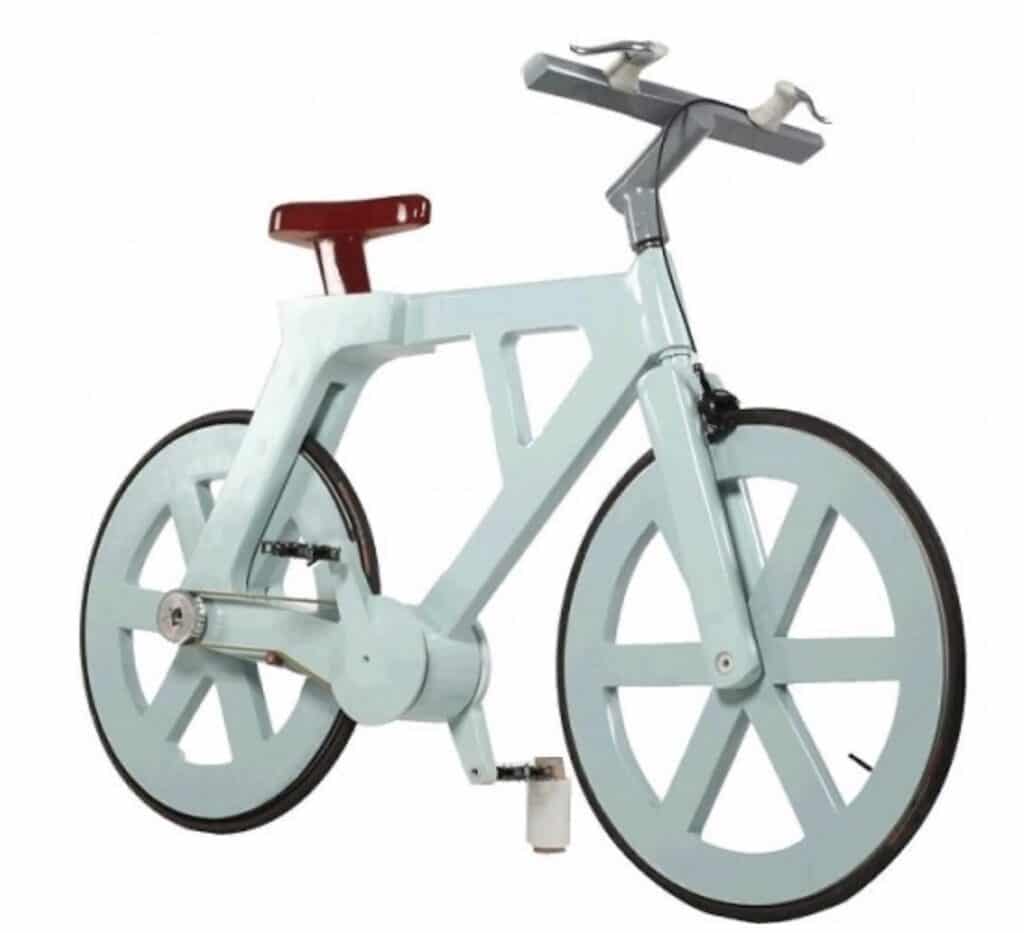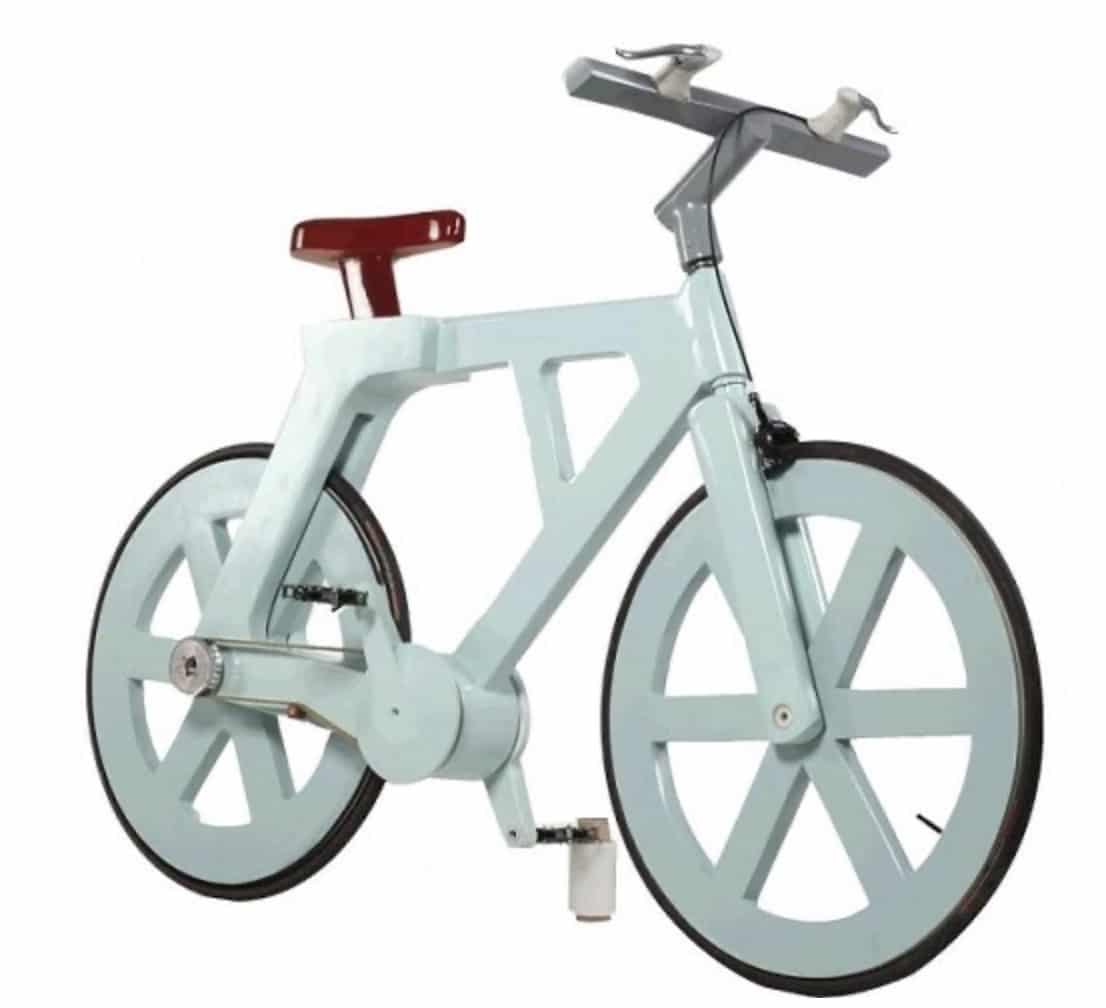 And even a cardboard boat!
Dave Friant is an American engineer at Microsoft and an avid paddler.
The idea of building a cardboard canoe came to him when he was in college, and it hasn't left him since. He built several in his spare time, using 21 pieces of cardboard for seven different components, which were then assembled and given a waterproofing treatment.
Japan's Shigeru Ban is best known for his cardboard tube buildings and winner of the Pritzker Prize in 2014.
Born in Tokyo in 1957, Ban was educated in the United States, where he studied first at the Southern California Institute of Architecture and then at the Cooper Union School of Architecture.
He has become best known for his penchant for storing objects and using cheap, lightweight materials, such as cardboard tubes.
The 1995 Paper House, the name of which is enough to give you an idea of what it's all about.
The house, built for personal use, has 110 cardboard tubes 2.7 meters high that define the S shape of the house.
Cardboard, seemingly lightweight and unreliable, actually proved to be a very strong and effective material, and this project was the first in Japan to obtain permission to use cardboard tubes as a structural material.
Paper as a sculptural material.
In my case, paper was the main material for making particular sculptures a few years ago.
I made Dancing Grandmothers for an exhibition dedicated to myth and fairy tales.
In this case I didn't voluntarily recycle books that I didn't read anymore, but I searched my library for books that were related to the world of art, jewelry and literature.
And I used them to create paper sculptures.
The central goddess, Balance, was modeled with a feng-shui book.
In this direction, art can explore perishable materials to make works with deep meaning.
My "widows," are made with black cardstock and Japanese black paper (it was the paper that wrapped another precious paper).
In sunlight, the black is fading over time. The meaning lies in thinking about the pain associated with black. The form remains, the absence of the beloved remains, but the black fades, like the pain that fades over the years. It will never disappear, but it will be different. It will fade to gray or perhaps become white.
And white is another color of mourning.
In this case, the card is symbolic, speaking in metaphors.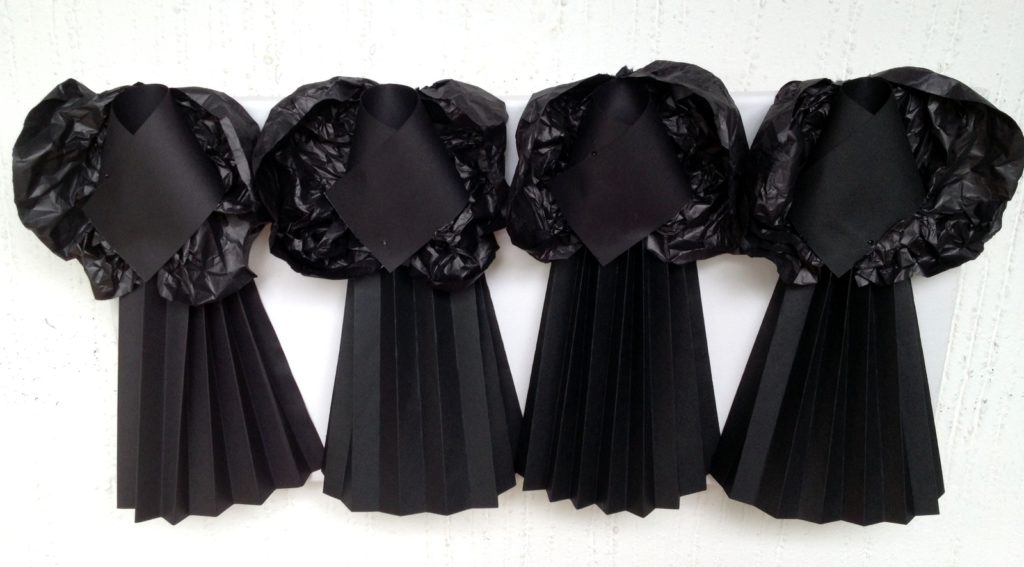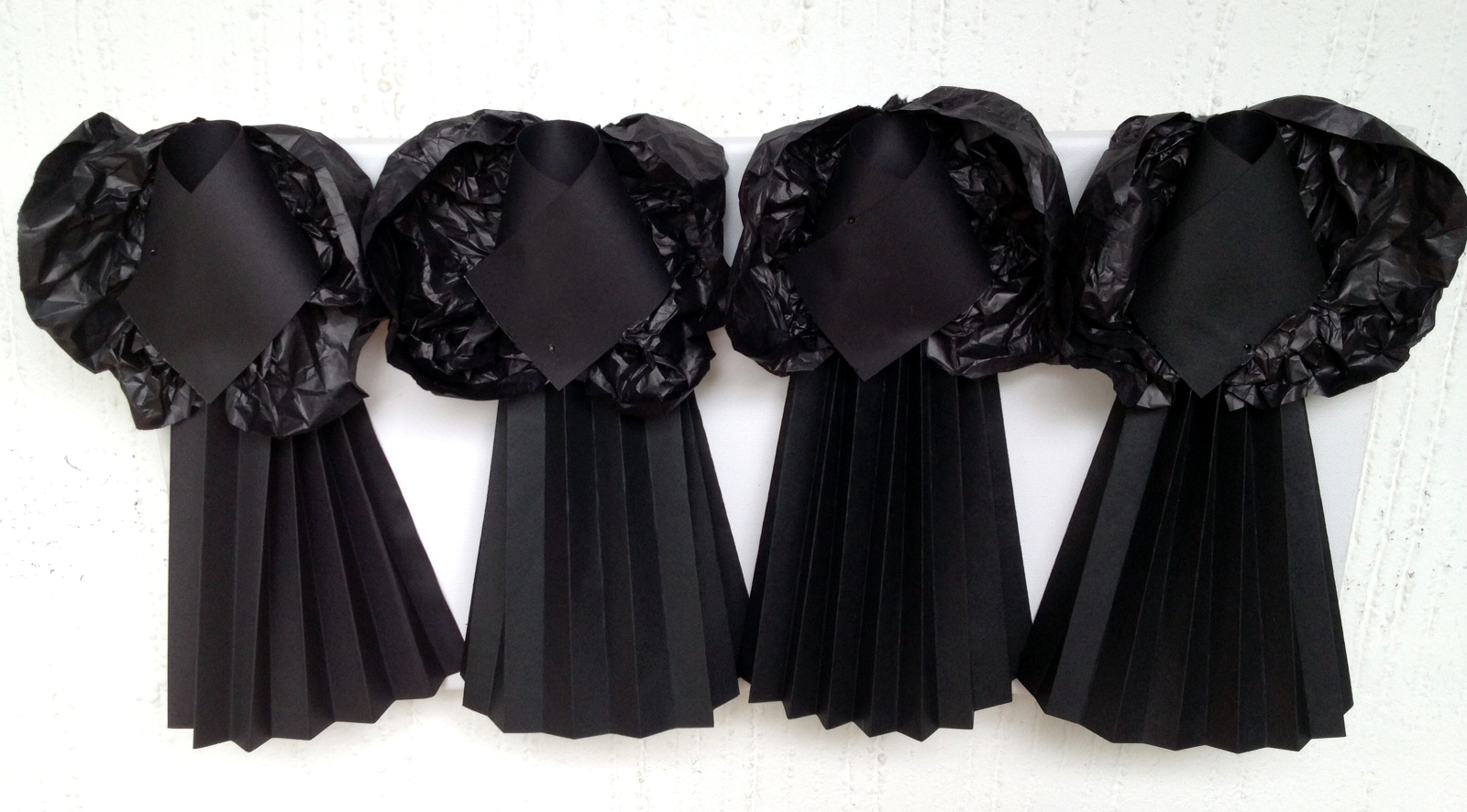 We can bring paper back to life, creating magnificent objects.
The planet will be better off, we'll be better off.
Are you ready to recycle?
If you want to show me your works, write me. I will be happy to communicate with you.