Dolls for Christmas and holidays.
Did you, like me, play with paper dolls when you were little?
I still remember the difficult exercise of holding scissors in my hands and the difficulty of cutting paper while being careful not to ruin the paper doll.
I had many American friends who gave me books about paper dolls.
If I close my eyes I can smell the scent of paper, the sound of the bell at the door when I received those books, and then the discovery of a different language.
Paper dolls for me are discovery of a new world, friendship among peoples, exercise in precision, discovery of customs and traditions different from my own.
Today I draw paperdolls and it is as if I am a child again.
Does that happen to you too?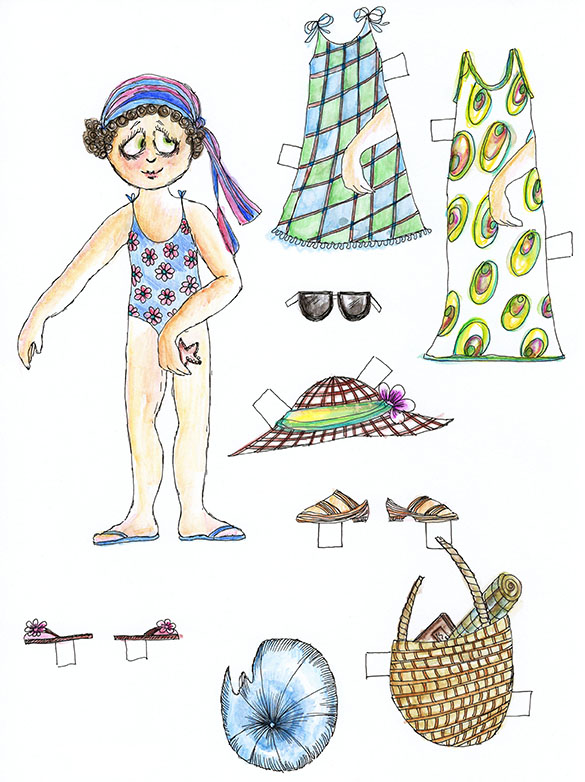 Paper dolls taught me so many things:
observing shapes and trying to train my hands.
changing the dress sharpened my personal taste.
relaxed me because the purposes were multiple: precision, taste, attention.
it took away the boredom of summer afternoons when it was too hot to go out and play.
a game not at all expensive and replicable that took up little space.
learning unknown crafts or hobbies from other countries.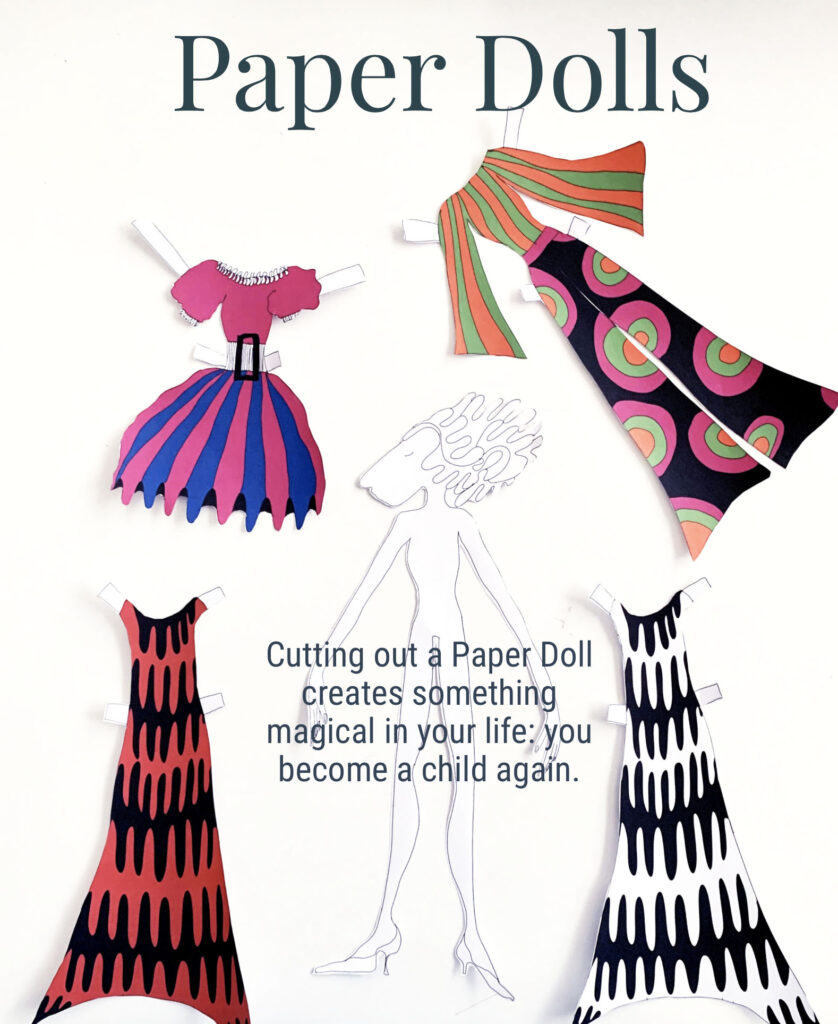 Paper dolls to print out.
For a long time every month I created a thematic paper doll and made a calendar out of it.
Each month was dedicated to an event but the calendar once archived was no longer enough.
So I designed more details and gave these paper dolls as gifts to friends subscribed to my newsletter.
But it was all very heterogeneous and paper dolls were now a part of my work activity.
So I put all the drawings together and created an eBook.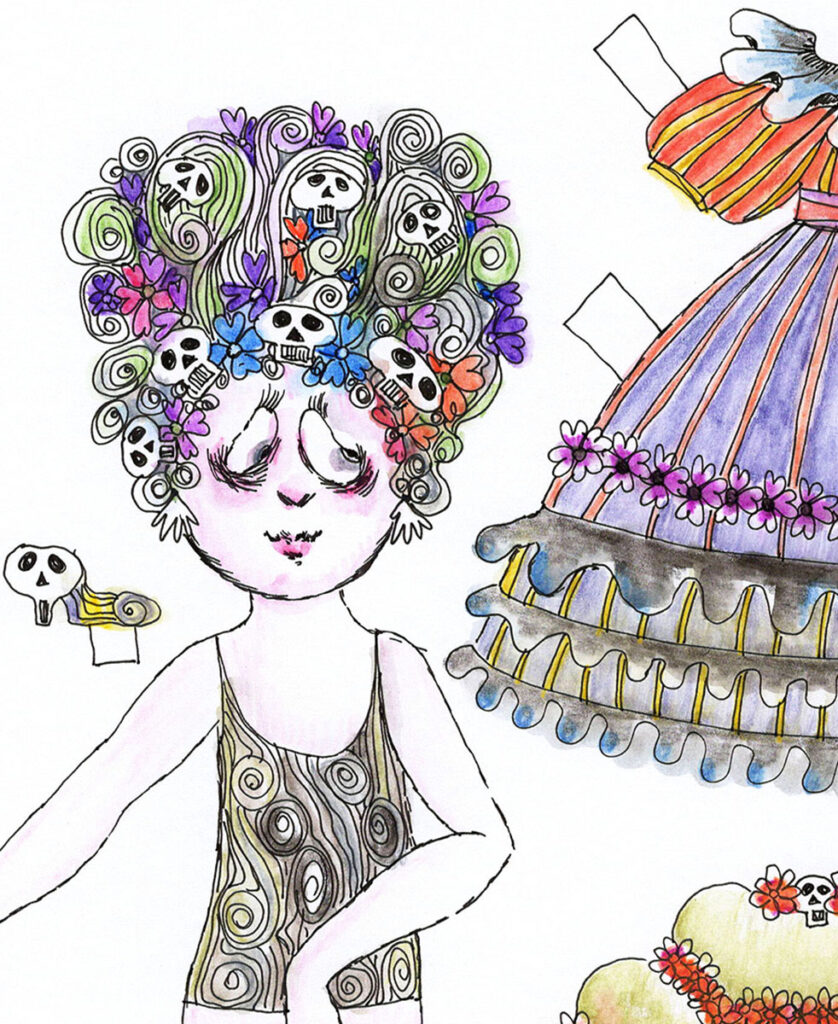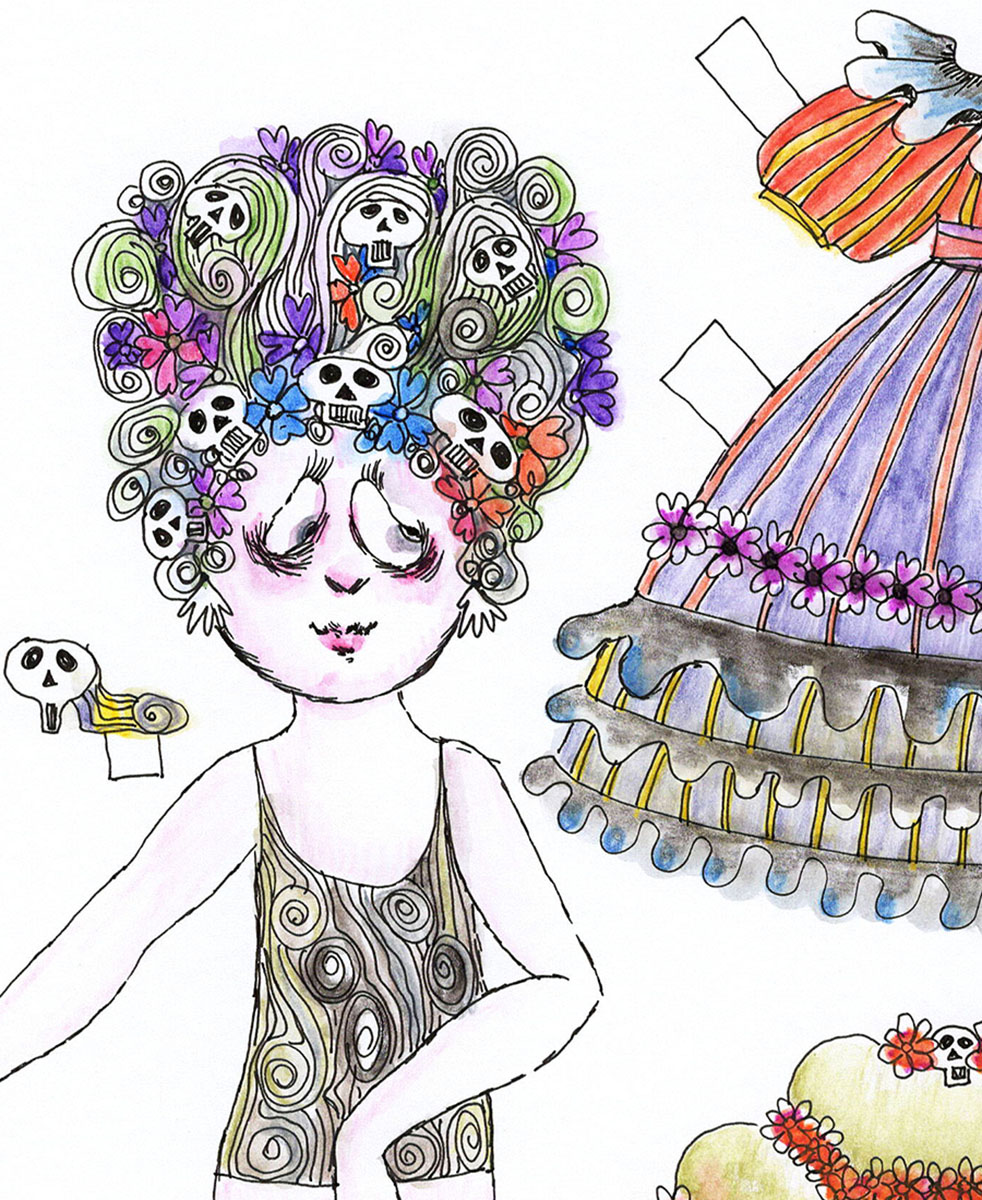 I'll tell you what this ebook is.
I chose the seasons as my thread.
There are 15 paper dolls with all their thematic accessories (shoes, bags, hair, clothes, hats).
For Spring there are also a pair of umbrellas and a pair of clouds and a bag with fish inside.
As many as 5 sheets dedicated to Halloween, with skulls, candles, improbable wigs, spiders, owls.
And then the sea with straw bags and light clothes, and bunches of grapes on the clothes for September.
All you have to do is go and look in your drawers for the right scissors.
I thought that every paperdoll can be used in different ways: to play with it, to decorate cards, to be hung on the walls of your house.
So designs that can be used several times, printed as many times as you want and replicated at home.
All you need is a printer and sheets of paper, you choose the thickness of the paper.
Obviously for your personal use.
I am sure that patience and precision will be developed but with fun.
With each paper dolls you can make up stories together with your children, you can develop imagination in them but also you can become a child again.
You just have to try it, and if you are still not convinced, try reading HERE.
I'm sure you'll love spending your relaxing moments with scissors, patience and concentration.