When funny stories create a surreal world.
What does "surreal tales" mean?
Sitting in a garden without talking. While silently listening to the sounds of nature. Standing still but relaxed, you can enter an enchanted world that is that of fantasy mixed with nature.
The leaves float in the wind, the flowers move slowly, they open and close according to the time of day. Everything seems quiet, yet this world is full of social relationships and stories to tell.
At this point, after having stood still to observe, I love to create a funny world of surreal stories.
I have little interest in recreating the world as I see it.
A flower is a flower, but what if it's an elf in a funny disguise looking for food in the middle of the garden?
What if that bumblebee that I see heavy and buzzing on a fennel flower was actually dressed in his best suit and going to a ceremony? And is he now on the fennel flower to perfume himself and make himself more beautiful? Because a bumblebee is vain, you know.
At this point, I was saying, I take my pencil and start thinking.
Once upon a time there was a funny story
There is a very old inn in a country that I cannot say, where Thérèse and Geraldine cook mysterious but delicious recipes.
Their customers come from all over the natural world and wait thousands of years before they can sit at one of those incredible tables.
Thérèse and Geraldine share the work.
Geraldine goes every morning to the fruit and vegetable market and chooses the juiciest fruit, spices from the Far East near the North Star, vegetables grown in the sky that smell of fragrant wind. When Geraldine comes back, Thérèse takes a huge book from the shelf, all decorated, and starts looking for recipes to increase optimism, to find peace, to calm the restless souls.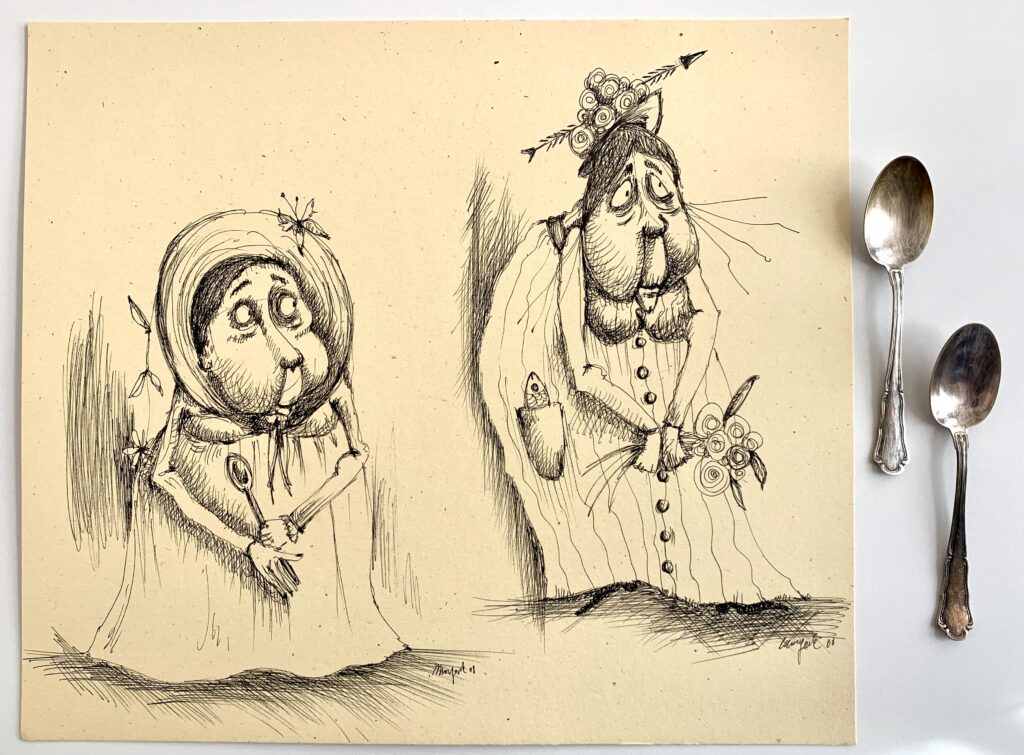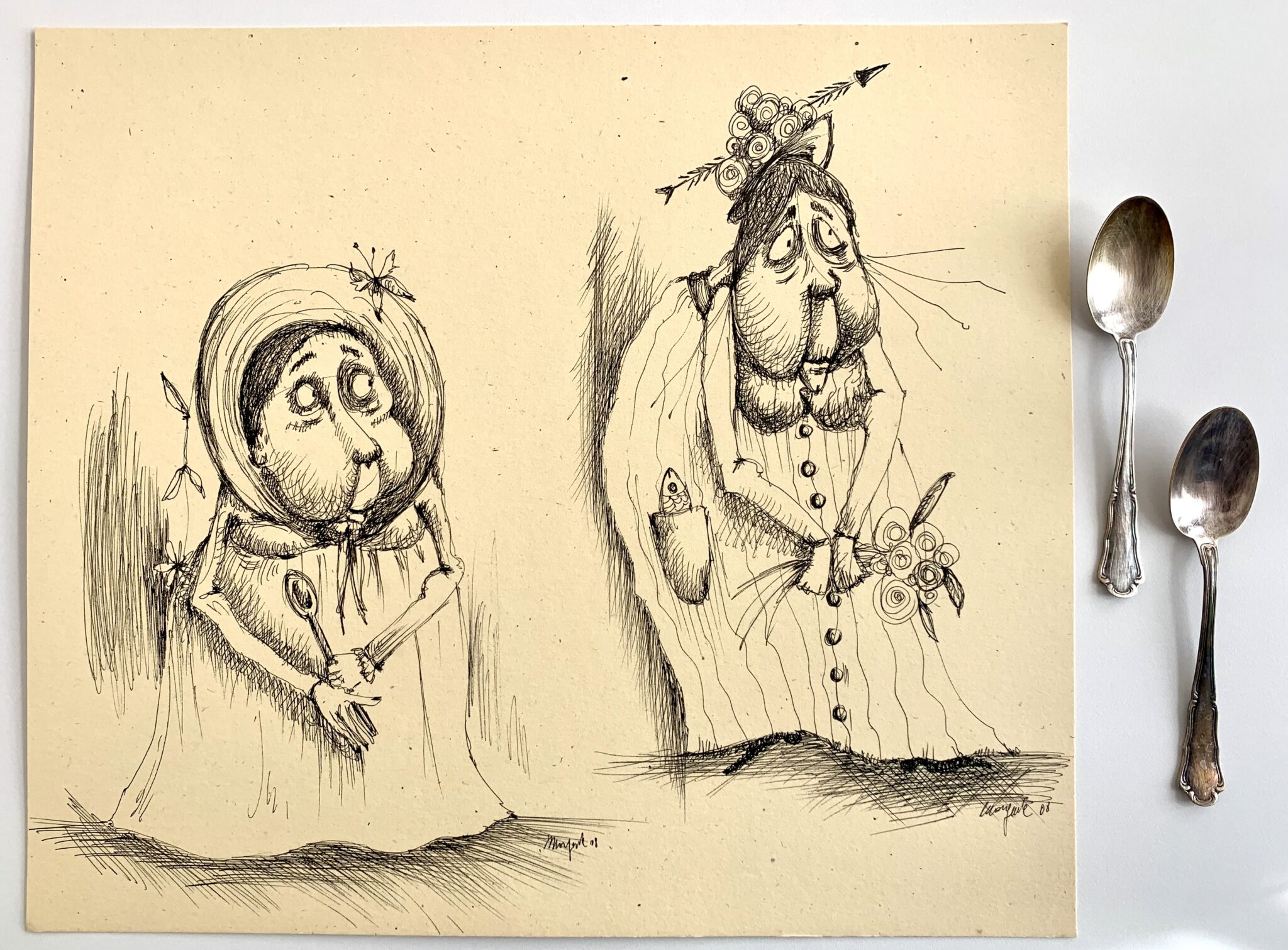 What's the secret of this funny fairy tale?
Their secret is to feed delicious food that sews up broken hearts, broken souls, melancholy people.
When Geraldine needs ingredients that are impossible to find (because she knows that there is a disappointed lover, a person who suffers), she calls her friend the Aviator.
The aviator has wings so delicate that they look like rice paper and a soft parachute full of flowers. On the parachute there is a sardine bone that serves to direct the wind better.
The aviator flies all over the world, the one we know and also the one we don't know, and carries seeds of vegetables that speak to the heart, fruits that warm sad souls and millions of other specialities that nobody knows, only Geraldine and the aviator.
They have known each other for hundreds of years and are very close friends.
A lunch or dinner at Thérèse and Geraldine's, miraculously change every atmosphere.
They're not funny stories, they're just incredible fairy tales.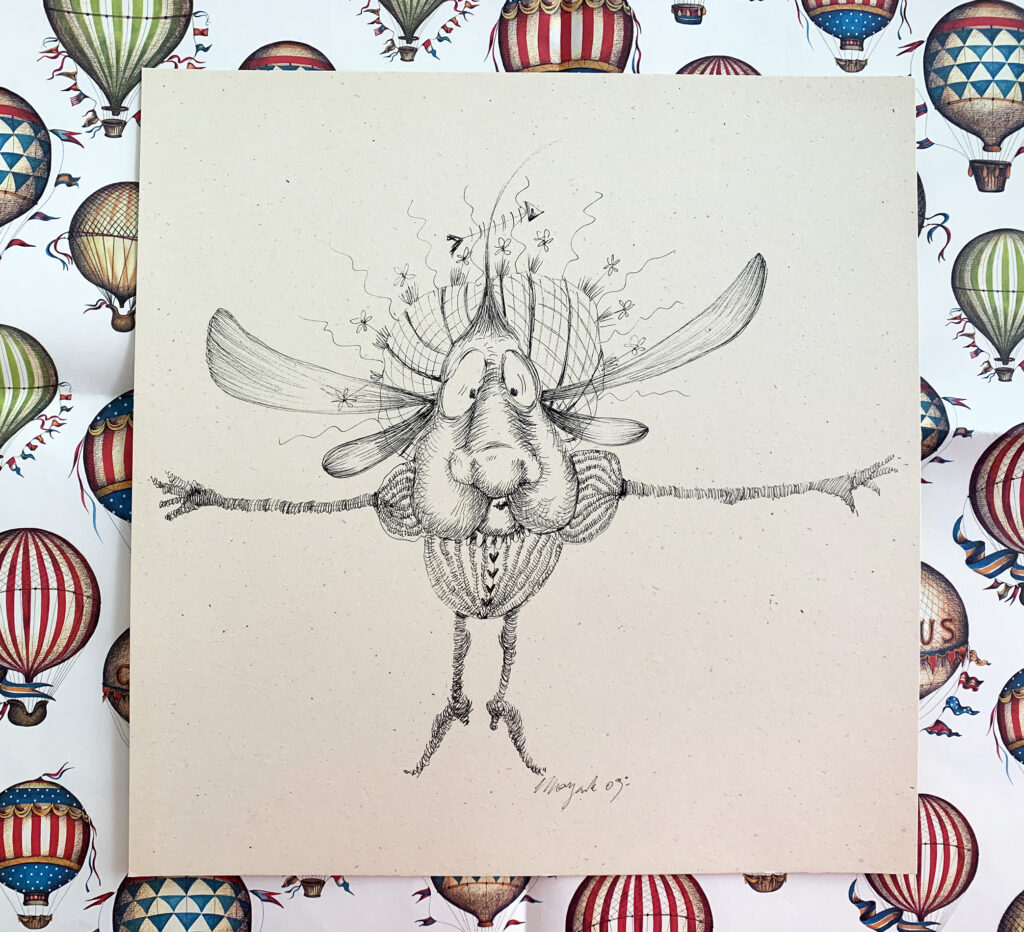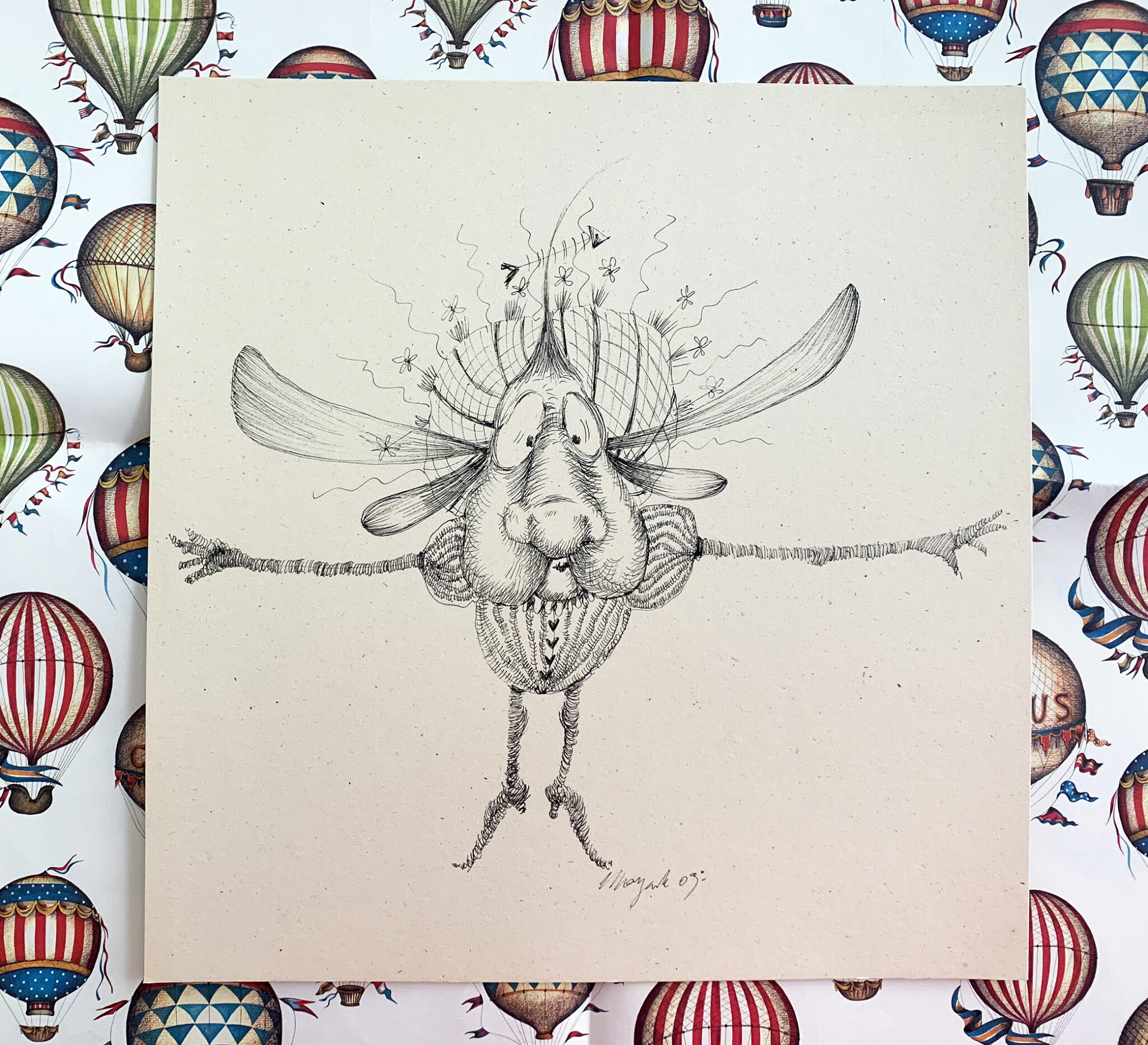 The funny tale of the Bumblebee
The bumblebee buzzes, vibrates, has worn his most beautiful vest, scented with linden and fennel.
He told us he had to go to a ceremony, but he didn't.
He has fallen madly in love with a thousand-year-old flower, which opens every hundred years, but when he does, he dances at dawn, when the sun is pale and sleepy. He dances at sunset with sensual movements, and the sun blushes. He dances all day long for ten consecutive days.
And it is on those days that everyone can fall in love and the flower will decide whether to fall in love too.
But the real essence of all this is that the flower dances, because it likes to dance.
And if he finds someone who says yes when he asks "Do you want to dance with me?", then the chances of falling in love are very high.
So the bumblebee wears that festive vest, he's polished his wings, he's tapped on his face with iris powder, so he'll be perfumed and his skin will look like an Antarctic peach.
Meanwhile the flower dances, while the bumblebee dresses and Thérèse and Geraldine prepare delicious food.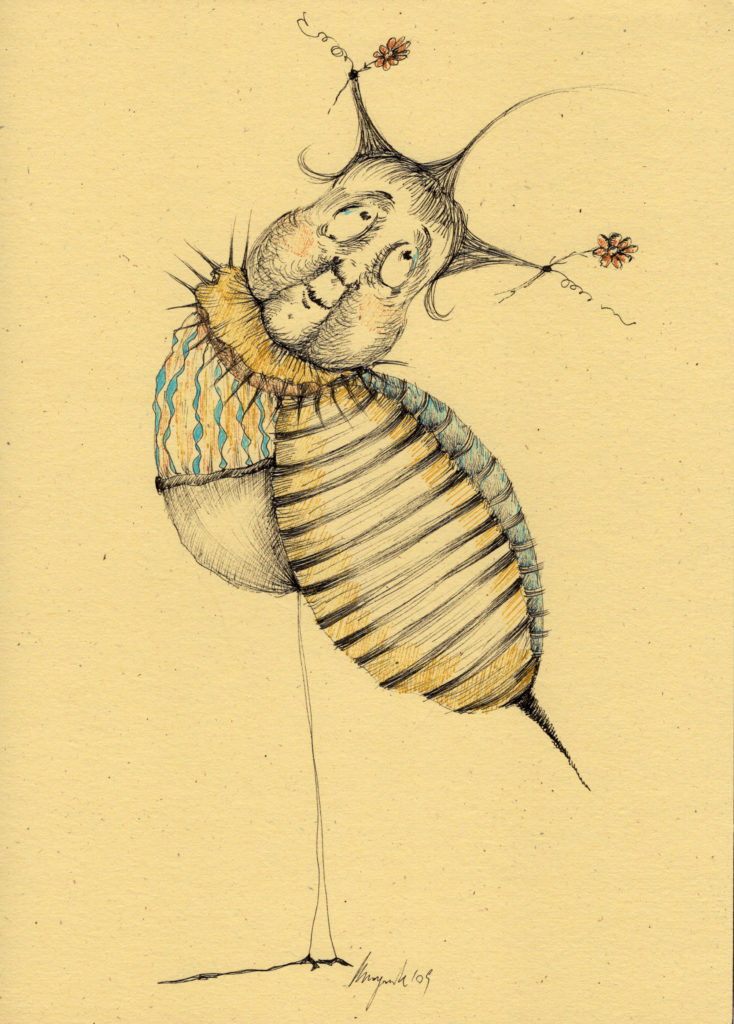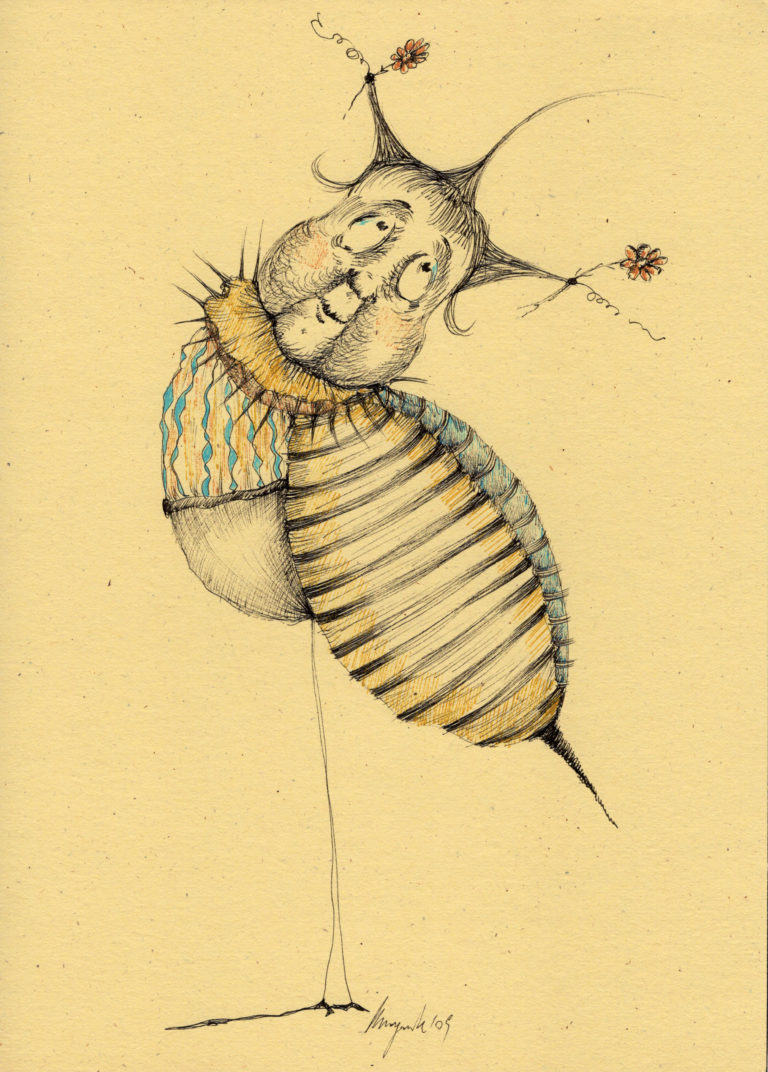 But how does this funny fairy tale end?
The aviator has left, he says he's going to the moon because he discovered a very special quartz milk and they only sell it there.
It is a visionary milk, produced by the lunatics, who are the inhabitants of the moon.
Everything seems ok now, everyone is playing his role in this funny story.
But while everyone is busy in his story, on the avenue of the bluebells, we see a strange woman coming.
She's as tall as a sunflower that has five days, has a long skirt and an even longer nose.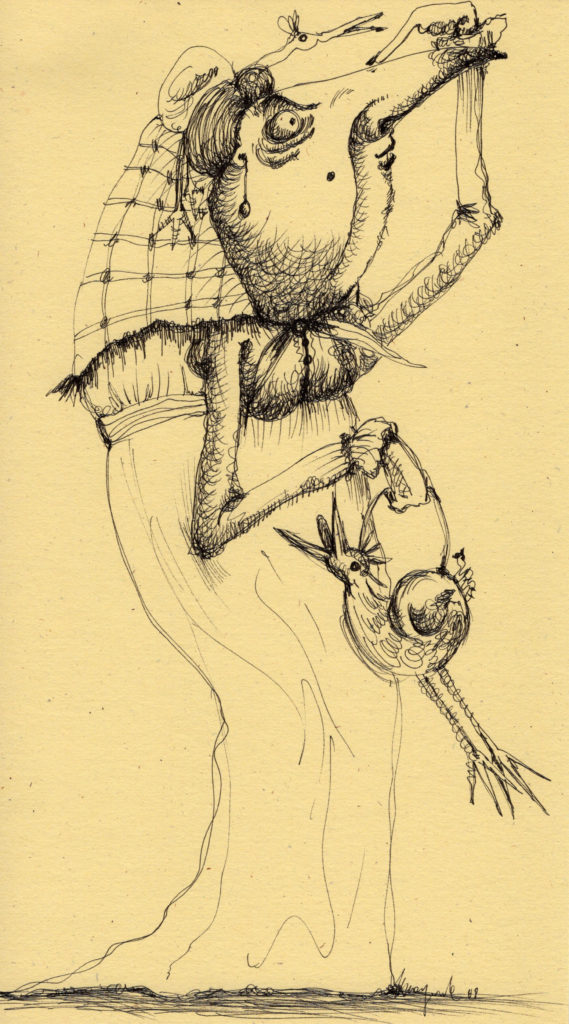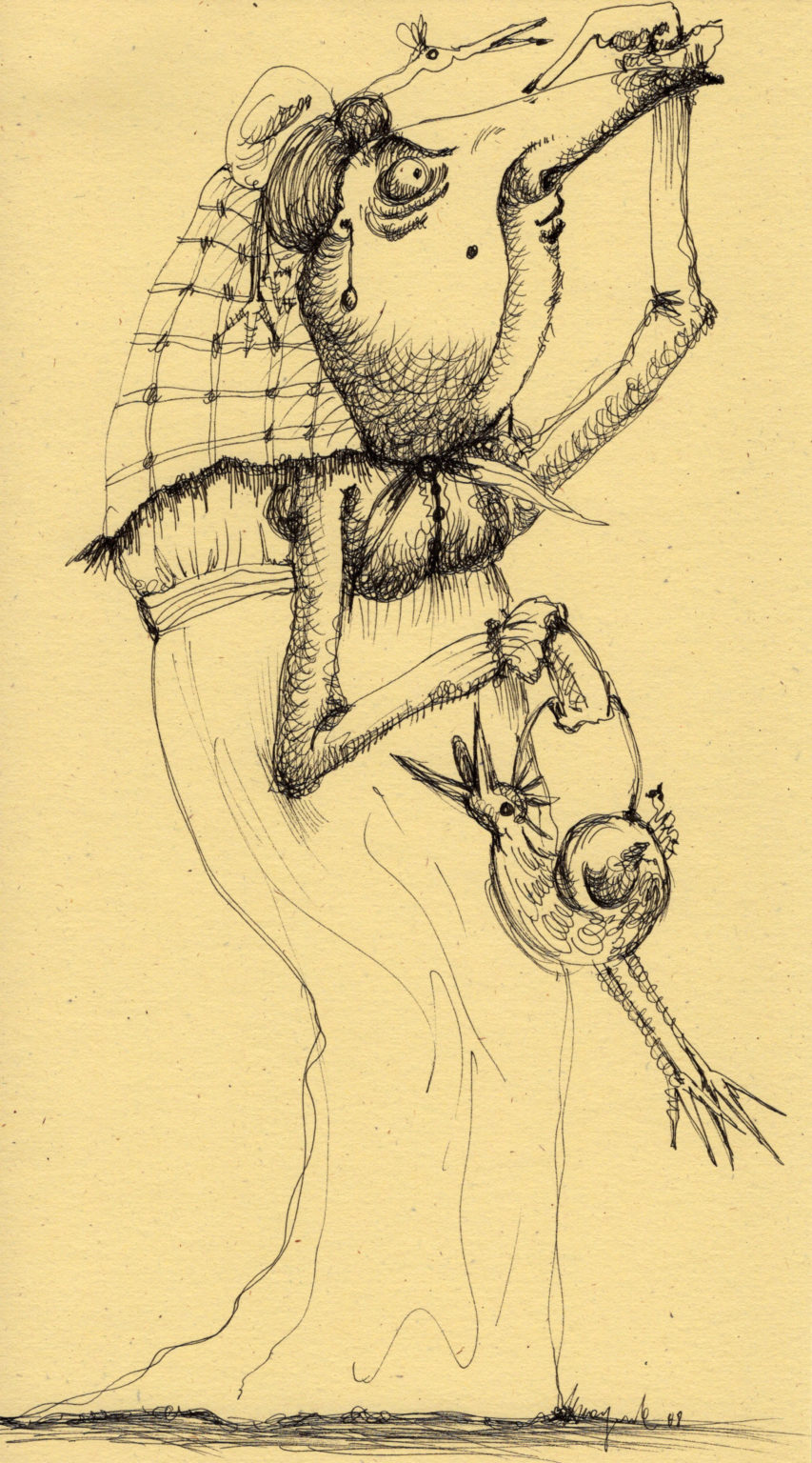 And she' s got a finger raised on her forehead.
But why is she walking slowly in this theatrical pose?
She's so slow that the checked handkerchief on her head barely moves. But she also has a pheasant on her head. We didn't notice it. We're always distracted in stories.
It's a microscopic pheasant, perfect as a pheasant we know, but tiny.
It stays still, alive and with its eyes open. Maybe it's falling asleep?
Maybe it thinks the woman's head is a nest? How mysterious in this female figure.
Her left arm is raised and a finger is pointed at her forehead.
The other arm, the right one, has a strange bag.
It's another pheasant used as a handbag.
The woman comes slowly from the avenue of the bluebells.
Thérèse and Geraldine's inn is two blocks away in the street of the pale nasturtians (I shouldn't have said that! It's a secret!).
Will she go there?
She walks past me and I hear her voice that seems to croak:
"What am I thinking about? I can't remember. I was thinking about lunch, and then it was dinnertime. I was thinking about school and they told me I was already at work. I was thinking about life and I think I'm dead…"
What a strange creature. I'm sure another character will arrive shortly to unravel the mystery.
In the meantime, it's started raining and I have to run indoors.
I'll draw later, when the sun says goodbye to the moon and I'll see them doing the pleasantries, like every day.
The sunny ones will say welcome to the lunatics and the circle will close. Another day it will have completed its circle and the pencil will find the right line on the paper sheet.
For lazy but adorable Italians, the story in Italian is HERE